Idaho State has three finalists in CAPE/Annual Baby Shark Tank Competition hosted by the Center for Advanced Energy Studies
September 15, 2020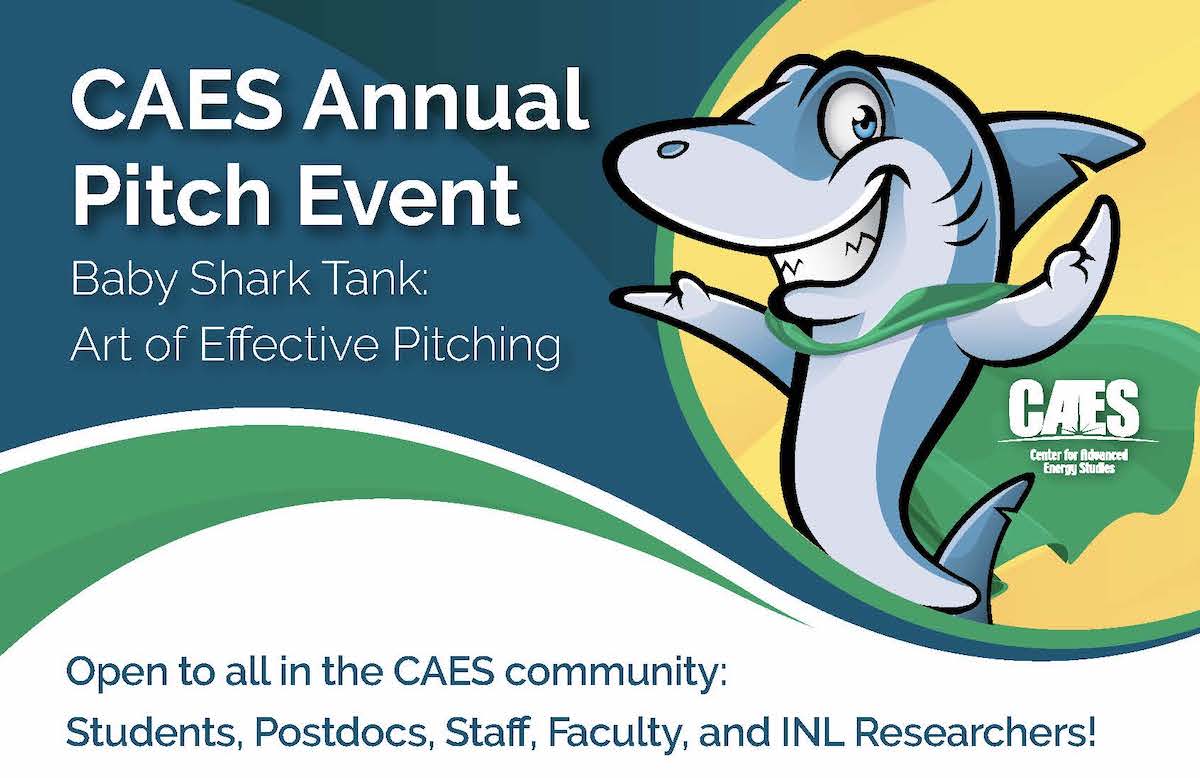 The finalists of the inaugural CAPE/Baby Shark Tank virtual pitch competition have been selected, and include three teams from Idaho State University. Each will have up to 5 minutes to pitch their idea on Sept. 24 starting at 10 a.m. on GoToWebinar.
The public is welcome to attend the virtual event, and attendees are eligible to vote for the recipient of the People's Choice award and its $500 prize. Go here to register to attend. Registration (name and email) is required in order to cast your ballot.
The three ISU finalists are:
• Amir Ali, CAES assistant professor, presenting "Advanced Heat Exchanger Technology for Diverse Applications";
• Mostafa Fouda, assistant professor of computer and electrical engineering, presenting "Smart Parking System with Privacy Preservation"; and
• Mustafa Mashal, associate professor of civil and environmental engineering, presenting "Energy Dissipaters for Earthquake/Wind Protection."
The Center for Advanced Energy Studies (CAES) launched the CAPE/Baby Shark Tank competition to help transfer the innovation and research that thrive at CAES from the laboratory to the commercial sector. The competition was open to everyone in the CAES community – students and faculty at the public research universities of Idaho and Wyoming, and researchers at the Department of Energy's Idaho National Laboratory – and to all levels of ideas, from early-stage concepts to investment-ready research.
The goal of this year's event was to teach the participants how to convince others – funding agencies, potential industry partners, or even investors – to take action in support of an idea. The competition began in August with 33 competitors. The field was winnowed to 18 in early September, and the finals feature 10 participants. They are competing for cash prizes worth nearly $4,000:
1st place: $1,500
2nd place: $1,000
3rd place: $750
People's Choice: $500
The other event finalists are:
Rajiv Khadka, Idaho National Laboratory
Casey Kovesdi, Idaho National Laboratory
Anna McCarrey, Idaho National Laboratory
Bhaskar Mitra, Idaho National Laboratory
Richard Skifton, Idaho National Laboratory
Xingyue Yang, Idaho National Laboratory
Bo Zhang, Idaho National Laboratory
More information about the Baby Shark Tank competition and CAES is available here.
---
Categories: