Three minutes, one slide: Bengals to participate in state research challenge
February 1, 2019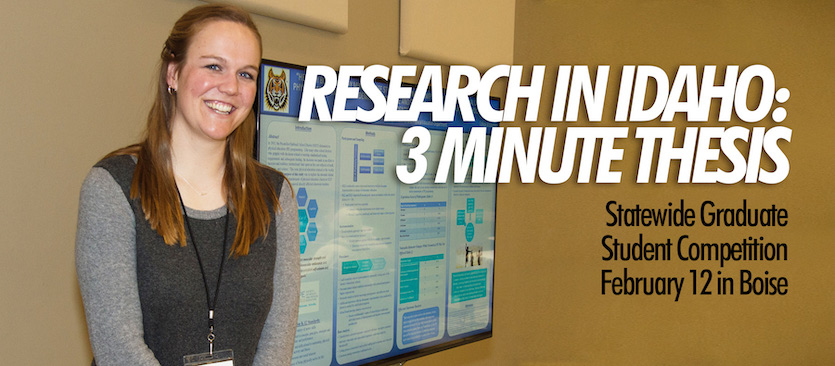 POCATELLO – Imagine spending years researching and writing your master's thesis or doctoral dissertation, then having just three minutes to explain the content.
That's the task facing five Idaho State University graduate students who'll compete in the state's first Three-Minute Thesis/Three-Minute Masters Competition, Tuesday, Feb. 12, at the Egyptian Theatre, 700 W. Main St., in Boise. The free event is from 1 to 4:30 p.m. and open to the public.
The contest is an opportunity for students to step outside the laboratory and showcase their academic, research and communication skills in front of a panel of judges and lay audience. They're allowed to use one slide as a visual.
"The competition is an opportunity for me to identify the key concepts of my project and think of ways to explain them to a broad audience," said Jessica Whitaker-Fornek of Pocatello. She's completing a doctorate in biological sciences and her dissertation is titled "A Peek Inside the Eggshell: How a Baby Bird's Nervous System Develops to Control Breathing."
Other ISU participants, their campuses and topics are:
• Elizabeth Milgate, Meridian, Speech-Language Pathology (Master of Science), Title: How Online Training Impacts the Coaching Behaviors of Student Clinicians
• Jonathan Goode, Pocatello, Clinical Psychology, (Doctor of Philosophy), Title: Mental Health Stigma in the Veteran Population
• Lucas Bryan, Athletic Training, Pocatello, (Master of Science), Title: Increasing Athletic Potential in Intellectually Disabled Students
• Staci Phelan, Pocatello, Educational Leadership, (Doctor of Education), Title: Real World Retention and Career Path Internships
Goode says the competition is an excellent way to "show off the important research being conducted at Idaho State University."
Phelan notes the event is an opportunity for collaboration.
"The work that we do can inform and inspire others. It can also spark connections to other people doing similar research," she said.
The Bengals are among 15 competitors—five from Boise State and five from University of Idaho. Judges will award prizes of $500, $300 and $200 for first, second and third place, respectively. Audience members will select a People's Choice award winner who'll receive $500. Visit https://isu.edu/3minutethesis/ for more information.
"Idaho State University values graduate education as the life blood of innovation and new knowledge for Idaho. Collaborating with our students inspires us every day as we see in them a bright future for our state and world," said Karen Wilson Scott, the interim dean of the Graduate School.
The competition is sponsored by Idaho State, Boise State and University of Idaho and modeled after Three Minute Thesis (3MT®), an academic research and communication competition developed by The University of Queensland, Australia.
---
Categories: