Music Legend Jimmy Buffett surprises ISU Pep Band with free concert tickets
March 14, 2019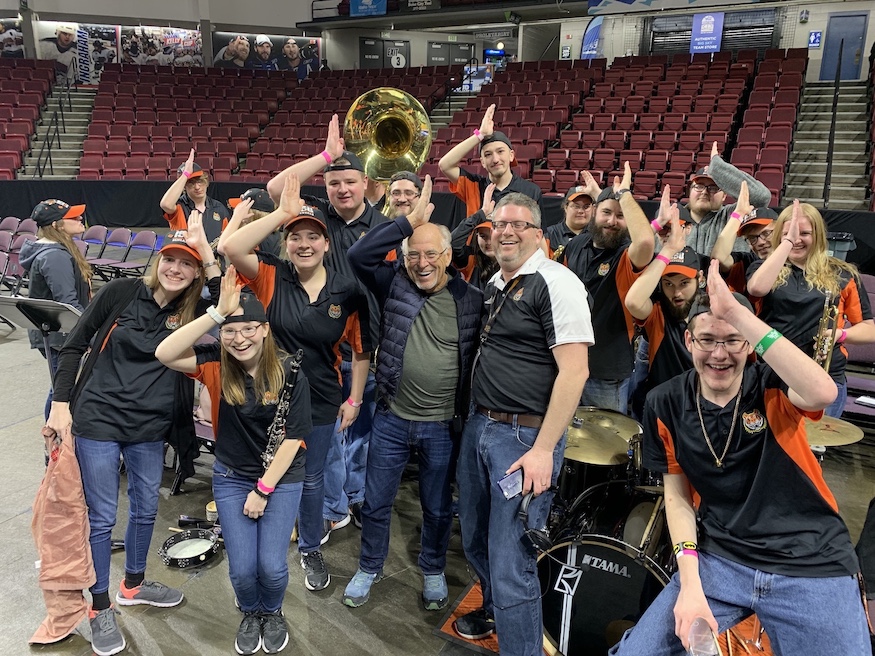 POCATELLO – Music legend Jimmy Buffett helped the Idaho State University Pep Band get over its disappointment after playing during the ISU Women's Basketball team's heart-breaking loss to Eastern Washington Tuesday at the Big Sky Tournament in Boise.
"The game had just ended and we were all sad we (the Bengals) didn't win," said Tom Kloss, ISU Pep Band director and ISU associate director of bands. "And Jimmy Buffet came up to me and said, 'I love the kids, they're great.' I looked at him and thought, 'my gosh, it's Jimmy Buffett.'"
Most of Kloss's students knew Buffett, but some didn't.
"I said to the kids, 'hey, this is Jimmy Buffett' and some looked a little confused and I said, 'you know, Margaritaville' and they all said 'wow, Jimmy Buffett.'"
Buffett spent time talking to the ISU students and shook hands with many of them. Buffett asked if Kloss and the band would like to his attend his March 13 concert at Taco Bell Arena in Boise.
"So I said, 'hey kids, want to go to the concert' and they all screamed 'yes,'" Kloss said.
Kloss met with Buffett's manager and arranged for tickets for the next night's concert. The band and its leader went to the concert the next night.
"The concert was excellent," Kloss said. "He's 72 and puts on a great show. It was packed and sold out."
"The seats were amazing," he continued, "half of our seats were on the floor where everyone was dancing and the other half were at stage level."
Overall, Kloss summarized the experience as "pretty ridiculous" and "amazing."
"It was amazing for my students who would not have had an opportunity to see a music legend perform," Kloss said. "It was just incredible. We pulled in at 3 a.m. Thursday morning in Pocatello, and I've seen some of my students in the hall staring off in space, but it was totally worth it. What a whirlwind."
ISU's Pep Band is well-known by its fans for its musical repertoire.
"We try a lot to be more modern not playing a lot of the traditional pep band songs," Kloss said. "In Boise, we played a lot of songs from AC/DC, Blink 182, Bruno Mars, and other groups, plus of course, the ISU fight song over and over."
---
Categories:
College of Arts and LettersPerforming ArtsStudent LifeUniversity News