ISU, USGS dryland soil carbon study at Idaho National Laboratory yields surprising results
April 24, 2019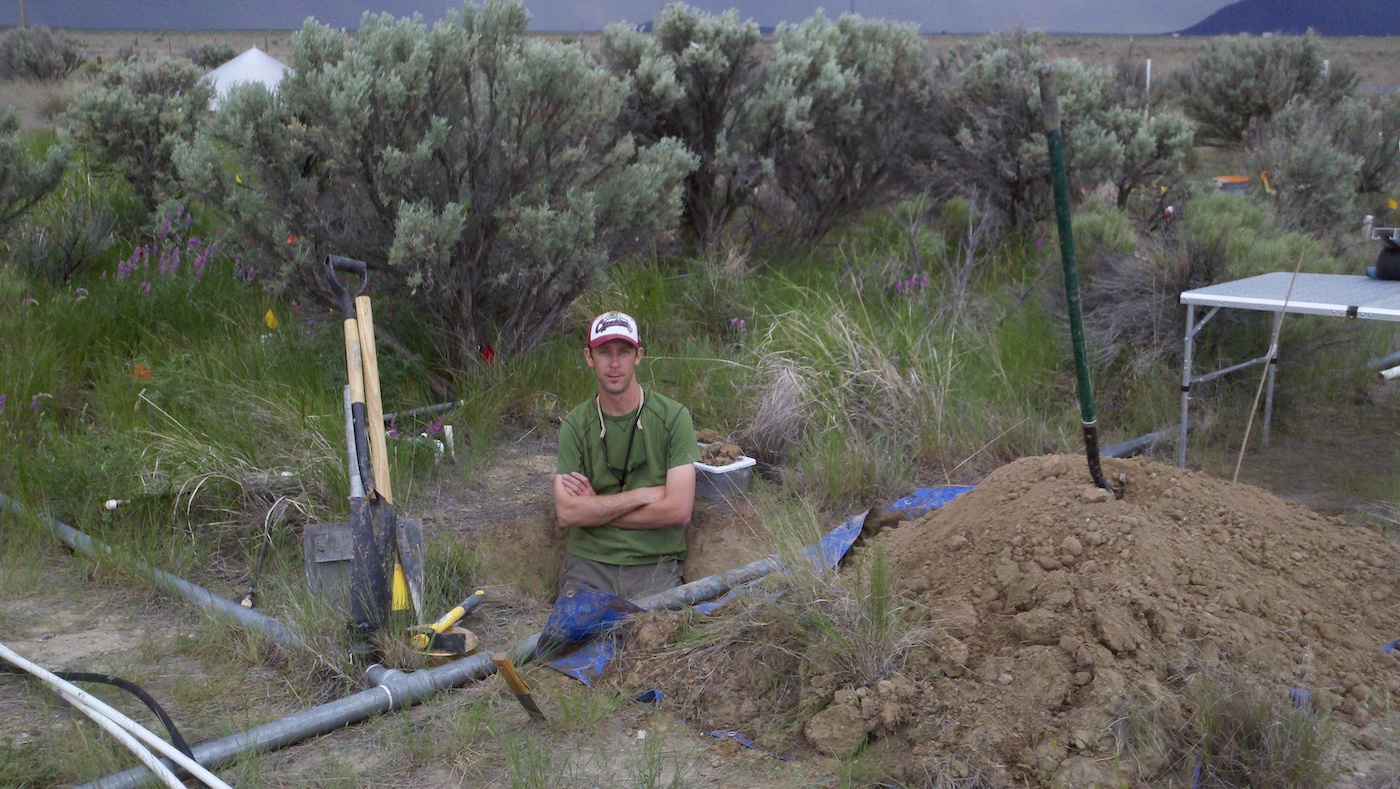 POCATELLO – The results of a 20-year "drylands" experiment at the Idaho National Laboratory by Idaho State University researchers and partners has yielded surprising results, including that native sagebrush shrub communities process soil carbon much differently than non-native crested wheatgrass stands.
Dave Huber, a former ISU biological sciences Ph.D. student who led the study, said this has "major implications" for how rangelands are managed. New measurements and analyses were led by Huber for his Ph.D. dissertation, on a broader, long-standing and collaborative "ecohydrology" experiment led by United States Geological Survey.
Potentially, native sagebrush (which covers millions of acres of drylands in the western United States) could lose more soil carbon to the atmosphere than it stores because of climate change. Drylands make up 41 percent of land globally and almost 50 percent of land in the United States. Soils store two to three times as much carbon as the atmosphere and are sensitive to changes in climate, land-use and disturbance. If dryland soils start releasing more carbon to the atmosphere, it may speed up climate change and reduce soil health.
Huber, the lead author on a study titled "Vegetation and precipitation shifts interact to alter organic and inorganic carbon storage in cold desert soils" that has been published in the journal Ecosphere, worked with a team of researchers from the departments of biological sciences and geosciences at ISU, the United States Geological Survey and the U.S. Department of Agricultural Department's Agricultural Research Service.
The study looked at the difference between native Big Sagebrush shrub communities and non-native crested wheatgrass, a bunchgrass that is widely used for reclamation and reseeding projects. The study simulated changes in seasonal rainfall, adding more water to study areas in either the spring and fall or in the summer.
Huber said the amount of total carbon (the sum of organic and mineral or inorganic forms of carbon) stored in the soils in crested wheatgrass communities remains relatively stable when researchers added more water during one season versus another. However, sagebrush communities can either store much less or much more carbon depending on the season when increased rainfall occurs. Sagebrush communities can store more carbon if more rainfall falls in the summer, though climate-change forecasts do not predict more summer rain. If increased rains occur in the early spring or late fall, which is what most models predict, the sagebrush communities can lose more carbon to the atmosphere than what they store.
"Our findings demonstrate that sagebrush shrub communities can become a net carbon source to the atmosphere with long-term seasonal increases in spring and fall rainfall rather than a carbon sink (place to store more carbon) as previously predicted," Huber said. "It's a 20-year study, and we measured both organic and inorganic forms of carbon, which is why we see a pattern that others haven't. We induced a climate change impact on these plant communities and they responded very differently."
The study emphasizes that soil inorganic carbon is important to consider when thinking of dryland carbon storage or release.
"Soil organic carbon is not the whole story, maybe not even half the story in drylands," Huber said. "We must consider both organic and inorganic carbon to find how changing climate and land-use will alter the carbon cycle and the services our soils offer."
Although soil organic carbon storage can change over years to decades in drylands, inorganic carbon is thought to be cycling in and out of the soil (carbon turnover time) over thousands to tens-of-thousands of years.
"Most researchers put 85,000 years as the turnover rate for soil inorganic carbon so we see it as having a huge sequestration potential," Huber said. "And although this understanding is not wrong, another finding of this study is that a fraction of the inorganic carbon in soils can change much faster, at similar rates as organic carbon, when changes in climate, land-use, or disturbance occur."
"The study conflicts with several other studies," Huber continues, "but is one of only a handful of studies in the world that has done a long-term experiment like this, which provides a unique perspective on how drylands may soon change."
"David Huber and his advisor and associates at ISU brought their world-class, cutting-edge experience and innovations in soil pedogenesis (soil formation) and biogeochemistry (carbon cycling) to our experiment, complementing the plant ecology and biological expertise and focus that had otherwise been the focus of the experiment," said Matt Germino, USGS biologist and co-author on the paper.
Germino said the outcome of the study was synergistic, and has led to high-impact insights on how to best measure and account for carbon sequestered in rangeland soil from our atmosphere.
"We need to be looking deeper in soil and measuring the mineralized, inorganic forms of carbon, and how soil carbon responds to large shifts in climate or vegetation, which are preeminent issues for western landscapes," Germino said. "The insights challenge conventional thinking."
Other authors on the study included ISU geosciences and biological sciences researchers Kathleen Lohse, Bruce Finney, Amy Commendador, Stephen Joy and Ken Aho.
The project received funding and support from the National Science Foundation Idaho EPSCoR Program, the Reynolds Creek Critical Zone Observatory, U.S. Geological Survey, the ISU Department of Biological Sciences, and the Geological Society of America.
The study can be viewed online at https://esajournals.onlinelibrary.wiley.com/doi/full/10.1002/ecs2.2655

Idaho State University, a Carnegie-classified doctoral high research activity university and teaching institution founded in 1901, attracts students from around the world to its Idaho campuses. At the main campus in Pocatello, and at locations in Meridian, Idaho Falls and Twin Falls, ISU has nine Colleges, a Graduate School and a Division of Health Sciences that together offer more than 250 certificate and degree programs. More than 12,000 students attend ISU. Idaho State University is the state's designated lead institution in health
---
Categories:
College of Science and EngineeringGraduate SchoolResearchUniversity News