ISU Idaho Accelerator Center announces record production of form of medical isotope copper-67 that will be used in cancer clinical trials
April 30, 2019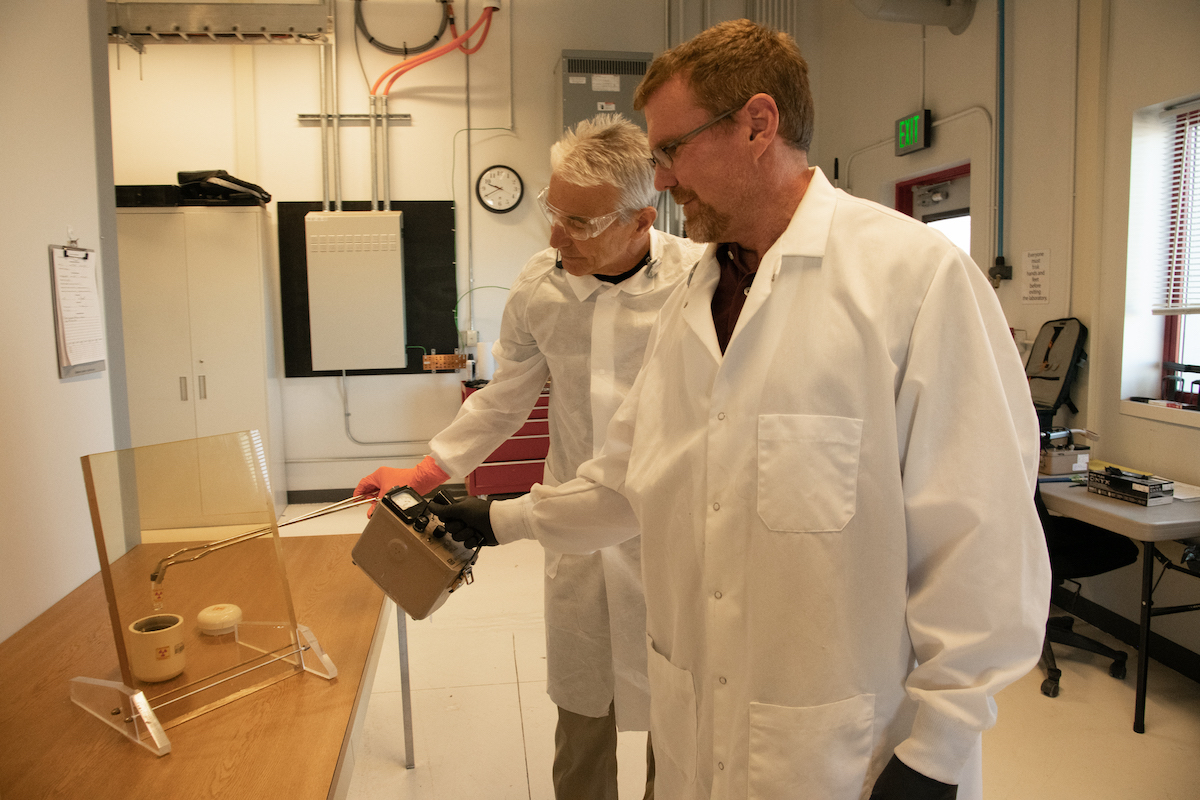 POCATELLO – The Idaho State University Idaho Accelerator Center has increased its production capacity of a highly pure form of the medical isotope copper-67 that can now be more easily used in clinical trials to test its effectiveness in fighting cancer.
The Idaho Accelerator Center recently used its patented linear accelerator technology and purification system to produce a relatively large amount of a specific type of the isotope copper-67 in one batch.
"We are now in a position to be able to produce this type of copper-67 for use in several patient treatments in a single run through trials run by Clarity Pharmaceuticals," said Jon Stoner, director of the Idaho Accelerator Center (IAC). "Given the over-reliance of many radiopharmaceuticals on access to aging nuclear reactors, the linear accelerator method of production could play a significant role in future radiopharmaceutical production."
Clarity Pharmaceuticals is an Australian-based biotechnology company.
"We are very excited with the news from IAC, as it allows expansion of our clinical development program across a range of cancers," said Alan Taylor, executive chairman of Clarity Pharmaceuticals. "The copper-67 from the IAC is chelated (bonded) by our proprietary copper chelator (MeCOSAR) and bound to a range of targeting agents, which can be used to potentially treat a wide range of cancers including childhood cancers such as neuroblastoma, as well as adult cancers such as prostate, breast and ovarian."
He said his company's lead product, copper-67 SARTATE, uses the copper-67 produced at the IAC and will soon be used in a clinical trial in children with neuroblastoma cancer in collaboration with the leading children's cancer hospitals in the United States.
The copper-67 produced at the IAC is a highly pure and specific-activity isotope, which is used in clinical trials in the United States and Australia in children and adults with cancer. The specific type of the copper-67 produced at IAC has superior imaging potential and is more than five times greater than a Lu-177, a radiopharmaceutical now approved for the treatment of neuroendocrine tumours.
The Idaho Accelerator Center's 10-year-plus effort in development, upscaling activities and optimisation of the linear accelerator-based copper-67 production was initially funded by a grant from the State of Idaho Higher Education Research Counsel.
About IAC:
The Idaho Accelerator Center (IAC) is a unique research facility operated by Idaho State University located in Southeast Idaho. The Center provides opportunities for scientists and engineers from the University, the private sector and the national laboratories to utilize specialized nuclear facilities. It serves as a principal investigating conduit for R&D in nuclear physics applications in materials science, biology, homeland and national security.
---
Categories: