ISU electrical engineering Director Steve Chiu receives Fulbright U.S. Scholar Grant to Iceland to participate in national exchange
February 28, 2019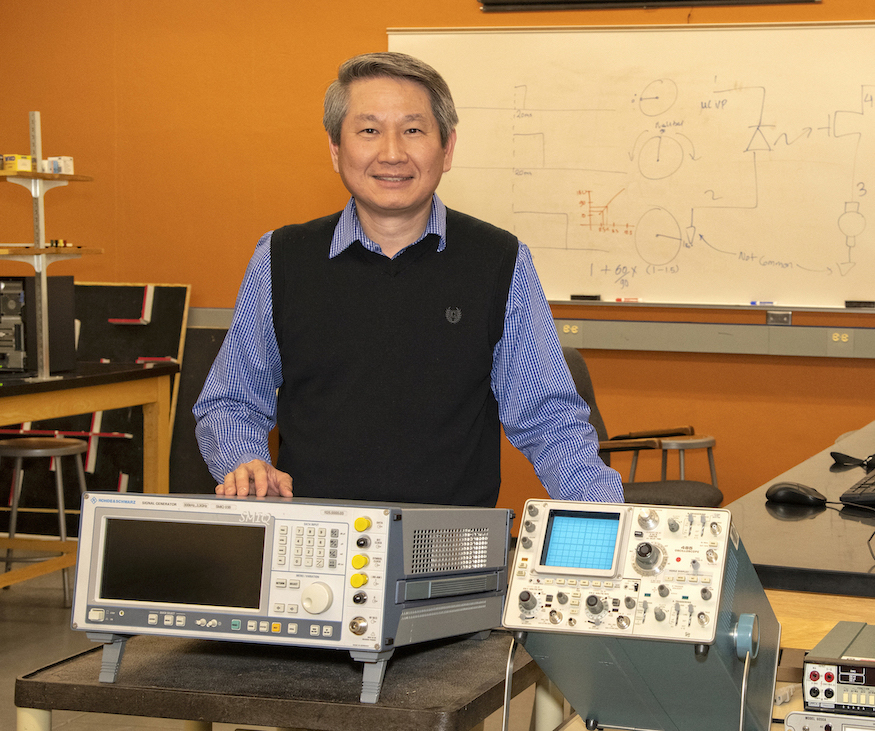 POCATELLO – The U.S. Department of State and the J. William Fulbright Foreign Scholarship Board have announced that Steve Chiu, Idaho State University associate professor and director of electrical engineering, has received a Fulbright Scholar Grant to Iceland.
Chiu was selected to participate in the bi-national program of educational exchanges between the United States and Iceland. His appointment is under the category of Fulbright-National Science Foundation Cyber-Security and Critical Infrastructure Scholar, according to the Iceland-U.S. Fulbright Commission.
"This is a great opportunity to develop collaborative relations with researchers and educators of Iceland to help address the scientific and engineering problems arising from cyber-physical systems within critical infrastructures, such as the Smart Grid," Chiu said.
Smart Grids are electrical grids that can include a variety of operation and energy measures including smart meters, smart appliances, renewable energy resources and energy efficient resources. The management and security of the Grid rely significantly on the design and application of control systems and computational intelligence.
The University of Iceland's Department of Electrical and Computer Engineering will host Chiu during his appointment. Chiu's work will focus on four areas:
• reliability analysis for electrical networks;
• control strategy for energy infrastructures;
• analytics based cyber-security methods; and
• machine learning for grid simulation.
These are among the core areas of critical energy systems' management, with each of them consisting of pedagogical methods and research specializations. Chiu developed three prototype courses to cover resiliency in critical infrastructure control, embedded systems engineering and data-driven analysis using high-performance computing.
Chiu is one of more than 800 U.S. citizens who will teach, conduct research, and/or provide expertise abroad for the 2018-2019 academic year through the Fulbright U.S. Scholar Program. Recipients of Fulbright awards are selected on the basis of academic and professional achievement, as well as record of service and demonstrated leadership in their respective fields.
"Cyber security for the electrical grid is of critical importance to our nation and our allies around the world," said Scott Snyder, dean of the ISU College of Science and Engineering and ISU's interim vice president for research. "Dr. Chiu's work will advance our knowledge in critical infrastructure and allow him to bring that knowledge back to our students at ISU. This area is also of great interest to our partners at Idaho National Laboratory, so Steve's Fulbright is a big win for all of Eastern Idaho. We are very proud of Dr. Chiu's accomplishment."
The Fulbright Program is the flagship international educational exchange program sponsored by the U.S. government and is designed to build lasting connections between the people of the United States and the people of other countries. The Fulbright Program is funded through an annual appropriation made by the U.S. Congress to the U.S. Department of State. Participating governments and host institutions, corporations, and foundations around the world also provide direct and indirect support to the Program, which operates in over 160 countries worldwide.
Since its establishment in 1946 under legislation introduced by the late U.S. Senator J. William Fulbright of Arkansas, the Fulbright Program has given more than 380,000 students, scholars, teachers, artists, and scientists the opportunity to study, teach and conduct research, exchange ideas, and contribute to finding solutions to shared international concerns.
Fulbrighters address critical global issues in all disciplines, while building relationships, knowledge, and leadership in support of the long-term interests of the United States. Fulbright alumni have achieved distinction in many fields, including 59 who have been awarded the Nobel Prize, 82 who have received Pulitzer Prizes, and 37 who have served as a head of state or government.
For further information about the Fulbright Program or the U.S. Department of State, please visit http://eca.state.gov/fulbright or contact the Bureau of Educational and Cultural Affairs Press Office by telephone 202-632-6452 or e-mail ECA-Press@state.gov.
---
Categories:
College of Science and EngineeringGraduate SchoolResearchUniversity News