ISU Department of Civil and Environmental Engineering receives $150k grant to test seismic resiliency of precast concrete bridges
May 6, 2019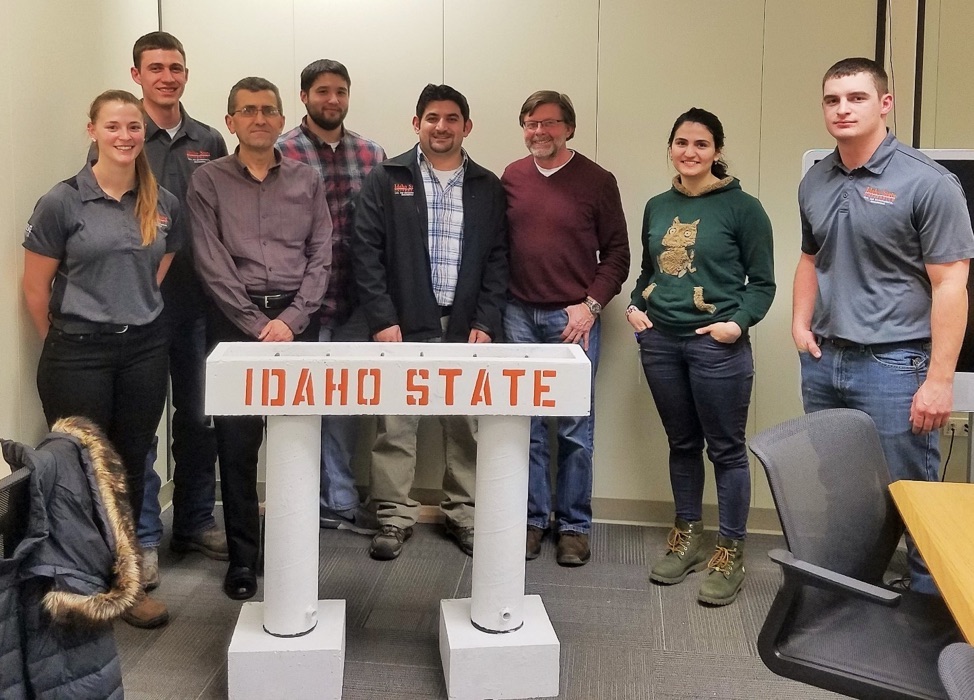 POCATELLO – The Idaho State University Department of Civil and Environmental Engineering has received a $150,000 grant from the Idaho Transportation Department (ITD) to test the seismic resiliency of precast concrete bridges.
Assistant Professor Mustafa Mashal is principal investigator and Professor Arya Ebrahimpour is co-principal investigator on the project.
This project requires testing of large-scale bridge piers under lateral forces to identify the seismic performance of the technology proposed by ITD.
"The project will include some of the largest indoor testing on bridge specimens in Idaho," Mashal said.
ISU's Structural Lab has the capability to test specimens 14 feet in height and up to 38 feet long. Several industry champions including Premier Technology in Blackfoot, Forterra Structural Precast in Salt Lake City, Utah and Caldwell, Idaho, Oldcastle Infrastructure in Spokane, Washington, Teton Prestress Concrete in Idaho Falls and Campbell Scientific in Logan, Utah are helping ISU researchers to successfully accomplish this project. Idaho is one of the states with active seismicity with Southeast Idaho being the most seismically active region in the state.
In a typical precast concrete bridge, the bridge components are cast off-site in a controlled environment then transported to the bridge location for assembly. Precast concrete offers advantages such as rapid construction, reduced traffic disruption, improved quality, use of machinery, better durability, enhanced construction site safety, and less environmental impacts.
"Precast components are similar to Legos, you put them together to build a structure. The critical locations are the connections between the components," Mashal said.
Mashal said that during an earthquake, the connections have to be strong enough to withstand the earthquake forces. For this project, the researchers will test precast bridge piers with a new type of connection using structural steel pipes. They will compare the seismic performance of the precast specimens up to the failure point to that of traditional cast-in-place specimens in order to build confidence for real-life applications of the technology, Mashal said.
"The opportunity to partner with ITD on another project adds value to several groups; ISU's civil engineering students, the State's infrastructure and the precast industry," said Bruce Savage, ISU civil and environmental engineering chair and associate professor. "This speaks to the quality of the faculty that we have at ISU in civil and environmental engineering,"
"The ISU faculty work well with the bridge engineers at ITD Bridge Section and have enjoyed this working relationship," said Ebrahimpour. "The current project builds on our past experience of working with the Bridge Section and ITD's research needs in Accelerated Bridge Construction."
Graduate students from the civil and environmental engineering department working on this project are Jared Cantrell, Corey Marshall, and Ali Shokrgozar. An undergraduate student, Kathryn Hogarth, is also involved in the research project.
"The opportunity to work on such a project as this has provided me with the opportunity to apply the concepts learned throughout my schooling to experiment and prove concepts regarding innovative construction and design techniques. Another aspect this project has provided is an opportunity to work directly with ITD, Forterra Structural Precast, and many other industry professionals that bring years of experience and knowledge of standard practice that cannot be experienced in the classroom," Cantrell said.
"Working on the ITD project has been a really good experience. I have been able to incorporate what I have learned in my past undergraduate classes into the design of the concrete columns." Marshall said.
"Working on the ITD project has brought me a lot of hands on experience to concepts that we discuss in our classes; in doing this I feel like I have a better understanding of what it takes to be a civil engineer working in the field. This project has also got me more excited for my future career as a civil engineer." Hogarth said.
Representatives from Premier Technology, Forterra Structural Precast, and Campbell Scientific all said they were excited about working on this project with the ISU researchers and students.
"Premier Technology, Inc. is pleased to support the students in the ISU Structural Lab through the use of our facilities and equipment." said John Mangum, chief production officer.
"The research study on seismic resiliency of precast concrete bridge piers and abutments appears promising as something that Idaho residents should be excited about," said Jonathan Kirk, general manager at Forterra Structural Precast. "With proven success of this new connection concept, this could expand the use of precast concrete to support bridge structures, thus reducing construction time for a bridge to minimize traffic delays while also reducing cost burden on the tax payers."
"Campbell Scientific, Inc. is proud to support the ISU structural lab (SLAB). To have a structural lab of this size, capability, and expertise within the intermountain region is an immense opportunity to ISU, faculty, student body, and the concrete bridge industry as a whole" said Michael Adams, senior market sales engineer.
To view a video of recent large-scale testing at the ISU SLAB, visit https://www.youtube.com/watch?v=QJEbC4461Lo&feature=youtu.be
---
Categories: