ISU debater takes third at IPDA Nationals
May 1, 2019

SHREVEPORT, LOUISANA – Idaho State University's Rupp Debate Squad captured third place at the 21st International Public Debate Association national tournament held April 16. Bengal Debaters had entries in both the team and individual flights.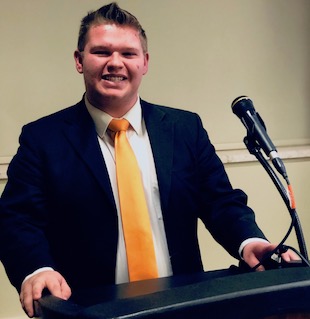 Freshman Jett Smith, a communication major from Pocatello, tied for third in the varsity semi-final round of the competition at Louisiana State University's Shreveport Campus. Bengal debate sophomore Kaden Marchetti, a computer science major also from Pocatello, made the varsity octa-final bracket (top 16 competitors). There were 288 competitors from 42 universities that participated.
In team debate, both ISU entries cleared into the octafinals, but lost elimination rounds. ISU's Conner Coutts and Nate Mortimer joined the Bengal pairing of Marchetti and Smith but were all eliminated in the octafinal rounds. Coutts is a junior studying secondary education; Mortimer is a senior majoring in political science.
"This was our first try at the IPDA Nationals. We are very proud of the team," said Sarah Partlow-Lefevre, the team's head coach.
Marchetti, Coutts and Mortimer all received nods for superior speaking quality. Coutts and Mortimer were noted as the 11th and 20th speakers, and Marchetti placed fourth overall.
Of the team's speaking honors, assistant coach Andy Christensen said, "I am immensely pleased with the quality of speaking the squad is delivering on the regional and national stages this spring. Their commitment to refinement and caliber of presentation is evident."
The Bengal's final spring competition will be an online sweepstakes tournament April 29.
The ISU Rupp Debate Team is supported by the James A. and Sharon E. Rupp Foundation, The ISU College of Arts and Letters, and the ISU Department of Communication, Media, and Persuasion.

Photo information: Jett Smith
Idaho State University, a Carnegie-classified doctoral high research activity university and teaching institution founded in 1901, attracts students from around the world to its Idaho campuses. At the main campus in Pocatello, and at locations in Meridian, Idaho Falls and Twin Falls, ISU has nine Colleges, a Graduate School and a Division of Health Sciences that together offer more than 250 certificate and degree programs. More than 12,000 students attend ISU. Idaho State University is the state's designated lead institution in health professions.
---
Categories: