ISU College of Arts and Letters to host five summer camps for middle and high school students
May 13, 2019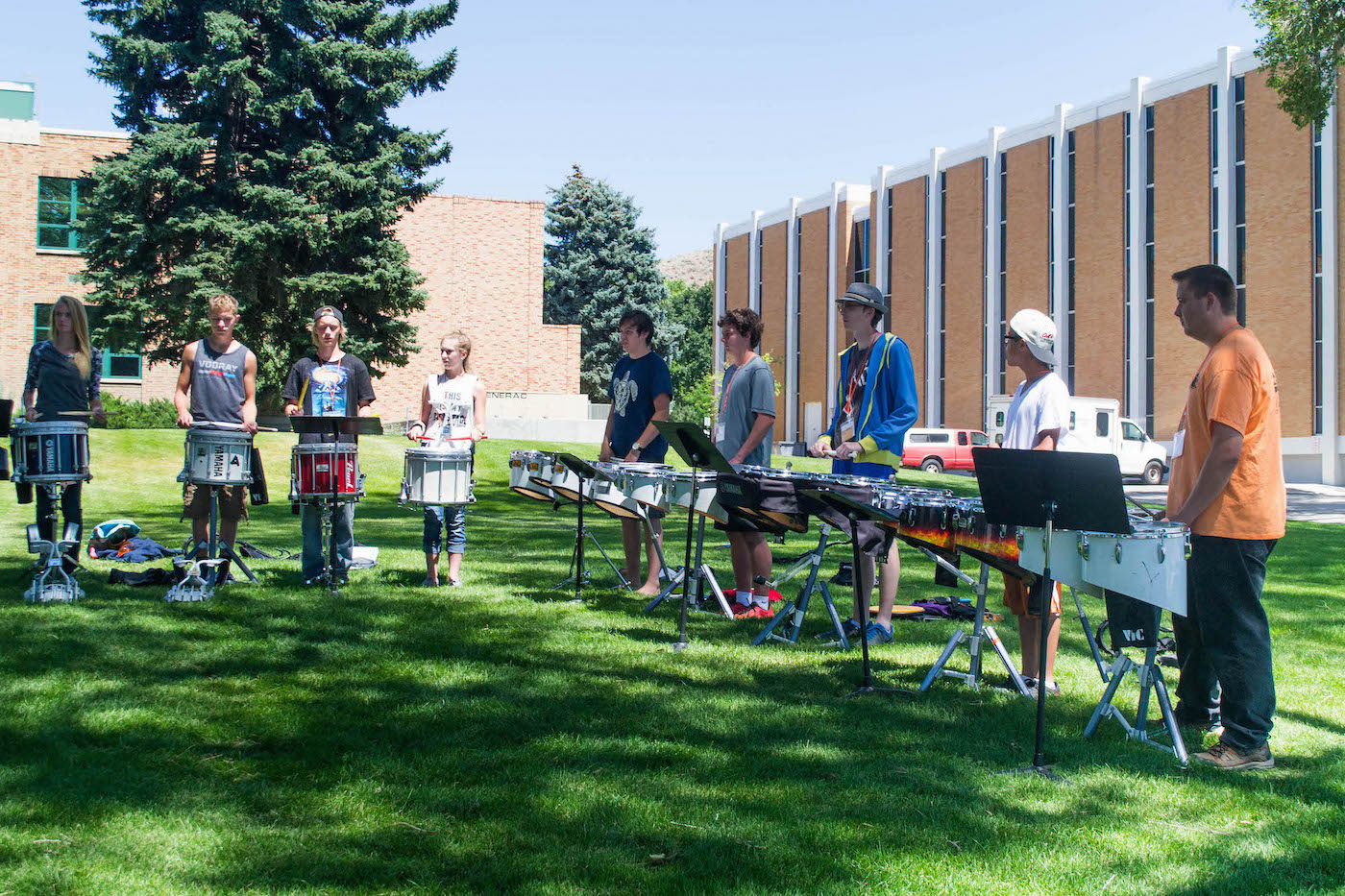 POCATELLO – The Idaho State University College of Arts and Letters will host five camps this summer for middle and high school students. The camps range in content from jazz to ukulele to theatre.
"We want to have as many area students visit campus this summer and pursue camps in their interests," said Kandi Turley-Ames, dean of the College of Arts and Letters. "Our camps provide great opportunities to interact with ISU faculty and staff and see what our campus has to offer."
Ukulele Camp: June 3-5, ISU Fine Arts Building
The inaugural Ukulele Camp provides a hands-on experience to learn about and play the ukulele. Students will have the opportunity to learn ukulele fundamentals such as how to play chords and rhythms, how to write songs, the history of the ukulele and important musicians, and the various styles of the ukulele. There will be two sessions available, the first being for students in grades first through sixth from 9 a.m. to noon. The second session will be for students from seventh to 12th grade and early college from 1 p.m. to 4 p.m. Tuition is $100. For more information or registration, contact jctguitarstudio@gmail.com.
ISU Creative Jazz Academy: June 17-21, ISU Fine Arts Building
The ISU Creative Jazz Academy will provide musicians the opportunity to learn from ISU director of jazz studies Jon Armstrong and music teachers from the Pocatello area. Musicians will participate every day in group warm-ups, followed by small ensemble work led by faculty members and play music as a large ensemble. In the afternoons, a guest artist will lead the academy in different special-topic sessions. Students will also arrange and compose music. At the end of the week, each small ensemble will have the opportunity to participate in a recording session in the new ISU recording studio. Tuition is $100, and interested students can contact Jon Armstrong at 208-282-3143.
Summer Institute for Piano and Strings: June 24-29, ISU Fine Arts Building
The Summer Institute for Piano and Strings is for students entering grades eight through 12 who are advanced pianists and strings players. The institute gives students the opportunity to rehearse, coach and perform chamber music designed for piano and strings. Daily activities include solo and collaborative performance study, music classes, ensembles and various other group activities. There will also be a Junior Strings and Piano Camp that will run from 9 a.m. to noon daily. The final concert will be June 29 at 10 a.m. in the Jensen Grand Concert Hall. Tuition is $125 for Jr. Strings, $230 for Senior Piano and Strings or $375 for Senior Piano and Strings including all meals and lodging. To register, visit isu.edu/sips.
Conservatory Theatre Camp: June 24-28, ISU Stephens Performing Arts Center
The Conservatory Theatre Camp offers a unique, hands-on learning experience for junior high- and high school-age students of every performance and experience level. The camp is filled with an array of theatre workshops and classes taught by ISU faculty and students and community professionals. Students can participate in classes for acting, stage combat, technical theatre, voice, musical theatre dance and more. There will be a performance at the end of the camp on June 28 at 7 p.m. in the Stephens Performing Arts Center Black Box Theatre. Tuition is $275, or $450 if a student needs to stay overnight. To register, visit isu.edu/cal.
Marching Band Camp: June 25-27, ISU Fine Arts Building
The Marching Band Camp is held every year to expose high school students to ISU and its music department. During the two-day camp, students participate in workshops and classes, interact with ISU faculty and staff, and talented musicians from other universities and organizations. Participants can choose from five unique tracks including performance, drumline/mallet, section leader, drum major and color guard. The camp will conclude with a large performance by all students on ISU's quad on June 27 at 6 p.m. Tuition is $180 for local musicians or $275 for individuals needing housing. There is also a group rate available for schools. To register, visit isu.edu/cal.
For more information about the camps, contact Melissa Lee at leemeli@isu.edu or 208282-1404.
---
Categories:
College of Arts and LettersEventsPerforming ArtsUniversity News