ISU Choirs to host Mid-Winter Concert on Feb. 15
February 8, 2019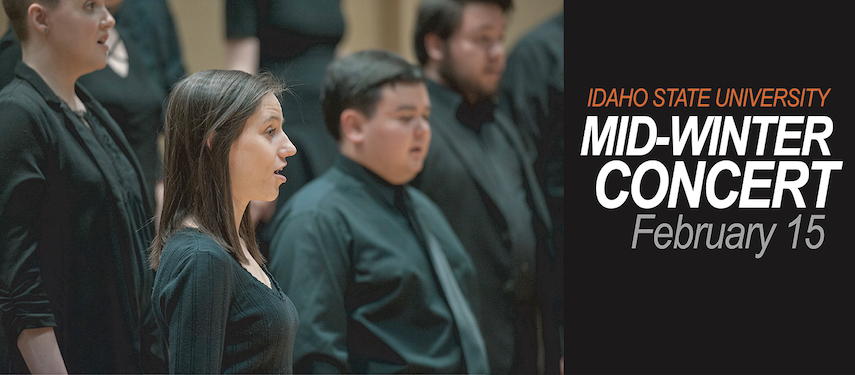 POCATELLO – The Idaho State University Choirs will host their Mid-Winter Concert on Feb. 15 at 7:30 p.m. in the Jensen Grand Concert Hall in the L.E. and Thelma E. Stephens Performing Arts Center.
Scott Anderson, ISU director of choral activities, will lead the ISU Chamber Choir and ISU Concert Choirs in the performance of a variety of musical styles.
The 24-voice ISU Chamber Choir will present Puccini's vocal quartet, "La Passeggiata," featuring pianist Natalia Lauk. Anderson will also lead the Chamber Choir's performance of Eric Whitacre's "Leonardo Dreams of His Flying Machine," which is the composer's musical representation of Leonardo Da Vinci's obsession with flight, and the possibility that he may have realized his dream.
The ISU Concert Choir will perform Coronation Anthem No. 3, "Let Thy Hand be Strengthened," Josef Rheinberger's setting of "Abendlied," Joshua Jacobson's arrangement of the Hebrew folksong "Simona MiDimona," Jake Runestad's haunting setting of "Let My Love Be Heard," and the gospel arrangement, "He'll Make A Way," by Byron Smith. Lauk will be featured with the Concert Choir for the Handel, Jacobson and Smith pieces.
Admission for the ISU Choirs Mid-Winter Concert is $8 for adults, $6 for ISU faculty and staff, $4 for pre-college students, and free for ISU students with a Bengal ID.
---
Categories: