ISU Choirs Spring Concert scheduled for April 20
April 12, 2019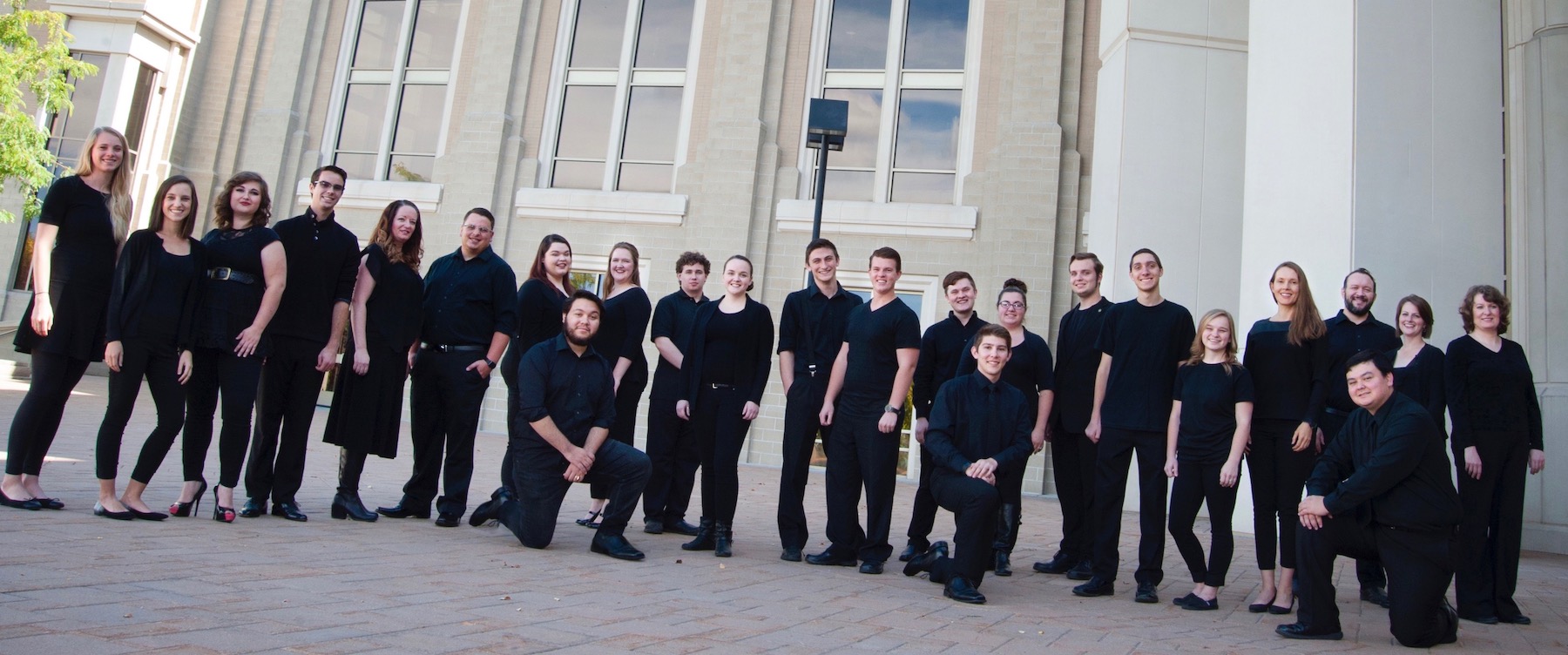 POCATELLO – Scott Anderson, director of choral activities at Idaho State University, will lead the ISU Choirs in a Spring Choral Concert on April 20 at 7:30 p.m. in the Jensen Grand Concert Hall of the L.E. and Thelma E. Stephens Performing Arts Center.
"The singers of the ISU Choirs are excited to present a wonderful varied program of choral music in our splendid Concert Hall," Anderson said. "Having just returned from the National Conference of the American Choral Directors Association in Kansas City, Missouri last month, I never take for granted the privilege we have to perform in such a world-class music space."
The 24-voice selection ISU Chamber Choir will be joined by pianist Natalia Lauk in performance of Johann Pachelbel's setting of "Dues in Adjutorium," a four-movement cantata style motet sung in Latin. Lauk will also be featured in Gioacchino Rossini's Italian part-song, "La Passeggiata,", with soprano soloist Autumn Harris. The Chamber Choir will also present "O Sacrum Convivium," a five part Latin motet by Thomas Tallis, "Lux Aeterna" by Edwin Fissinger, featuring soprano Rebecca Orr, "Dessus Le Marrce D'arras," Orlando Di Lasso's vibrant chanson and English composer John Tavener's mystical setting of "Village Wedding," recorded by the professional choral ensemble "Chanticleer".
Soloists for the Tavener will include Nicholas Cravens, tenor, Joe Marley, baritone, Gates Bennett, bass, Micah Kenney, soprano, and Julio Murillo, baritone.
Anderson will also lead the ISU Concert Choir in performance of Norman
Dello Joio's thrilling "A Jubilant Song," featuring pianist Natalia Lauk. The Concert Choir present a wide variety of styles, including Jake Runestad's "I Will Lift Mine Eyes," Carol Barnett's compelling setting of "Dance of Zalongo," newly composed spiritual "Wade in the Water," arranged by Stacey V. Gibbs, and James Mulholland's lyric setting of the Robert Burns poem, "A Red, Red Rose." Pianist Lauk will also be featured in the performance of the Barnett and Mulholland pieces.
Admission prices for the concert are $8 for adults, $6 for ISU faculty and staff, $4 for pre-college students, and free for ISU students with a valid ID. Children under the age of 6 years are not admitted to ISU music department concert.
Idaho State University, a Carnegie-classified doctoral high research activity university and teaching institution founded in 1901, attracts students from around the world to its Idaho campuses. At the main campus in Pocatello, and at locations in Meridian, Idaho Falls and Twin Falls, ISU has nine Colleges, a Graduate School and a Division of Health Sciences that together offer more than 250 certificate and degree programs. More than 12,000 students attend ISU. Idaho State University is the state's designated lead institution in health professions.
---
Categories: