Idaho State University's first-generation college student Bruce Blair lands Fulbright Scholarship to study nuclear waste repository in Finland
April 2, 2019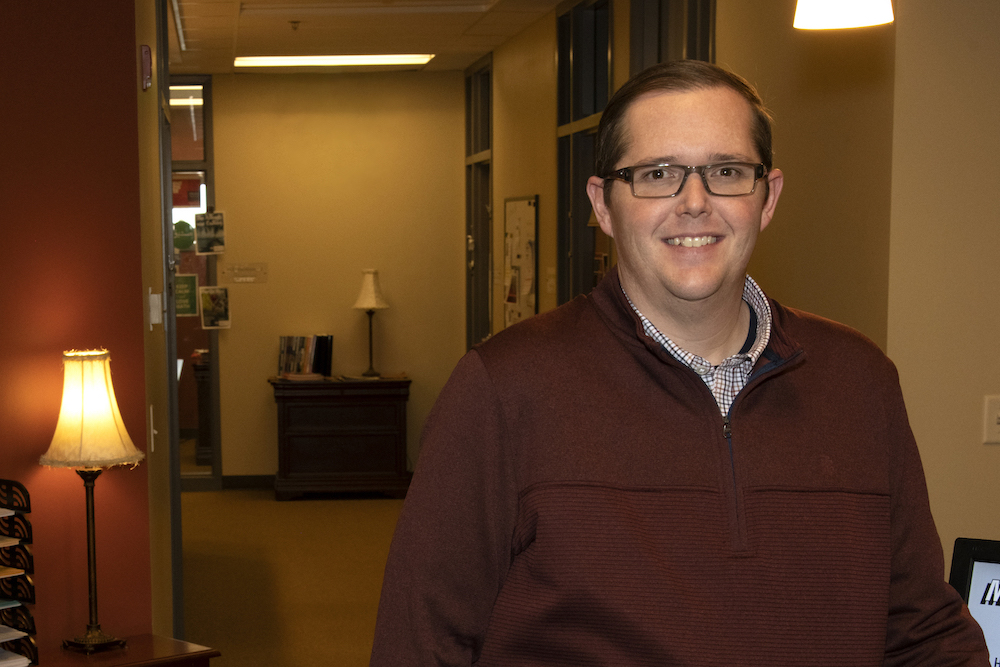 POCATELLO – Bruce Blair's mother cried when she heard the news. Blair, an Idaho State University Doctor of Arts political science student and a first-generation college student, has been awarded a Fulbright Scholarship to go to Finland.
"I'm shocked. I am truly a first-generation student, the first from my family to even attend college," Blair said. "Oh, yeah, my mom cried when she heard the news, and my dad, who passed away six years ago, probably would have, too, if he were alive."
Blair applied for the scholarship last September. Even though his advisor political science Professor Donna Lybecker, and ISU Fulbright Advisor Alan Johnson thought he had a good chance of getting a Fulbright, Blair didn't believe it.
"I was thinking I don't know how I could get it because people like me don't get these things. They go to people from top-10 schools and Ivy League schools," said Blair, who is from Daleville, Alabama. "They are the ones that typically get Fulbrights. So, just to be able to win this is cool. I don't have another word for it."
In September, Blair will join a research team for a nine-month appointment at Jyväskylä University Finland to research the social impacts of nuclear waste repositories. Currently, there is no place in the world to bury high-level nuclear waste, like the nuclear rods that come out of ships or from the production of nuclear energy, Blair said. Finland is set to open the first one in the world in 2020.
"I want to research that process," Blair said. "What have they done that allowed them to be successful, while the U.S. and other countries that have attempted it have failed?"
For his Fulbright he will complete an independent research project and work with a team at Jyväskylä University that has received a five-year grant to expand the study of nuclear waste repositories beyond Finland to other European countries.
His research in Finland connects to his doctoral dissertation, which is on the impact of narratives on nuclear waste repositories.
Blair earned a Bachelor of Arts degree in History and in Russian language and literature and a Master of Arts degree in political science from the University of Alabama. He then attended the University of Kansas for two years before earning a second master's degree in political science from Binghamton University in New York. He moved to Pocatello in January 2015 to enter the ISU political science Doctor of Arts program.
Blair said teaching is his specialty, so ISU's doctoral program appealed to him because it is the only one in the country that has an emphasis in teaching.
"It is a great department," Blair said. "The thing I love about ISU is that you go to some other schools and they flat out say 'don't worry about teaching, just do your research.' Here, it is 'you have to be a good teacher.' This institution cares about teaching."
ISU political science chair Donna Lybecker said Blair will be an excellent representative of ISU.
"The Department of Political Science is both excited for and proud of Bruce for this achievement." Lybecker said. "Bruce's research on the EU and Finland is innovative, timely and compelling."
That love of teaching and his background serves Blair well in his current role as an instructor in the ISU Student Success Center's academic success and advancement programs.
Initially when he came to ISU with his wife, Amanda, Blair received funding from the ISU political science department to be a doctoral student. Last fall, however, he began working full time for the Student Success Center, initially as an instructor/academic coach with the First Year Transition program.
"I connect well with a lot of students at ISU because they come from similar backgrounds," Blair said. " In Idaho we are improving our go-on rate, but it is still low. We have a lot of first-generation and non-traditional students, so with my background I know what an impact that has."
This isn't Blair's first time abroad. He has studied in St. Petersburg, Russia and travelled throughout Germany, England and other European countries.
Idaho State University, a Carnegie-classified doctoral high research activity university and teaching institution founded in 1901, attracts students from around the world to its Idaho campuses. At the main campus in Pocatello, and at locations in Meridian, Idaho Falls and Twin Falls, ISU has nine Colleges, a Graduate School and a Division of Health Sciences that together offer more than 250 certificate and degree programs. More than 12,000 students attend ISU. Idaho State University is the state's designated lead institution in health professions.
---
Categories: