Idaho State University Researchers teaming with Washie the Cleaner Toilet Seat to test, improve new product, with help of $83,000 IGEM Grant
May 21, 2019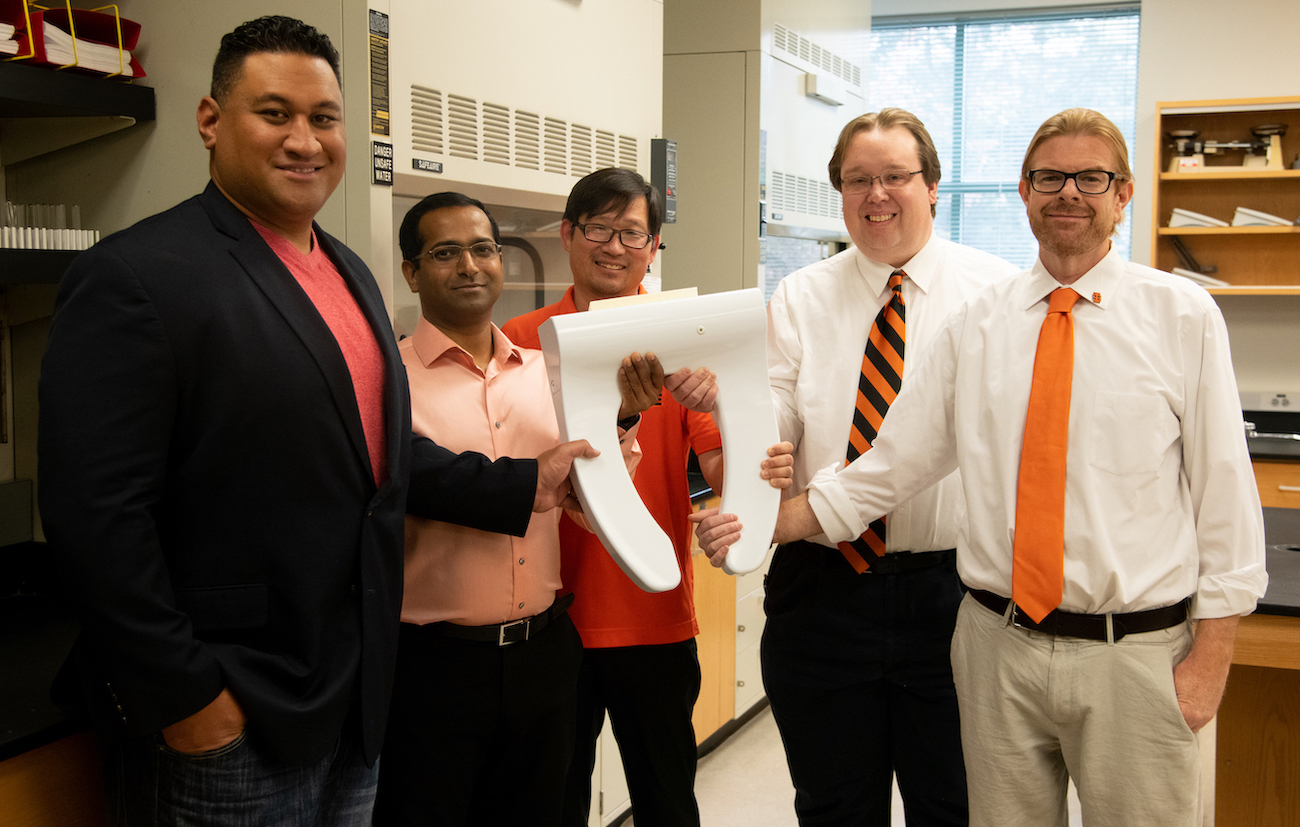 POCATELLO – Researchers at Idaho State University and the founder of Washie the Cleaner Toilet Seat in Pocatello are excited to be working together to test and improve the product, thanks to a $83,000 Idaho Global Entrepreneurial Mission (IGEM) grant from the Idaho Department of Commerce.
"It is a great project," said Anish Sebastian, ISU assistant professor of mechanical engineering and the grant's principal investigator. "It helps us build relationships with industry partners – a lot of people aren't aware the University is a great resource to answer technical questions – and we get to send our students over to learn from our industry partners."
The Washie the Cleaner Toilet Seat was created by Rob Poleki, a former Bannock County Clerk and ISU alumnus. His invention is a toilet seat that includes a motion-activated sensor that dispenses an "eco-friendly cleanser" that can be wiped away and is designed for easy cleaning.
"It has been so exciting for my company to move forward with a partnership with the University," Poleki said. "I graduated from ISU and am a huge Bengal fan and supporter and was part of the 2002 Big Sky championship football team. Partnering with the University takes this project to a whole new level."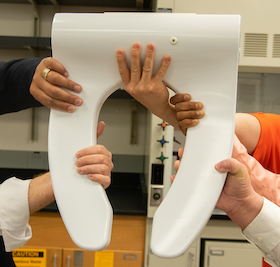 Both the Department of Mechanical Engineering and Department of Chemistry students, under direction from faculty, will be involved in the collaboration. Mechanical engineering students will be gathering data to test the life cycle of the product. They'll test, among other things, how long the seat will last, its weight load and it hinges. They will also examine its batteries used to power the dispensing of cleanser to see how long they last, and if rechargeable batteries could be used. Chemistry students will be testing how effective the cleansing chemical is and how the chemicals react to parts of the product.
"This is an interesting project for chemistry students to get to actually see a close-up example where chemistry plays a major role in a commercial product," said Joshua Pak, ISU professor and chair of chemistry, who is a co-principal investigator on the project.
Sebastian said he hopes this IGEM grant is the sign of many more collaborations to come.
"We hope, local industry will look at ISU as a partner to help solve their technical challenges," Sebastian said. "We have a lot of expertise at ISU, all you need to do is ask. IGEM really helped bridge that gap."
The IGEM grant program funds commercialization research, where university researchers and business experts partner together to bring viable technologies to market. To learn more about IGEM and for program and application information, visit http://igem.idaho.gov.
"We would like to thank the IGEM committee for their support, Dr. Scott Snyder (ISU interim vice president of research and dean of the College of Science and Engineering) for his valuable input and preparing us for the IGEM council interview, the mechanical engineering department and Steve Wright from the Office of Sponsored Programs," Sebastian said.
For more information about Washie, visit www.washietoiletseat.com.
Idaho State University, a Carnegie-classified doctoral high research activity university and teaching institution founded in 1901, attracts students from around the world to its Idaho campuses. At the main campus in Pocatello, and at locations in Meridian, Idaho Falls and Twin Falls, ISU has nine Colleges, a Graduate School and a Division of Health Sciences that together offer more than 250 certificate and degree programs. More than 12,000 students attend ISU. Idaho State University is the state's designated lead institution in health professions.


---
Categories: