Idaho State University researcher L.J. Krumenacker helps name seven new Idaho fossil species, including one after his former ISU advisor
June 17, 2019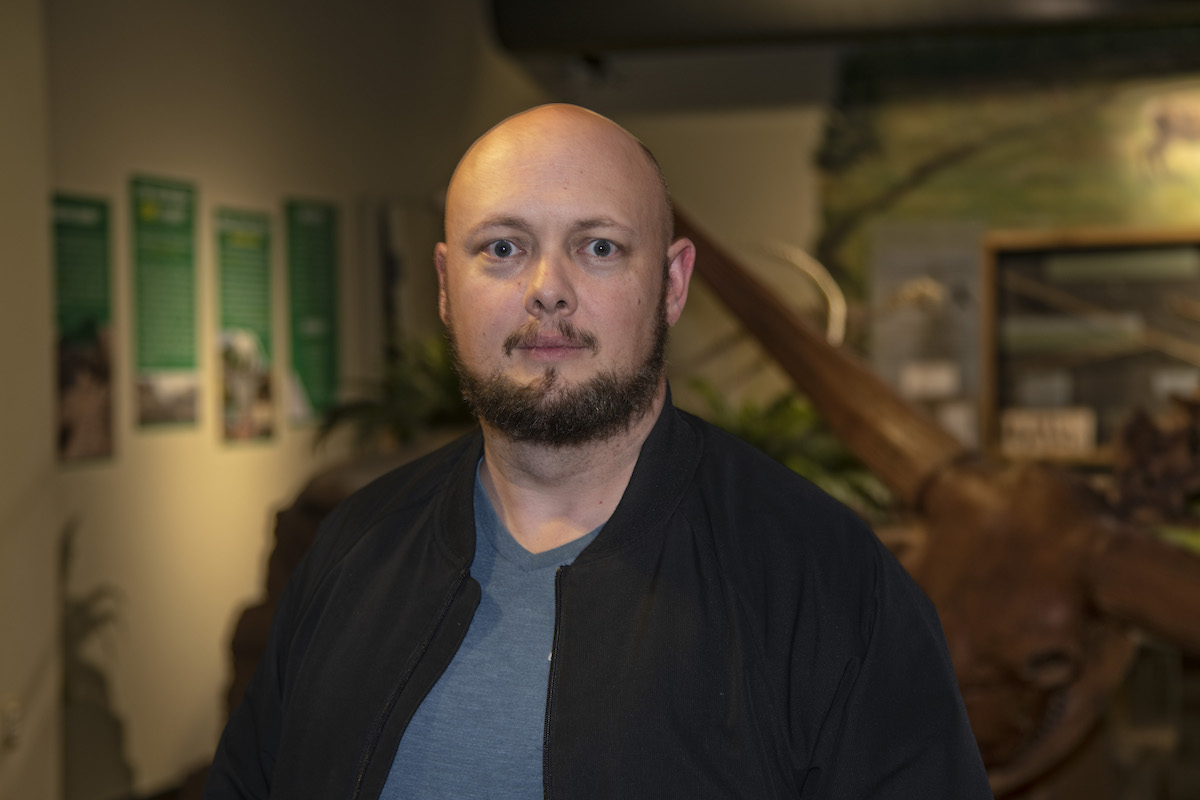 POCATELLO – Of the seven new species of prehistoric Idaho creatures Idaho State University Department of Geosciences affiliate researcher L.J. Krumenacker was able to help document and name in scientific journals that were published this month, his favorite is Cimolodon akersteni, named after his former advisor and paleontological mentor Bill Akersten, who retired from ISU about a decade ago.
"I think it's cool to have all these new species from Idaho," said Krumenacker, who is also a middle school teacher in Blackfoot and an ISU affiliate faculty member. "I've never had the opportunity to name a species before and it was great to name one after Bill because he was a great advisor. I want to talk him up. He got me where I am today."
Cimolodon akersteni was a mouse-sized mammal that is about 100 million years old and was found at a fossil bed near Grays Lake. Its discovery has been documented in the Journal of Vertebrate Paleontology.
"It's the oldest Idaho mammal that has a name," he added. "It is the first dinosaur-aged mammal from Idaho and more are coming."
Krumenacker is a co-author on another set of scientific papers that name previously unknown prehistoric species and describe others found at a site near Bear Lake. These new animals appear in a special volume of the journal Geobiology.
"Imagine a potato with two giant eyes on it and three or more large sets of appendages with big grasping claws," Krumenacker said.
This approximately 250-million-year-old creature he is describing is one of two new species of arthropods, "animals related to shrimp and crab called thylacocephalans," that Krumenacker and an international team of scientists have discovered at the Idaho Bear Lake site.
"They look like weird little monsters, maybe three or four inches long," he said.
Besides the two new species of arthropods, the scientists describe in these papers a new species of sponge from a group that was thought to have gone extinct 450 million years ago, but the ones found near Bear Lake are 200 million years younger. The researchers have also found a new species of starfish that is one of the first starfish fossils from the Triassic period ever found in Idaho.
These interesting finds may never have come to light without the persistence of Krumenacker. A native of Blackfoot, Krumenacker was doing some amateur paleontology work ­– rock hounding and collecting fossils – when he collected a number of fossils from the site when he was earning his undergraduate degree in biological sciences with a minor in geology at Idaho State University in the early 2000s.
"I found this weird site and it took me 10 years to get anybody interested in it," said Krumenacker, who went on to earn a master's degree in geology from BYU and a Ph.D. in Earth Sciences at Montana State University. "I kept finding these weird fossils that no one could identify and couldn't figure out what they were."
When he was earning his Ph.D. Krumenacker showed some of the fossils to a colleague in Utah who was able to identify some of them as the sponge species mentioned above.
"That group of sponge supposedly went extinct 450 million ago, but here we have some in rocks half that age," he said. "That is what got their attention and got them excited and we started finding all these new species with a lot of hard work."
This fossil site is important because it formed 1 to 1-1/2-million years after the largest mass extinction in Earth's history.
"Scientists had thought that it took a long time for marine life to recover, but what we saw from this site, at least locally, is that you had a thriving marine ecosystem with a lot of different animals a lot earlier and sooner than we expected," Krumenacker said.
Now Krumenacker is part of an international team of about 12 interdisciplinary scientists trying to unravel some of the site's fossil mysteries.
"I collected at the site and found the site and since that time we've had a lot of volunteers and this collaborative research team from France, Switzerland and Utah coming over and working the site intensely because it is full of new animals and species," he said. "I think we are just scratching the surface of this site."
He said what is true of this site is likely true of Idaho as a whole.
"I think Idaho has a lot of untapped potential as far as our fossil resources go," Krumenacker said. "Idaho has been overlooked a lot, but the Bear Lake site shows there is a whole world of untapped potential in Idaho's rocks and we can make discoveries if we really start looking.
Idaho State University, a Carnegie-classified doctoral high research activity university and teaching institution founded in 1901, attracts students from around the world to its Idaho campuses. At the main campus in Pocatello, and at locations in Meridian, Idaho Falls and Twin Falls, ISU has nine Colleges, a Graduate School and a Division of Health Sciences that together offer more than 250 certificate and degree programs. More than 12,000 students attend ISU. Idaho State University is the state's designated lead institution in health professions.
---
Categories: