Idaho State University debaters Marchetti and Mortimer are national champions
March 27, 2019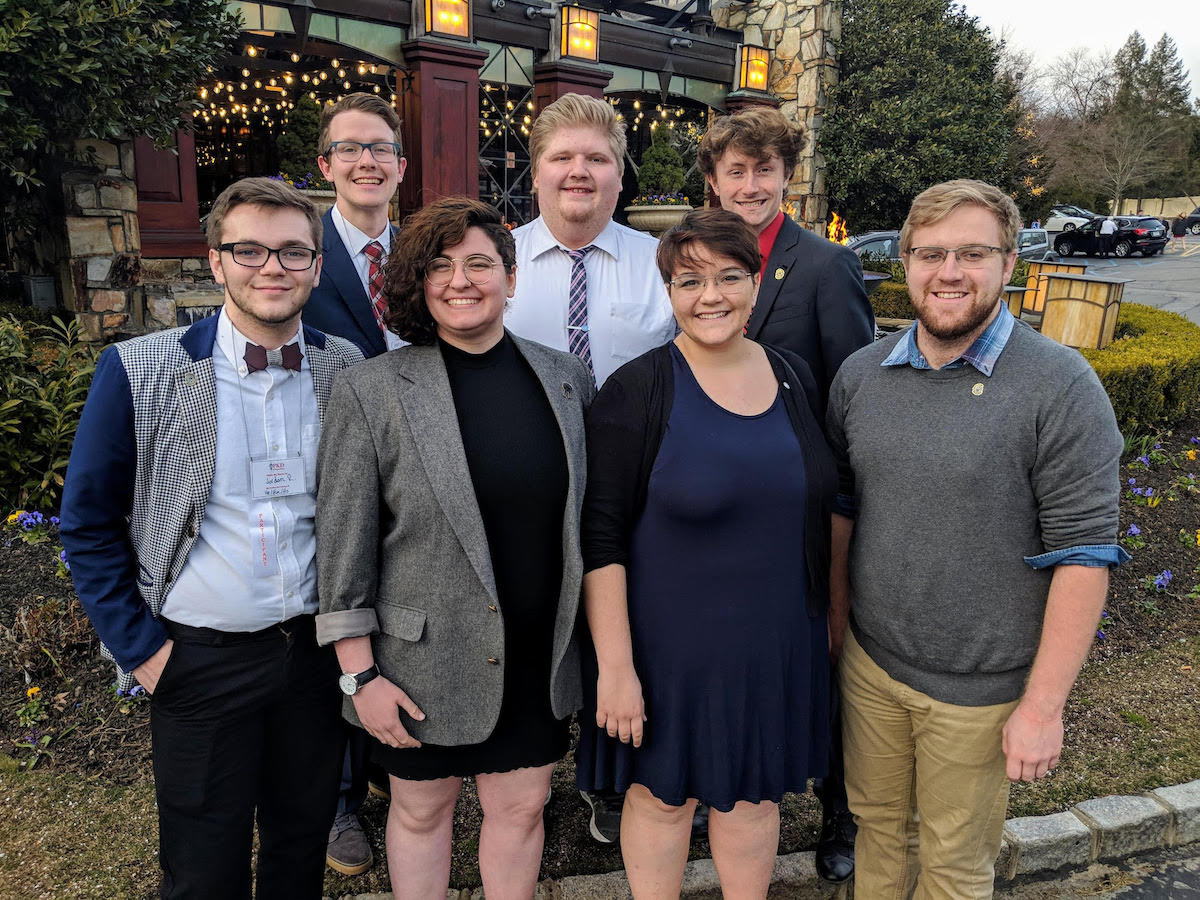 POCATELLO – Idaho State University debaters Kaden Marchetti and Nate Mortimer argued their way to the top national honor in Public Forum Debate at the Pi Kappa Delta National Tournament early this week that was held at Hofstra University in Hempstead, New York.
Marchetti, a sophomore from Pocatello majoring in computer science, and Mortimer, a junior from Pocatello majoring in political science, eventually faced off with rival Boise State to secure the top berth in the ninth round.
The ISU Public Forum team of Conner Coutts, a sophomore from Pocatello majoring in English, and Jordan Reynolds, a freshman from Blackfoot majoring in English, also broke to the quarterfinals, but were upset in round seven.
Additionally, squad president Nick Grunig of Pocatello and ISU novice Rianne Quigley of Idaho Falls received recognition for speaking in the top 30 percent of the overall contestants. Grunig, Quigley and undeclared Pocatello freshman Rowan Smith all competed in International Parliamentary Debate.
"I'm certainly proud of them, but I'm really not surprised," said Andy Christensen, ISU assistant director of debate. "The commitment to preparation that debaters of this caliber engage in is exceptional. That includes research, case writing, practice for quality of delivery, and timing right down to what will fit into a case within a few seconds. All that, and they have to anticipate and prepare for every possible argument that could come from the opposition."
ISU's debate program also received a Sweepstakes Award of Excellence on the national stage. The awards are markers in combined categories of debate entries. Sarah Partlow-Lefevre is the team's director.
Pi Kappa Delta National Speech and Debate Tournament is held biennially and hosted 508 competitors from 71 universities in 29 states and three countries. The teams have been preparing for the Public Forum topic, "The United States should rejoin UNESCO with full-member status," since January. The IPDA debaters have a new topic every round and create case arguments on-site, round-by-round.
"The win for Marchetti and Mortimer was strategically more fun than any game I've ever watched," Christensen said. "These guys go to nationals and run the same winning case time-after-time for eight rounds, and then – just to make sure nobody has prepared a case against them – they switch sides and pulled out a new case nobody at the tournament had ever seen before."



---
Categories: