"Five Seasons" film and discussion on urban landscaping to benefit birds, wildlife set Feb. 21 at ISU
February 11, 2019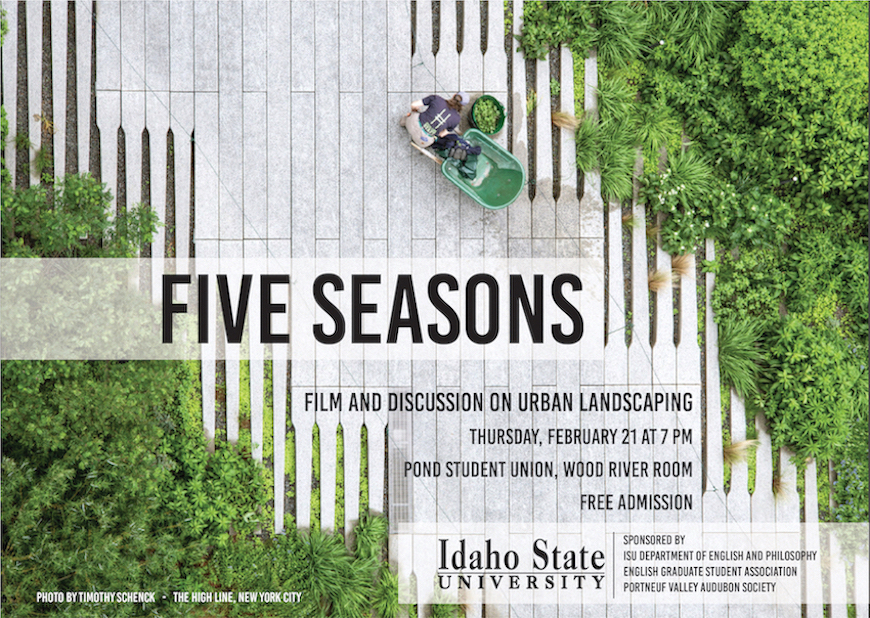 POCATELLO – A free screening of the film "Five Seasons: The Gardens of Oudolf" and a panel discussion on how institutions and individuals in Pocatello can landscape to benefit wildlife will be held at 7 p.m. Feb. 21 in the Idaho State University Pond Student Union Wood River Room.
With increasing awareness of nature's fragility, landscape designers in recent years have sought to bring more wildness to urban green spaces, said Curt Whitaker, ISU English professor, who is organizing the event sponsored by ISU Department of English and Philosophy, the ISU English Graduate Student Association and Portneuf Valley Audubon Society.
"Whereas 20th-century gardening tended to be about straight lines and geometrical blocks, contemporary designs often reproduce organic patterns found in nature, creating habitat that supports more diverse bird and insect life in otherwise inhospitable urban settings," Whitaker said.
Dutch landscape designer Piet Oudolf has been at the forefront of this new approach to gardening, creating such notable sites as the High Line greenway in New York City and Lurie Garden in Chicago. The film "Five Seasons: The Gardens of Piet Oudolf" considers the vision and achievement of Oudolf in the Netherlands and the United States providing many suggestions for other urban areas that wish to reconsider their approach to landscaping.
Following the hour-long screening of the film on Oudolf, the following panelists will discuss green space in Pocatello and how institutions and private individuals can plant in such a way to support birds and beneficial insects while still keeping in mind the human desire for beauty:
• Jacob Berger, ISU assistant professor of philosophy;
• David Delehanty, ISU professor of biological sciences; and
• Alissa Salmore, landscape architect and environmental planner, Idaho Department of Transportation
The discussion will be moderated by Whitaker.
---
Categories: