Charles C.W. Cullen will walk at 2019 ISU commencement
May 1, 2019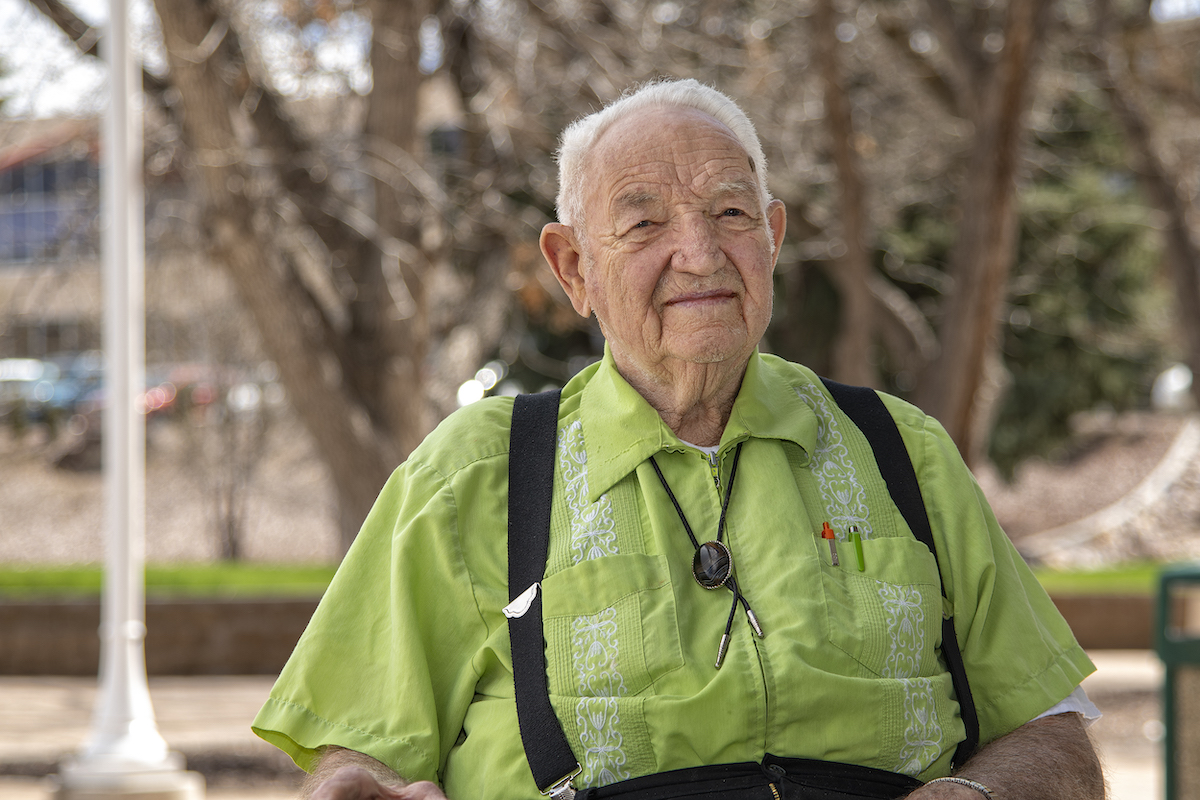 Born in 1929, he first enrolled in ISU in 1947
POCATELLO – Many 2019 Idaho State University May graduates will pass through Swanson's Arch during the March through the Arch event that is part of graduating ceremonies, but only one can say that he originally walked through that arch to register for classes.
"That arch everybody is supposed to walk through, I walked through to register. They had a building attached at that time," said Charles "C.W." Cullen, born in 1929, who will participate in the May 4 ISU commencement.
Cullen can also boast a connection with another ISU building that no one else at commencement can. He said he hauled hod, a cement-like mortar used when laying brick, when Gravely Hall was being built.
Bricks, by the way, also played a role in ISU's local nickname when Cullen was a child growing up during the Great Depression.
"This used to be called 'Slippery Rock U' because the (Red Hill) 'I' was just above the cut on the side of Red Hill that was dug out to make the bricks at the old brick plant in Pocatello so it looked like the 'I' was sliding down the hill," he said.
Cullen, who first started college in 1947, also earned a bachelor's degree in anthropology from ISU in 2008. He will earn a Bachelor of Arts Degree in general studies from ISU this spring. A love of learning keeps him coming back for more education and Cullen said interacting with other students is what he has enjoyed most at ISU.
"The students that are young, are eager to learn and are serious students," Cullen said. "And I love rubbing against them – a knife is never sharpened until it has something to sharpen it with. I'm trying to get my mind sharper with these young kids and their new ideas."
"I am treated with respect by the whole campus, and I also respect them," he added.
There have been challenges.
"I'll put it this way, I'm going to take two aspirins and see if I can learn to use a computer," he said. "I hate them. I grew up in a different era, but I grew up with wireless typewriters, called manuals."
Cullen was born in Pocatello in 1929. His first try at ISU, then University of Idaho Southern Branch, didn't work out.
"My impression as a senior from high school was that I didn't fit," he said. "The GI Bill came back and all these men returned to school, and this poor kid just didn't fit."
Cullen lived in Pocatello until 1966 when he moved away after working for the Union Pacific Railroad as a clerk for 21 years.
"I probably about 20 different jobs after I quit the railroad," he said. "I started a new career and it didn't work out. I've worked in anything you want to name. I've been a prison guard, worked in the oil fields and I was an electrician."
He worked and lived throughout the Intermountain West, staying "west of Denver." He retired from the construction industry in 1996 and quit working completely in 2000. He moved back to Pocatello from Boise after his wife of 31 years, Tina, died. Cullen had six children, two who are still alive, Timothy Cullen from Gillette, Wyoming, and Teresa Hunter from Pocatello.
"The school of hard knocks, it teaches you well, but you never graduate. You always get refresher courses," Cullen said. "I returned to school in 2004 because I had worked all my life with my hands and built things that I could see, so when I retired I wanted to learn and pursued learning rather than doing. It has been very satisfying."
The "failure at retirement" keeps busy with other activities besides schooling, including volunteering to teach handicapped children.
"I don't do anything for pay because we have young people out there feeding families, so let them earn money," said Cullen, who lives independently, riding the bus to ISU. "I'm satisfied with my retirement. I can live on it so let them earn money."
Though he has just earned his second bachelor's degree, he isn't done with ISU and learning. He plans to continue studying at the ISU College of Technology.
Cullen sets goals and tries to meet them. His latest big goal was graduating near his 90th birthday, but he'll form new ones.
"That's only a large notch on the yardstick of the life," he said of his latest accomplishment. "Now I move on. Who knows, maybe I'll try for a master's for my 100th birthday."
---
Categories: