Two ISU civil engineering student teams record Top-10 finishes at national PCI Big Beam Competition
September 17, 2019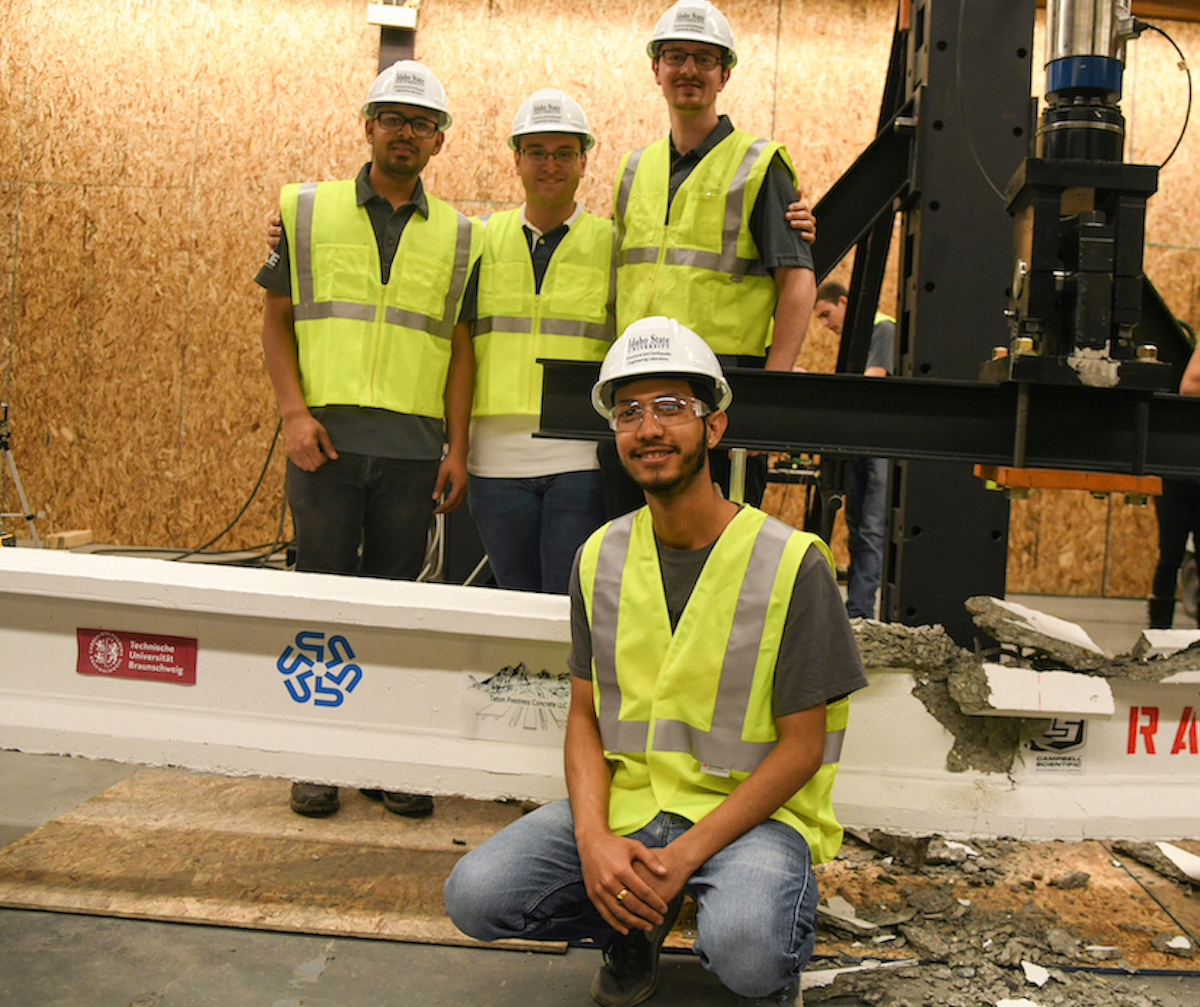 POCATELLO – Two teams of Idaho State University civil and environmental engineering students finished in the top 10 at the 2019 Precast/Prestressed Institute (PCI) Big Beam Competition.
In this national competition, ISU's team RAMA finished second in the nation, with 56.5 points, just behind the winner, Lehigh University's Precasta's Paradise, which had 60 points. ISU's Dream Beam team finished 10th with 44 points. In this contest, university students from across the country compete to create the best precast, prestressed concrete structural beam design in a hands-on learning experience.
"I was extremely happy with the results because both our teams came in the top 10 this year," said Mustafa Mashal, ISU assistant professor of civil and environmental engineering, who was the faculty advisor for both teams. "It was the second time competing in this national competition and the results we received were excellent."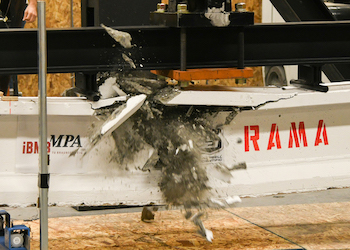 RAMA team was comprised of four students, including Mahesh Acharya, undergraduate; Alexander Gunkler, an exchange student from Technical University of Braunschweig in Germany; Ruchin Khadka, master's student; and Ali Shokrgozar, Ph.D. student. The team's industry partner was Teton Prestress Concrete in Idaho Falls. The team received a $1,750 award.
The Dream Beam team was comprised of three students including David Lucyga, an exchange student from Technical University of Braunschweig in Germany, and undergraduates Blake Kleffner and Ryan Golding. Its industry partner was Forterra Structural Precast in Salt Lake City and Caldwell. The team received a $1,000 award.
The rules and criteria for the 2019 Big Beam Competition were that the concrete beams must carry at least 32,000 pounds, must not have a peak load of more than 40,000 pounds and should not crack under 20,000 pounds. Judging criteria included design accuracy, lowest cost and weight, largest measured deflection, most accurate prediction, report quality, practicality, innovation and conformance with the code.
Mashal said ISU and the students could not have competed without the support of their industry partners.
"I am very grateful for the precast industry who supported our teams this year, Teton Prestress Concrete and Forterra Structural Precast," Mashal said. "I heard a lot of good things from our students about the magnificent support they received from our industry partners, who provided them with facilities, workers and supplies to help construct their beams. The support is much appreciated and I look forward to next year's competition."
Founded in 1954, the Precast/Prestressed Concrete Institute (PCI) is the technical institute and trade association for the precast/prestressed concrete structures industry. As a technical institute, PCI develops, maintains, and disseminates the Body of Knowledge for the design, fabrication, and erection of precast concrete structures and systems.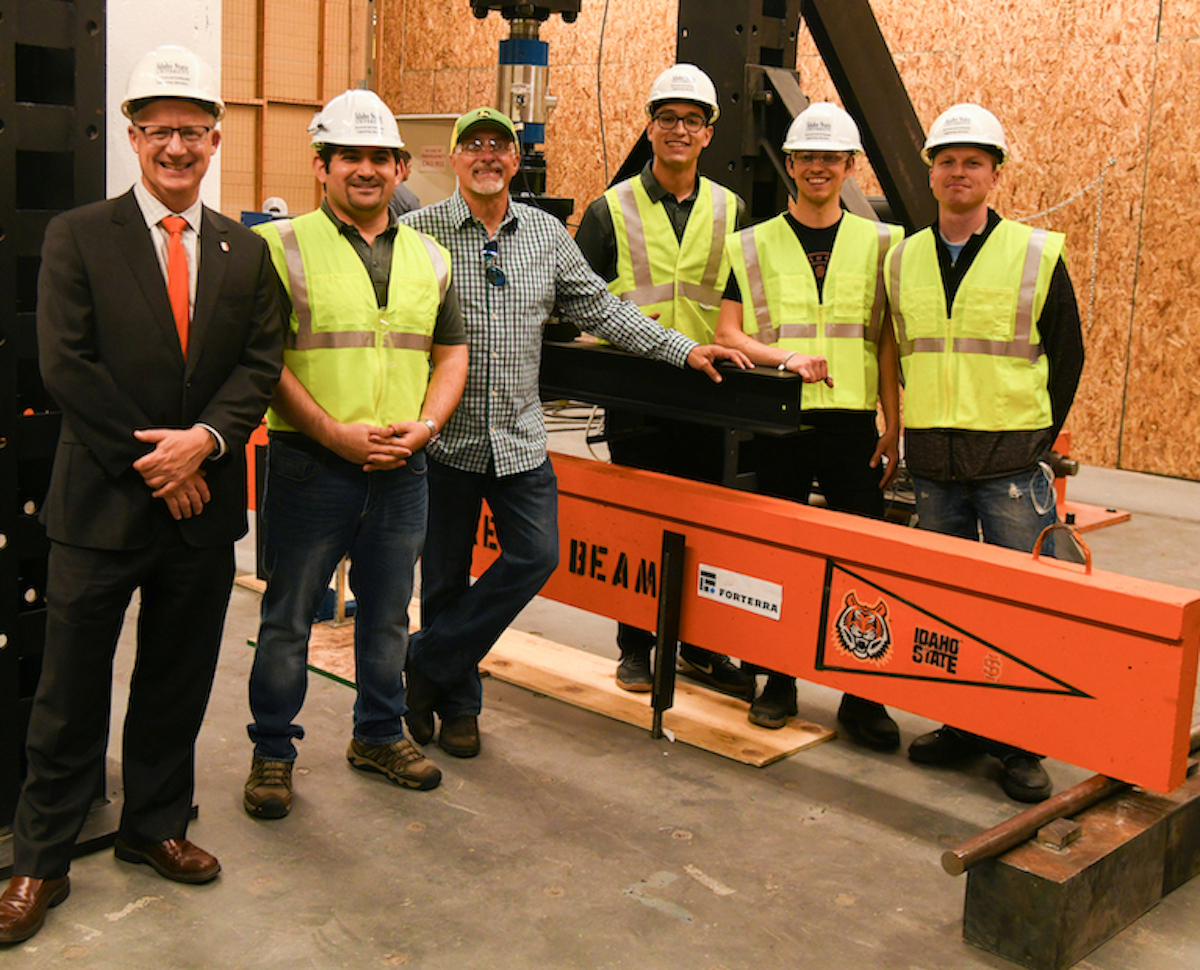 Dream Beam: From left, ISU Interim Vice President of Research Scott Snyder, ISU Assistant Professor of Civil and Environmental Engineering Mustafa Mashal, Lee Wegner from Forterra Structural Precast, and ISU students Blake Kleffner, David Lucyga, Ryan Golding.
---
Categories:
College of Science and EngineeringResearchStudent LifeUniversity News