Bengal speakers win, place, show at CSI Tanner Open
October 1, 2019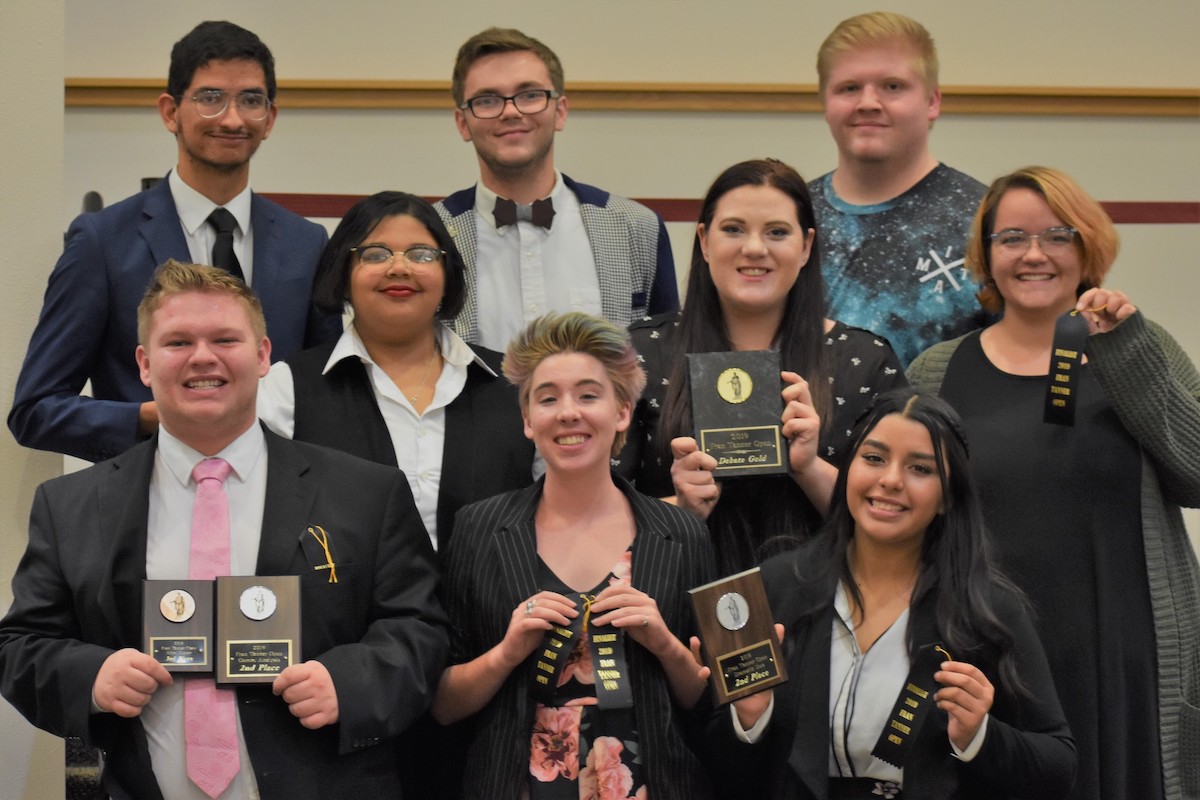 TWIN FALLS, ID – Idaho State University's Madisen Merrill, a freshman communication major, won Gold Saturday, Sept. 28, in her sixth round of Novice Parliamentary Debate at the Fran Tanner Open hosted by the College of Southern Idaho.
Merrill, a Rigby resident, also took top honors for speaking quality in the novice division, joining five more ISU varsity debaters to grab six of the top-10 honors for quality public speaking at the contest. Speakers Rianne Quigley, Jett Smith, Jazzlynn Carranza, Joseph Tyler, and Jordan Reynolds all secured top-10 honors in a field of more than 100 registered debaters.
Parliamentary pair Jordan Reynolds and Joseph Tyler tied for third place in the Team Debate semi-final round. The team missed the final round on a split decision by a judging panel of three. Reynolds, of Blackfoot, studies business writing; his freshman colleague Tyler, of Idaho Falls, studies computer science.
Sophomore Jett Smith, a Pocatello sophomore, earned his way to the final round of each individual speaking contest in which he entered, and racked up numerous honors and awards. Smith claimed silver (second) in Communication Analysis, bronze (third) in After Dinner Speaking, fourth in Programed Oral Interpretation, and sixth in Impromptu.
Two additional Idaho State pairs competed their way to the final round of Duo, where Jordan Reynolds and Jazzlynn Carranza claimed silver. Senior Rianne Quigley and Junior Abbey Vaughn took fifth in the contest. Duo features a portrayal of two characters in a dramatic or humorous reading between two characters without the use of any props. Vaughn, a College of Technology student and Twin Falls native, also made the final round of Extemporaneous Speaking.
"I'm very proud of the team. Our members have worked hard and are incredibly dedicated," said Quigley, the vice president of the team. "It shows. I'm excited for the remainder of the 2019-2020 season."
"We're already seeing great things from the team this year," said Sarah Partlow Lefevre, director of the ISU Rupp Debate Society. "They work together and support each other to maximize everyone's accomplishments."
Partlow LeFevre is also director of the National Debate Tournament and a member of the board of the Women's Debate Institute, and has directed the team since 2001.
The Rupp Debate Team is supported by the Associated Students of ISU; the ISU Department of Communication, Media, and Persuasion; and the College of Arts and Letters.