Bengal debate first at Northwest College contest
September 27, 2019

POWELL, Wyoming – Idaho State University's Rupp Debate Society bested 20 British parliamentary debate teams at the 50th Northwest Trapper Forensic Tournament at Northwest College in Powell, Wyoming.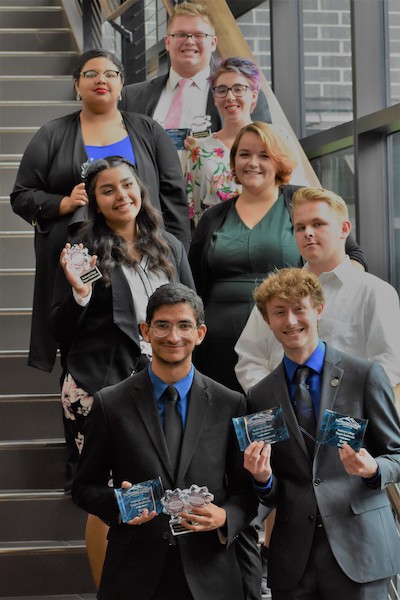 Junior Kaden Marchetti, Pocatello, and his partner freshman Joseph Tyler, Idaho Falls, convinced a three-judge panel that action is preferable to adaptation on the matter of global warming.
Marchetti was tagged as the second-best speaker in the British Parliamentary contest, and Tyler received a nod as second-best novice in the field. Idaho Falls senior Rianne Quigley was noted as a top-four best-speaker in the British Parliamentary contest.
ISU novice Ricki Misner, Pocatello, earned a spot in the quarterfinal round of International Parliamentary Debate, but narrowly missed advancing to semi-finals. Misner, who is studying criminology, argued on the topic "self-checkout lines do more harm than good."
Bengal speakers Jett Smith, Pocatello, and Jazzlynn Carranza of Idaho Falls both competed in the program of oral interpretation contest. Smith, a communication major, took second; Carranza, a freshman studying political science, was also a final round competitor. Smith additionally secured fourth place in communication analysis, and competed in persuasive speaking, after dinner speaking, impromptu speaking, and informative presentation contests.
Marchetti and Tyler both competed in the final round of the extemporaneous speaking challenge. Marchetti, who studies computer science, took third place. Tyler, also studying computer science, took fourth in the after dinner speaking competition as well.
"When we review a list of accolades like this, we always pause to recognize the commitment of our competitors," said Andy Christensen, assistant director of the program. "Our group makes up only a few of the 97 individual forensic speaking entries and more than 45 team and individual debate entries at a tournament. Competing all the way to an award in that large a field demands tenacity."
Ten Intermountain Region colleges from Wyoming, Utah, South Dakota, Montana and Idaho participated.
The Rupp Debate Team is supported by the Associated Students of ISU; the ISU Department of Communication, Media, and Persuasion, and the College of Arts and Letters.
Photo information: Left side top to bottom: Ricki Misner, Jazzlynn Carranza, Joseph Tyler. Right side top to bottom: Jethro Smith, Abbey Vaughn, Rianne Quigley, Brayden Hernandez, Kaden Marchetti
---
Categories: