ISU student Camie Parsons uses chemistry to make mark on hair industry; creates new, healthy product for fixing damaged hair
Tori Parks, Marketing Career Path Intern
March 28, 2018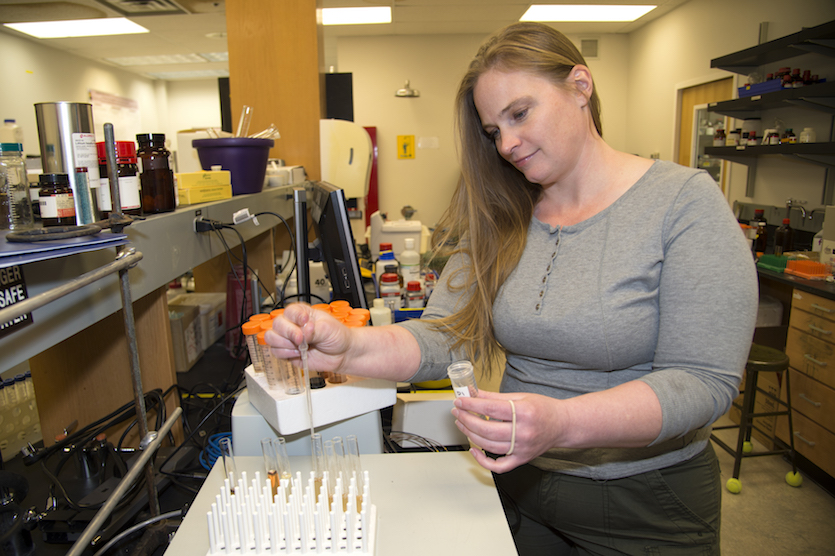 POCATELLO – Camie Parsons, a current, nontraditional Idaho State University chemistry master's student, never imagined that being a cosmetologist would prompt her to go back to college to study chemistry. She's now a single mother to four kids, completing graduate school and starting a business based off her cosmetology and chemistry background.
As a cosmetologist, Parsons frequently dealt with clients who had damaged and broken hair due to over coloring and perming. But, Parsons didn't get her idea to color and wave hair in a better way until she was visited by a client who came in who had tried to perm her own hair and had severely damaged it. Parsons tried to fix the client's hair, but it was beyond repair. This experience was traumatic for Parsons and the client, and Parsons started thinking about better ways to color hair that were less damaging.
"I was originally a stylist," said Parsons, who was born and raised in Pocatello. "I went to school to be a chemist because I thought there had to be a better and healthier way to color and perm hair."
Chemistry students are required to design and present a senior project that demonstrates the skills and research done over the course of the program.
"For my senior project, I decided to see if I could create a way to wave and color hair that causes no damage," Parsons said.
After weeks spent in the lab under the supervision of Caryn Evilia, an associate professor of chemistry and biology, Parsons finally accomplished her goal. She found a way to wave and color hair that not only prevents previously-unavoidable damage, but actually helps repair hair.
"Parsons wants to help others by designing better cosmetics," Evilia said. "She uses improved, safer chemistry to do this."
Parsons has done extensive testing to ensure that her product truly is safer and healthier than others.
"I've done the process on hair samples 15 times before you start to see damage," Parsons said.
After presenting her findings at her senior seminar, Parsons was advised to turn her project into a business, which was a daunting task for a cosmetologist turned chemistry major.
"The teachers in the chemistry department are amazing and incredibly supportive," Parsons said. "The support of the faculty in the chemistry department has been essential to the growth of this project."
Upon the advice of her professors, Parsons entered the Idaho Entrepreneur Challenge where she pitched her idea to a panel of judges. She received second place in the competition. After the presentation, multiple judges wanted to invest in her company, which was the win she wanted.
Parsons has now created a company IUVENI, which means youth in Latin, and is marketing a product called Duality that can be used to wave and color hair. IUVENI Duality hopes to recapture the beautiful and resilient hair that youth have. IUVENI Duality is safe and sustainable to use compared to traditional products, because the primary source for a significant ingredient is a natural product derived from sunflowers.
Testing has been done at salons in Pocatello with "mind-blowing" results, Parsons said. Duality works with any existing color brand to color and wave hair with no damage. The whole process takes about an hour and a half.
Parsons has received calls from salons all over the United States asking about Duality. She hopes to take IUVENI and Duality international as soon as she can
"Asia spends the most money annually on hair coloring and perming," Parsons said. "We hope to get Duality over there soon."
Parsons is still shocked at the success of IUVENI, and she hopes that her product Duality, along with other products she is developing, can continue to help people keep their hair healthy and repair damaged hair.
"People are never going to stop coloring their hair," Parsons said. "Finding ways to make it a healthier process is crucial."
Parsons is looking forward to the launch of Duality later this year. She is currently working on other hair care products as part of her graduate research.
For more information on IUVENI, visit www.iuveni.com.