ISU signs MOU on scientific cooperation with Public Health England to continue health physics research collaboration
July 13, 2018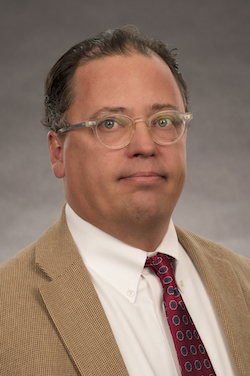 POCATELLO – Idaho State University has signed a Memorandum of Understanding with The Centre for Radiation, Chemical and Environmental Hazards, Public Health England to continue collaborating on the effects of radiation on humans.
"We have collaborated with them in the past, but now we are formalizing that agreement," said Richard Brey, professor and director of ISU's health physics program. "The Centre for Radiation, Chemical and Environmental Hazards, Public Health England is a world-renowned center for radiation safety research and only collaborates with leading universities, usually on a project-by-project basis. This MOU indicates a special relationship with ISU and reflects the international value of our teaching and research in the field of internal dosimetry."
The technical term for the type of research ISU health physics has done and will continue to do is "internal dosimetry," which is predicting and understanding the movement of radioactive material inside of a human body once it is ingested or inhaled. Health physics is a discipline devoted to the protection of humans and their environment from the harmful effects of ionizing radiation while providing for its beneficial uses.
"Right now and over the last few years, we've been using a very specialized software package that they've developed," Brey said. "We are testing it and employing it in our research, and that is important to their research as well. In fact, the software we are sharing right now is very unique and specialized. It is an opportunity other universities can't provide health physics students."
ISU health physics also works in collaboration with researchers from the Lovelace Respiratory Research Institute in Albuquerque, New Mexico, the Los Alamos National Laboratory in New Mexico, and several independent scientist who have a long history studying these problems.
"Here at ISU our graduate students do a significant amount of physiocochemical modeling of physiological processes" Brey said. "The work we do in internal dosimetry is recognized as being important nationally and internationally."
The MOU covers areas of mutual Interest to CRCE and ISU In the fields of Internal dosimetry, radionuclide metabolism, radiation protection and related research. Collaborativeactivities in these fields of research may include, but will not be legally bound or limited to, the following:
• Identifying strategic research needs and postgraduate research topics
• Sharing of knowledge and expertise
• Joint research projects
• Joint seminars and workshops
• Research work placements and exchanges
• Promotion of mutual interests
All activities will be done in compliance with applicable export control laws.
---
Categories: