ISU research team earns fellowship to Lawrence Berkeley National Laboratory to use statistics to better predict cloud formation
May 18, 2018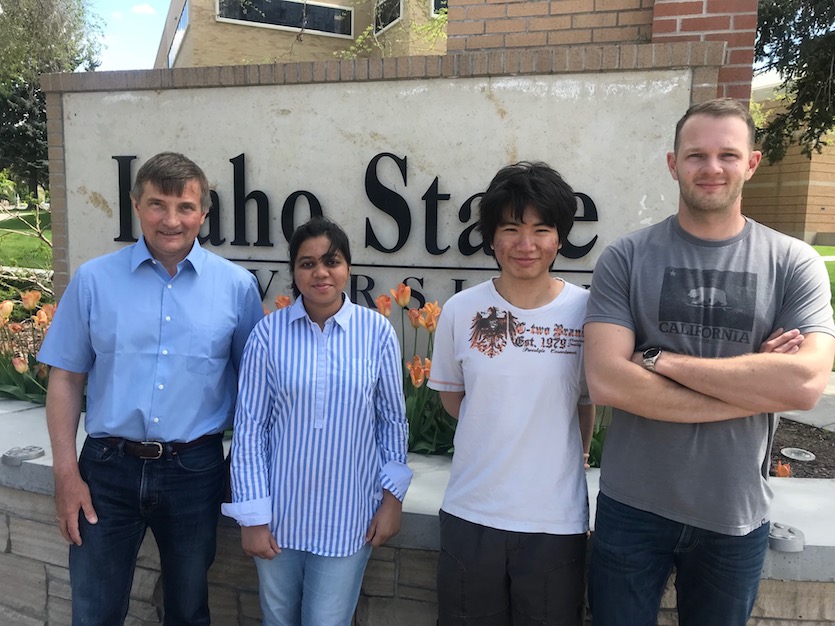 POCATELLO – A team of three international researchers from Idaho State University using math and statistics to help better predict cloud formation and the weather have been awarded a Computing Sciences Research Pathways Fellowship to Lawrence Berkeley National Laboratory in Berkeley, California, this summer.
"Basically, we are going to develop some high-resolution mathematical methods for the calculation of atmospheric flow," said Yury Gryazin, ISU associate professor in the Department of Mathematics and Statistics, who is the lead on the project.
He said the group's most important focus is on cloud formation, which is the most unpredictable part of the atmospheric flow that delivers the weather.
"As soon as a cloud forms, the temperature can change rapidly, everything can change quickly, so the process of cloud formation is still unknown to some extent or is unstable," Gryazin said. "Basically, it is hard to predict with enough certainty to guarantee some clouds will form at some particular time. In this particular case, using high-resolution methods, it will give us a chance to do more accurate weather prediction."
The ISU team will work with Xiaoye (Sheri) Li of the Scalable Solvers Group in the lab's Computational Research Division on this project to "construct a new type of parallel high-resolution compact numerical method for simulation of atmospheric flows."
Gryazin, originally from Russia, will be joined by ISU engineering doctoral students Ron Gonzales, from St. Anthony, Idaho, and Yun Teck Lee, from Kuching, Malaysia. Lee and Gonzales both earned their master's degrees working with Gryazin and have finished the first semester of their doctoral programs working with him.
"We will work as a team and this fellowship is absolutely huge, as far as my career goes," Gonzales said. "We're starting out wanting to do projects like this. It is a huge step."
Lee, too, said he is pleased about the opportunity this fellowship offers at the prestigious Lawrence Berkeley National Laboratory.
"I have really wanted to try to do an internship at other places, so this is a very good opportunity," Lee said.
Gryazin, Gonzales and Lee work with ISU engineering master's student Jasika Samantha
from Bangladesh on this project, but Samantha won't be making the trip this summer.
The fellowship was competitive. Gryazin said about 100 entities applied for this fellowship so he was very surprised and pleased when it was awarded to this multi-disciplinary group from ISU. The fellowship provides $16,000 in funding for Gryazin and half that amount for each student.
Gryazin said this fellowship would not have been possible for this ISU contingent without the prior support of the Idaho National Laboratory.
"We mostly focus on developing parallel algorithms, and our opportunity to develop these algorithms came from the INL, which gave us access to their super computer where we could actually test different high-resolutions approaches to new numerical methods in cooperation with the INL," Gryazin said.
The ISU professor said that this project was facilitated by the INL's Ben Nicolson, who is a former computer scientist at ISU. Nicolson has also helped ISU develop a class in parallel computing.
The 10-week fellowship will run from June 4 through Aug. 10.
---
Categories: