ISU psychology student Shelby Weber awarded prestigious research internship
June 4, 2018
Madison Shumway, College of Arts & Letters intern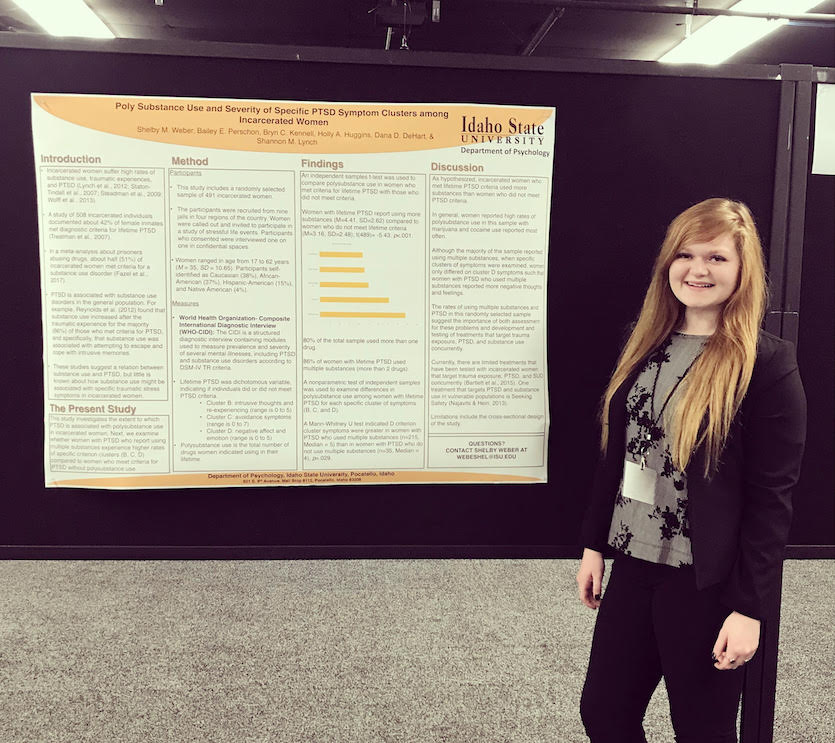 POCATELLO ­– Recent psychology graduate Shelby Weber plans to begin Ph.D. studies in clinical psychology at Idaho State University this fall. Before she returns, she will complete a Chicago-based research internship funded by the National Institute of Drug Abuse (NIDA) studying chronic pain and traumatic experiences in inner-city women.
"I feel confident going into this research fellowship both because ISU has prepared and trained me well in research processes and critical thinking skills and because it is such an excellent fit to my research goals," Weber said.
At ISU, Weber has assisted with research headed by clinical psychology professor Shannon Lynch examining traumatic experiences of incarcerated populations, violence against women and recovery. Her own work focuses on understanding links between trauma, post-traumatic stress disorder and substance use in underserved populations.
The NIDA internship offers an opportunity to further this research. During her two months in Chicago, Weber will assist with a two-year trauma and pain study examining the relationship between chronic pain and traumatic experiences in inner-city women. She will conduct interviews with study participants and analyze data with the research team at Rush University Medical Center.
"I believe studying these important issues will lead to improved diagnosis and treatment," Weber said. "I aspire to contributing to scholarship in this field of study."
The NIDA Summer Research Internship Program allows undergraduate students to study drug abuse and addiction with distinguished scientists across the country. The selection process is competitive: hundreds of students compete for limited positions each year.
In addition to working in the Lynch lab and participating in the NIDA summer internship, Weber has presented research at multiple psychology conferences, including the Rocky Mountain Psychology Association and Western Psychology Association conferences. Her trip to RMPA was funded by an undergraduate research travel award from the ISU College of Arts and Letters.
Weber, who hails from south-central Alaska, looks forward to returning to ISU for her doctoral studies in the fall. She praises its friendly community, generous scholarships, geographical location and, most importantly, the research opportunities and practical experience its psychology department offers students.
"ISU is unmatched in its expertise and genuine care for their students," she said. "I have always been encouraged, challenged, and pushed to success in the psychology department from day one."
---
Categories: