ISU graduate student Camerin Passey "excited" to make mark on world
By Tori Parks, Marketing Career Path Intern | May 1, 2018
POCATELLO – Idaho State University Doctor of Pharmacy graduate student Camerin Passey is excited for many things after graduation, but the first that comes to mind is supporting his growing family.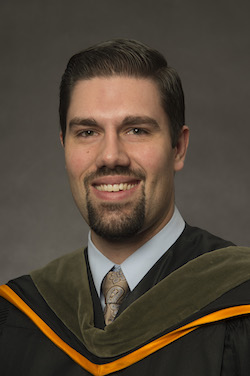 Passey, who has a wife and two kids, has been attending ISU for the last four years. He received his Master of Business Administration degree in August 2017, and is excited to receive his PharmD in May.
Passey, from Montpelier, always had an interest in the medical field, but never had the desire to be a physician or a surgeon, which is why he saw pharmacy as a good fit. His past jobs gave him the motivation he needed to stick with pharmacy.
"I've had a lot of tough jobs, such as gold mining and lawn mowing," Passey said. "These jobs served as motivation to choose and stick to pharmacy as my career."
The PharmD program at ISU proved to be another tough job for Passey.
"The program is very demanding," Passey said. "The prerequisites alone were quite difficult just to get into the program. The program itself lives up to its reputation for being difficult and requiring a lot of time and dedication."
The PharmD program requires focus, attention and drive. Passey has had to spend much of his time studying and away from his family doing clinical rotations, which has put strain on both him and his wife.
"My wife had to work a couple different jobs to keep us afloat while I studied," Passey said. "As we started having kids, juggling them, her job and studying for both the PharmD and MBA programs became quite overwhelming at times."
Despite growing family responsibilities, Passey, who has maintained a 4.0 throughout his time in the PharmD program, said he has always made time for his studies.
"Managing my family and my studies has been crazy," Passey said. "But, I've usually been able to give my studies the attention they need, even with everything going on in life."
Though the program has been hard for Passey and his family, he says that is has been worth it. Through his professors, Passey has gained the opportunity to help publish a case report.
"I've really appreciated working with Dr. Erramouspe during pharmacy school," Passey said. "We've worked on publishing a case report concerning one of the patients we encountered during my pediatrics rotation."
During Passey's advanced rotation, he encountered a newborn with unique mutations that are linked to a severe and refractory seizure disorder. His work involved the use of two difficult-to-manage drug interactions involving two seizure medications. Passey is working to publish the results of his research
"Camerin has worked tirelessly to research and publish the results of this case," said John Erramouspe, professor of pharmacy practice. "He currently has a manuscript pending review with him as the first and principal author for the journal Neurocase."
Passey has had several different professors make an impact on his education, but he has also made an impact on them.
"In my 33 years of teaching at ISU, I have rarely seen a student with greater communication and leadership skills," Erramouspe said. "If all my future students could be like Camerin, I probably would seriously consider delaying my decision to retire.
Though the program was strenuous, and working in hospitals is often depressing and stressful, Passey "always brought such an appropriate, lighthearted laugh when it was needed most," said Michelle Ivie, pharmacy assistant professor.
Passey has learned much through the PharmD and MBA programs at ISU, but most importantly he has learned that he might not always know the answers to problems.
"I think the biggest thing is knowing now how to learn and apply the things that matter most in your work," Passey said. "We might not always know the answers, but we know where to look and how to learn what's needed to be successful in what we're trying to accomplish."
Passey has enjoyed his time at ISU, but he is ready to graduate and make his mark on the pharmacy world. After graduation, Passey will split his time between pharmacies in Afton, Wyoming, where he and his family will live, and Montpelier.
"I'm excited to finally be able to provide for my family in the way I've wanted to for a long time now," Passey said. "I'm also excited to put my knowledge and skills to use for the patients I'll serve in the future. Hopefully I'll be able to make a difference wherever we end up."