ISU chemistry major Emily Morley to present research on potential drug delivery system at national conference
March 12, 2018
By Tori Parks, Marketing Career Path Intern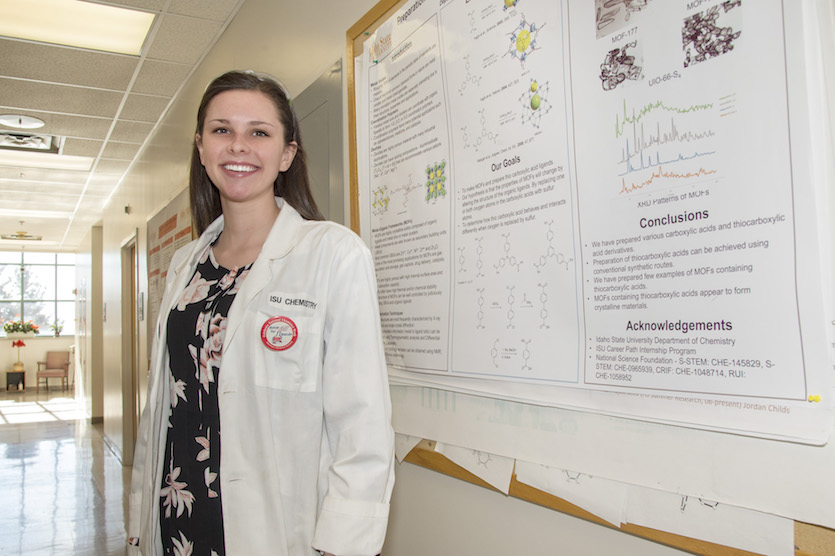 POCATELLO – Emily Morley, an Idaho State University chemistry student, has always been interested in science. But, it wasn't until she was a freshman at ISU that she got involved in chemistry-based research and realized chemistry was her passion.
Now a junior, Morley is a scholar, an active club member and an avid chemistry researcher who is studying a potentially new form of drug delivery system that can be prepared by an environmentally friendly processes.
A technical description of her research is studying how material called Metal-Organic Frameworks, or MOFs, prepared in water may be able to be used in the delivery of drugs. MOFs are a crystalline material composed of organic and inorganic units.
Morley, who came to ISU from Anaconda, Montana, takes an active part in all things chemistry at ISU. She is a member of the Chemistry Club, where she currently serves as the treasurer. The club is very active in campus events and provides several outreach activities for the local schools and community as well.
ISU's Department of Chemistry does its best to help its students get out to gain real-world experience in their field of study, Morley said. She'll get some of that experience at the American Chemical Society Conference set March 18-22 in New Orleans where she will present some of the results of her research during a poster session in the General Undergraduate Session.
"The American Chemical Society has these conferences twice a year all around the United States," Morley said. "This year there are six of us going. We are all presenting individual projects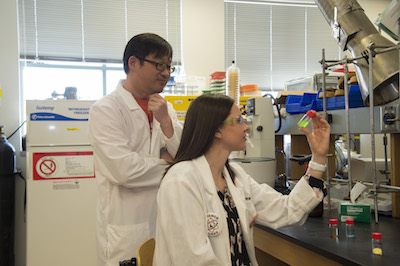 "My project," she continued, "in particular is focused on the aqueous (water) synthesis of metal organic frameworks," Morley said. "MOFs are usually synthesized in harmful solvents that aren't really good for the Earth. I am going to prepare them in water instead."
Her eco-friendly, bio-medical focus is on the interactions between drugs and MOFs in aqueous environments through specific MOF designs. She is working in chemistry Professor and Associate Chair Joshua Pak's lab on this project.
Morley is still in the early stages of her project, soaking the MOFs in solutions colored with dyes to test their adsorption.
"My hope is that, way down the road, I can soak these MOFs in a certain drug, and that they are going to adsorb this drug so they can be swallowed," she said. "We can then modify the MOFs to decompose in the body."
The end goal of Morley's project is complete drug delivery, but this result could still be a few years out.
"In three years, we have made so much progress. This is a pretty brand-new project. To get to the point of actually being able to use the MOF takes a lot of work," she said.
ISU's chemistry program is an intensive, time-consuming program, Morley said. Students majoring in chemistry are required to take rigorous courses many that have three-hour laboratories. However, she said she appreciates all the opportunities available to her.
"Chemistry Club goes to schools to do outreach, STEM (science, technology, engineering and math) camps at ISU, and other science-based camps and events throughout the year," she said.
Morley is also a National Science Foundation sponsored Scholarships for Science, Technology, Engineering and Mathematics Program (S-STEM) at ISU. The chemistry department tries to stretch its money whenever it can in order to help students pursue their education in chemistry. There are more than 20 chemistry students in the Chemistry Department that are receiving scholarships this year.
"You can get up to $10,000 of scholarship money a year," Morley said. "You also have the opportunity to communicate and bond with faculty members."
Morley hopes to continue her education after she graduates from ISU. ISU doesn't offer a doctorate program for chemistry, so she is looking at other universities.
"I want to go to graduate school and get my Ph.D.," Morley said. "I am thinking about Montana State University or University of Oregon."
Morley gets many opportunities to do research and expand her love for science, but her passion for chemistry goes beyond that.
"I would have to say that outreach programs are my favorite part about science," Morley said. "Teaching others, especially children, about science is what I enjoy the most."
Photo information: Top, Emily Morley standing by her research poster; Second photo, ISU Chemistry Professor and Associate Chair Joshua Pak with Emily Morley in Pak's lab.
---
Categories: