Idaho State University chemistry researchers use thermal imaging to retrieve serial numbers from stolen property in a non-destructive manner
March 5, 2018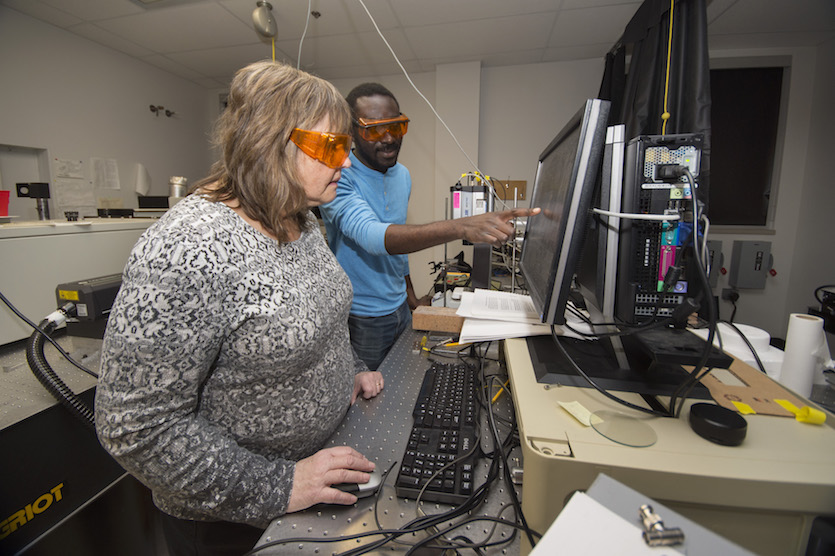 POCATELLO – Idaho State University Department of Chemistry researchers are using thermal imaging – and a lot of complicated math formulas – to develop a nondestructive means of recovering defaced or scraped serial numbers from stolen items such as guns or vehicles.
Law enforcement agencies could potentially use these recovered numbers to return stolen items or use them to investigate forensic leads.
"Our process has worked on a lot of different test samples and on one real sample, but we are working with two agencies to get more real samples," said John Kalivas, ISU chemistry professor and a co-principal investigator on the project.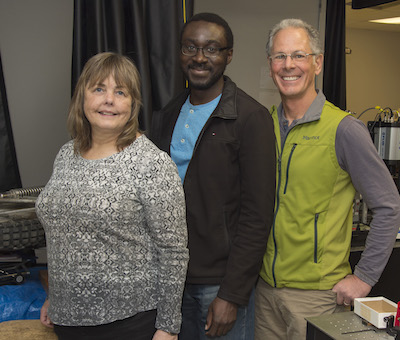 The researchers shoot laser beams through an array of mirrors and lenses that shine on a sample and a high-speed, infrared camera takes multiple images of this process. This data is then collected and analyzed so the researchers can then "read" the mathematically produced images that have been scratched away.
"It is leveraging the thermal properties of the materials to try and find the image of the defaced numbers by using mathematics to analyze the measured thermal images," Kalivas said.
ISU researchers have been working on this project since 2013 and recently received a new two-year grant extension for about $200,000 to continue their work. In total, they've received about $516,000 for the project from the Office of Justice Programs of the National Institute of Justice. ISU has also worked with the Idaho State Police Forensic Services and the Utah Department of Public Safety on this project.
Perhaps the greatest value of this new method is that it is non-destructive, said Rene Rodriguez, ISU chemistry department chair and the project's principal investigator. Other chemical methods destroy the surface and are a "one-and-done" process. This new process could be employed first, and then if it was unsuccessful, other methods could be used.
"Since it is non-destructive, the evidence can later be more thoroughly analyzed in a crime lab setting in conjunction with more traditional methods or perhaps as a standalone method," Rodriguez said. "Thus, it may be used for cases that never make it to court or to bolster evidence that is being presented in court."
Rodriguez said the idea for the study originated with the late Dennis Strommen, an ISU emeritus professor of chemistry and former department chair, who died in 2014. Strommen helped write the original grant.
With the new grant funding, the ISU researchers will work with law enforcement agencies in Idaho and Utah to get more real samples to work on.
"The next two years is verification of the process and fine-tuning it and comparing our results to chemical etching, " Kalivas said.
Chemical etching is the destructive form of recovering serial numbers that is currently in use.
So far, the researchers have been working on identifying the numerals 0-9, but they are now incorporating alphabetical and special characters that are part of some serial numbers.
The ISU research team includes Lisa Lau, a research associate, and Ikwulono David Unobe, a doctoral chemistry student. They've also received help from undergraduate chemistry students, Ben Poulter, Kenji Brock and now Kali Castle.
Lau is responsible for collecting the data and Unobe has helped develop the statistical processes for interpreting it, including incorporating 10 different fonts of numbers that are used to compare to the thermal images to identify the correct numbers. The mathematical representation of the thermal images of the numbers are compared to 16,000 measures to help get an accurate reading.
"It has been really fun working on this project," said Unobe, who has been working on it since 2014 and will write his doctoral thesis on it. "Not only have I had the opportunity to work with lasers – they're cool, right – but I have also developed a number of skills working with the instrumentation in the lab through the image analysis and all the steps we have done."
The researchers are excited about their work's potential.
"It is satisfying to work on a project like this because you think, 'wow, it really could help people, by helping law enforcement officials track down criminals or restore stolen items to owners,'" Lau said. "It is a useful technique that might become commonplace in labs sometime. It is really satisfying for me to work on a project that might have immediate use."
Photo information: The research team: from left, Research Associate Lisa Lau, doctoral chemistry student David Unobe and Chemistry Professor John Kalivas. Not pictured: Chemistry Chair Rene Rodriguez, P-I on the project.
---
Categories: