Sharks of Idaho are coming home to Idaho Museum of Natural History
September 20, 2018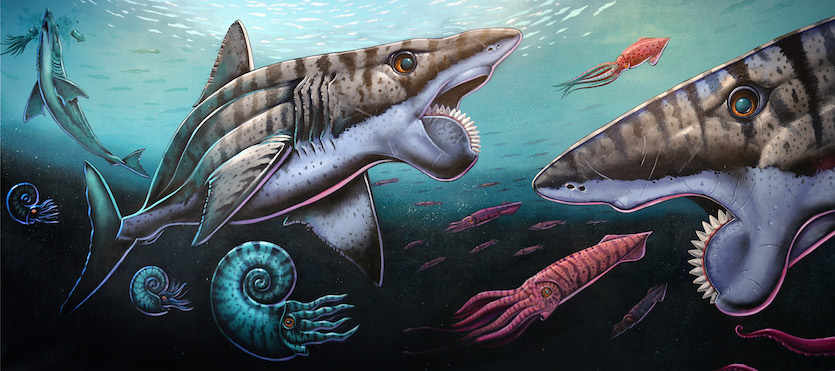 POCATELLO – The wicked and weird Buzzsaw Sharks of Idaho are coming home to the Idaho Museum of Natural History on the Idaho State University Pocatello campus.
The Buzzsaw Sharks of Idaho exhibit has been traveling the United States for the past five years, sharing Idaho's history with more than a half a million people, and on Oct. 9, the exhibit will open its doors once again at the Idaho Museum of Natural History. This unique exhibit combines science, art, music, and humor to tell the story of the strange Helicoprion shark of 270 million years ago.
Although the fossil has been found worldwide since the 1800s, it is Idaho where the greatest number and quality of Helicoprion fossils are unearthed in the phosphate mines between Soda Springs and Pocatello.
The Idaho Museum of Natural History is home to the single largest collection, now exceeding 85 specimens, thanks in large part to its partnership with area mining operations. In 2013, a significant breakthrough, led by ISU and museum researchers collaborating with modern shark specialists and a shark-obsessed artist, shed important new light on the weird animal and its bizarre tooth whorl.
"Our studies on Helicoprion show it was the largest predator on earth at the time, nearly 270 million years ago," said Leif Tapanila, museum director. "This is Idaho's most spectacular monster. We're so proud to bring this exhibit back where it all began."
The exhibit presents a wide array of spectacular Helicoprion fossils integrated with original artworks by Alaskan artist, Ray Troll. Curt Schmitz, the museum's exhibits manager, said that from an exhibit designer's standpoint, "it's the seamless combination of art and science that makes The Buzzsaw Sharks of Idaho special."
Also featured are dramatic life-sized models of the shark by renowned paleo-sculptor Gary Staab, a mechanical interactive jaw, children's activities, original music, a short documentary and more.
The Idaho Museum of Natural History has been serving Idaho since 1934. To learn more about the museum, please visit imnh.isu.edu.
---
Categories: