Public can view live exploration of underwater volcanoes from study that involves ISU researchers looking at possibility of life on Saturn moon
August 16, 2018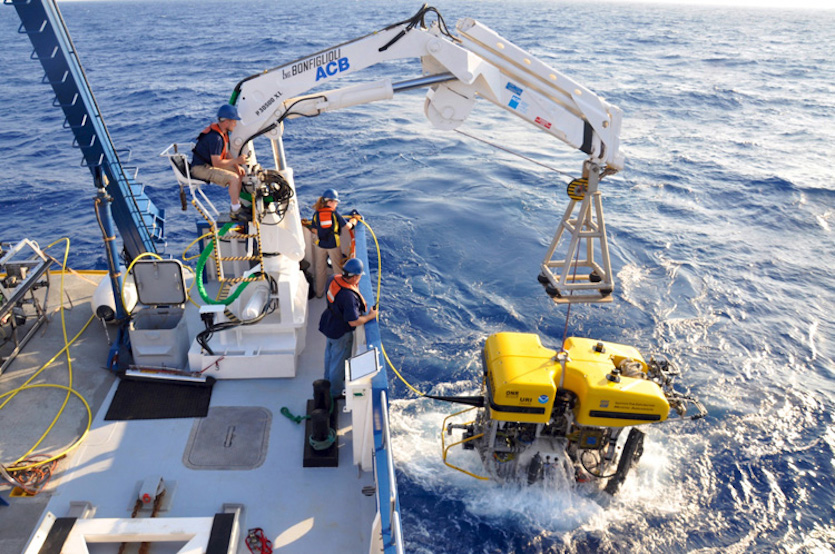 POCATELLO – The public and educators can join Idaho State University geosciences Associate Professor Shannon Kobs Nawotniak as researchers from NASA, NOAA and other partners explore the possibility of life on one of Saturn's moons by sending unmanned submersibles down to study volcanoes on the Pacific Ocean's sea floor.
From Aug. 22 to Sept. 12 an unmanned submarine from the Ocean Exploration Trust will head deep in the Pacific Ocean off the Hawaiian Islands to observe underwater eruptions of the Lō`ihi volcano. Images from that mission will be streamed live online at www.nautiluslive.org. Online participants can ask scientists involved with the mission live questions as the exploration takes place.
This expedition is part of the Systematic Underwater Biogeochemical Science and Exploration Analog (SUBSEA) project that is studying volcanoes on the Pacific Ocean seafloor to help understand what may be happening at Saturn's moon Enceladus.
"We are using underwater volcanoes in the Pacific to understand the habitability of one of Saturn's moons, Enceladus," Nawotniak said. "People may have heard of it because it has been in the news lately as one of NASA's top candidates for possible life in the solar system."
She described Enceladus "as a big ice ball."
"It has a rocky interior, liquid water ocean and we know its water has some salt," Nawotniak said. "We know it has warm volcanoes and warm geothermal interaction consistent with what we get at seamount volcanoes in the Pacific Ocean."
Water and heat are two critical things in our understanding of what it takes to support life. When the NASA exploration spacecraft Cassini passed by Enceladus it observed water geysers shooting out of its South Pole, with these plumes creating one of the rings around Saturn.
SUBSEA research partners include NASA, NOAA, Ocean Exploration Trust, Arizona State University, Woods Hole Oceanographic Institute and ISU. Nawotniak is a co-investigator and will be working as the volcanologist on the three-year study, now entering its second year, that will bring in about $365,000 to ISU to fund two graduate students, research travel and sample analyses. SUBSEA's focus is to understand the habitability potential of ocean worlds in our solar system.
The study will focus on the chemical reactions between the rock and water, to examine how they facilitate microbial communities and provide building blocks for life. Samples collected from the ocean floor will be sent to Nawotniak's ISU lab for preparation and analyses.
During the deep-water exercise, Nawotniak and a graduate student will be at the SUBEA's mission control center at the University of Rhode Island University Graduate School of Oceanography's Inner Space Center, with another ISU graduate student participating remotely. Idaho students are strongly encouraged to dial in online and witness the exploration research live.
---
Categories: