ISU Phi Kappa Phi Chapter 10 to host Fall Scholarly Lecture by Donna Lybecker on Sustainability on Oct. 17
October 1, 2018
Tori Parks, Marketing Career Path Intern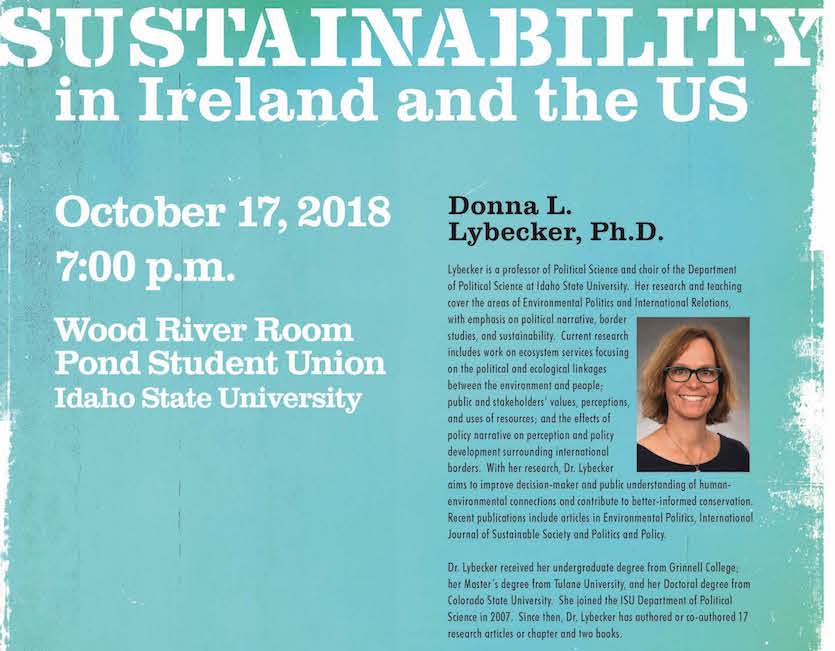 POCATELLO – "Are people willing to pay or willing to do? Sustainability in Ireland and the United States" is the topic of the Idaho State University Phi Kappa Phi Chapter 110 Fall Scholarly Lecture at 7 p.m. Oct. 17.
It will be delivered by Donna Lybecker, professor and chair of the ISU Department of Political Science, in the Pond Student Union Wood River Room.
Lybecker was on sabbatical last spring, at Oregon State University in Corvallis, Oregon, where she worked with colleagues on sustainability politics in the Pacific Northwest and Ireland. Her research interests include the politics of borders, environmental politics in the Western U.S. and Latin America, and the framing of political issues. Her specific interests include the US-Mexico border, water issues among the Western states and more recently the role language and narratives play in policy development.
Lybecker has co-authored two books, "Great Debates in Environmental History" with B. Black (2009), and "Cases in International Relations: Pathways to Conflict and Cooperation" with G. Hastedt and V. Shannon (2014) and multiple articles. She was named "Distinguished Teacher" at ISU in 2013.
She was a science co-lead for the National Science Foundation EPSCoR Managing Idaho's Landscapes for Ecosystem Services (MILES) project grant. The MILES grant drew together faculty from the bio-physical and social sciences, allowing for research into the complexity of ecosystems and combining ecological research with public values, citizenship styles and power assessments.
Lybecker previously worked as a contractor with the U.S. Geological Survey and as a post-doc with the U.S. Forest Service. She continues her research with these scholars.
Outside of ISU, Lybecker is a member of the United States Environmental Protection Agency (USEPA) National Advisory Committee, and an associate editor for the Social Science Journal and for theInternational Journal for Sustainable Society. She also works for the College Board and for the Educational Policy Improvement Center, and is on the Board of Directors for southeast Idaho's Sagebrush Steppe Land Trust.
The Phi Kappa Chapter 110 was installed at ISU in 1970. The Honor Society of Phi Kappa Phi is the nation's oldest, most selective and most prestigious all-discipline honor society. The society is proud of its record of helping members advance their education and serve their community through various programs. Members are eligible for one or more of the Society's grants and awards such as the Fellowship Program for graduate studies, or the Love of Learning and Literacy awards for faculty members.
The scholarly lecture is open to ISU students, faculty and staff and the public. For more information contact Rudolph Kovacs at kovarudo@isu.edu.
For more information on Phi Kappa Phi, visit www.isu.edu/phikappaphi/.
---
Categories: