Idaho State University to host Metropolitan Opera Auditions on Nov. 3
October 26, 2018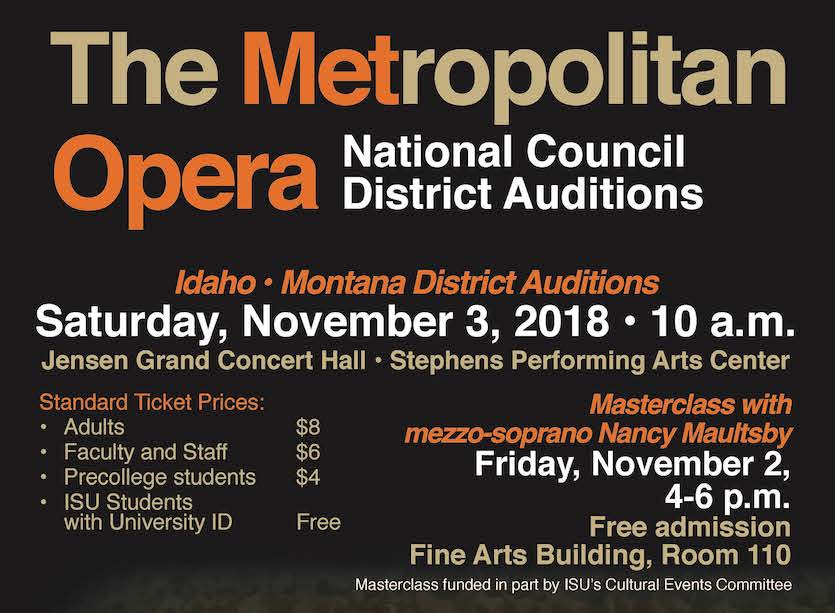 POCATELLO – Idaho State University is delighted to announce the 2018 Idaho/Montana District, Metropolitan Opera National Council Auditions will be held Nov. 3 at 10 a.m. in the L.E. and Thelma E. Stephens Performing Arts Center's Joseph C. and Cheryl H. Jensen Grand Concert Hall.
The Metropolitan Opera National Council Auditions program is designed to discover promising young opera singers and assist in the development of their careers. The auditions are held annually in 12 regions of the United States and Canada. There are 41 districts within these regions of which ISU sponsors the Idaho/Montana District.
This year we will there will be 25 singers, many of whom are living in Idaho and/or the northwest, who will audition at ISU.
The judges for the district auditions are Dominic Domingo, director of artistic administration for San Diego Opera, Christopher McBeth, Utah Opera artistic director, and Nancy Maultsby, mezzo-soprano and associate professor of voice at Baldwin Wallace College. The official accompanist for the auditions is Jeffrey Price, coach/accompanist from the University of Utah.
The ISU Department of Music will also present ISU voice major students in a masterclass with Maultsby on Nov. 2 from 4 to 6 p.m. in the Fine Arts Building, Room 110. The masterclass is sponsored by a grant from ISU's Cultural Events Committee.
Following the auditions, there will be an Audience Choice award sponsored by a donation from Rayna Valentine. The winner of this award is chosen by attendees and is a fun way for the community to show their support.
Tickets for the competition on Nov. 3 are $8 for adults, $6 for faculty and staff, $4 for pre-college students and free for ISU students. The masterclass with Maultsby is open to the public free of charge.
If you are interested in supporting the MONC program, please contact Dr. Diana Livingston Friedley at 208-282-2611 or lividian@isu.edu.
---
Categories: