Idaho State University's Colden Baxter receives Jean'ne M. Shreeve NSF EPSCoR Research Excellence Award
December 7, 2018

POCATELLO ­– Colden Baxter, Idaho State University biological sciences professor, is the recipient of the 2018 Jean'ne M. Shreeve NSF EPSCoR Research Excellence Award.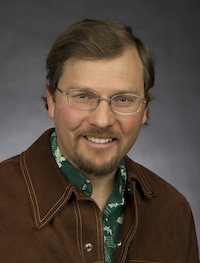 Baxter received the award at the Idaho Established Program to Stimulate Competitive Research (EPSCoR) Annual Meeting in Sun Valley held Dec. 6. EPSCoR is a National Science Foundation (NSF) program.
"Dr. Baxter joins a very small, exclusive group of Idaho scientists who have received the Shreeve award," said Laird Noh, chair of Idaho EPSCoR. "Dr. Shreeve set high standards for scientific excellence for herself and others. For several years she was a member, and then Chair of the committee which selects the Presidential Medal for Science for the United States. As Chair of the 17 member Idaho EPSCoR Committee, it is a pleasure to add Dr. Baxter's name to this roster of award winners."
Inspired by University of Idaho Distinguished Professor Jean'ne M. Shreeve for her imaginative leadership of EPSCoR in Idaho for more than 20 years, Idaho EPSCoR established this award. It recognizes the accomplishments of faculty members at Boise State University, ISU, the University of Idaho or other state institutions of higher education who have previously been active participants in the NSF EPSCoR program.
Baxter first participated in NSF EPSCoR in Idaho as a junior faculty member upon joining ISU in 2004. This prestigious award is for the research accomplishments resulting from his productive career, assisted by early involvement in NSF EPSCoR Research Infrastructure Improvement programs.
He also has been recently active in EPSCoR's five-year, $24 million Managing Idaho's Landscapes for Ecosystem Services project and is a co-investigator for Idaho EPSCoR's new five-year $24 million Linking Genome to Phenome to Predict Adaptive Responses of Organisms to Changing Landscapes project. This latter project received a state contribution of $4 million that serves as a match for the NSF funding, which is appropriated by the Idaho Legislature through the Higher Education Research Council.
"I consider this quite an honor, as Idaho's NSF-EPSCoR program has been essential to my development as a professional," Baxter said. "It has provided key support for innovative scientific research and education, helped change the culture of science to include more connections among different fields of study, and begun transforming the way scientists and society interact."
The Jean'ne M. Shreeve award includes a plaque, a monetary award of at least $5,000, and an additional amount to support the cost of research or professional activities that contribute to the productivity of the award winner.
Baxter runs the ISU Stream Ecology Center, where he and his group of students and collaborators focus on rivers and streams, but more generally on the ecological linkages between water and land. The group's studies are aimed at improving understanding of the basic nature of reciprocal connections between streams, floodplains, and riparian forests, the consequences of their disruption by human activities, but also contributing to better-informed conservation and stewardship.
He also leads the ISU Center for Ecological Research and Education (CERE). It provide a framework and shared instrumentation for collaborative research and education that connects the life, earth and social sciences within the broad nexus of ecological science, and to facilitate partnerships that engage ISU scientists with stakeholder groups and our community to co-produce understanding and address complex problems.
He is supported by his wife, Lenny, and two daughters, Arwen and Iris.
This year Baxter is serving as past president of the Society of Freshwater Science, the premiere international organization of scientists focused on freshwater ecosystems, and served as the group's president last year. Baxter was honored as an ISU Distinguished Researcher in 2015.
Baxter grew up farming and ranching, principally in northwest Montana. He earned his undergraduate degree in biology and geology from the University of Oregon, Master of Science Degree in ecology from the University of Montana, and his Ph.D. in fisheries science from Oregon State University. He completed a post-doctoral fellowship in ecosystem studies at Colorado State University and Hokkaido University, Japan, and has been on the faculty at ISU since fall 2004.
---
Categories: