Idaho State University professors identify some of last remaining populations of native cutthroat trout in the Portneuf River
January 17, 2019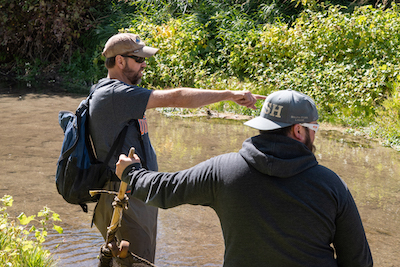 POCATELLO ­– For the last 20 years, Idaho State University fish ecologists Ernest Keeley and Janet Loxterman in the Department of Biological Sciences have studied Cutthroat Trout populations in waters from Alaska to New Mexico. Among their other research endeavors, they have identified some of the last remaining native, genetically pure populations of Cutthroat Trout in the areas around Pocatello, including distinct subspecies variations, in some unlikely places.
"I think it is important to try to maintain those unique populations that have been here for thousands and thousands of years and are part of Idaho's heritage," Keeley said. "We want to make sure we protect some of that original biodiversity."
Recently, Keeley found a genetically pure population of cutthroat trout right under his nose, in a tributary of the Portneuf River that dumps into that stream within the city limits of one of the largest cities in Idaho, Pocatello. That tributary, City Creek, also features one of the most popular trails in the area and where it dumps into the Portneuf, the river is severely degraded.
"One really interesting thing we discovered about a year ago is that there are still cutthroat trout in City Creek," Keeley said. "It's a tiny little stream and a lot of small streams like it, such as Johnny Creek (also in Pocatello) have lost their fish populations."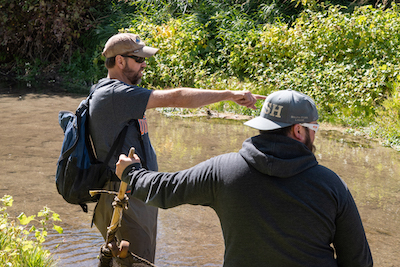 Keeley was tipped off by an Idaho Department of Environmental Quality survey from 2012 that indicated there were a few cutthroat in the stream. The ISU biologist then sampled the stream and found cutthroat, both mature and young-of-the-year cutthroat, indicating they are successfully breeding in the small stream.
Yellowstone Cutthroat Trout are the only native trout species in the upper Snake River above Shoshone Falls. Non-native species like Rainbow, Brown and Brook Trout have been introduced in many streams and in many instances have taken over. There have been up to 14 major subspecies of cutthroat trout identified, two that have gone extinct, and Idaho has three of them, the Yellowstone, Westslope and Bonneville.
These major subspecies, such as Yellowstone Cutthroat found in the Snake River and Portneuf, however, have native populations that are genetically distinct from each other that are separated by physical boundaries. Although all the native trout in the upper Snake River drainage in Idaho are classified as Yellowstone Cutthroat Trout, there are distinct, genetically pure subspecies variations that are about 2 percent different genetically from each other. If these subspecies variations interbreed with other cutthroat or rainbows, they lose their genetic uniqueness and Keeley thinks these subspecies should be protected.
"The Portneuf River that runs through Pocatello, at one time, just 100 years ago, had abundant cutthroat trout in it, but now we only find them in remnant areas in the very upper part of above Lava and in some of the small tributaries," Keeley said. "Their range has shrunk, but there are still healthy populations in some areas."
What may have saved the native trout population in City Creek is a cement culvert on the lower creek that blocks the passage of non-native Brown and Rainbow Trout that might have migrated out of the river further upstream into the tributary. Such man-made barriers on streams can have opposite effects on native Cutthroat. In City Creek and in Gibson Jack Creek, above where these structures are located, Cutthroat Trout have been protected from non-native trout, preventing interbreeding or hybridization and predation. But, in other instances, river and tributary barriers inhibit movement between the main river and spawning tributaries, which isolates the population and prevents individual fish from getting any bigger than 10 to 12 inches.
When fish have access to larger rivers they are able to get bigger and produce more offspring. So it can become a "catch-22" for fisheries managers, deciding whether to leave barriers in place to protect populations, or modifying barriers to allow fish to access more productive and extensive habitat.
For example, on the upper Portneuf River, where there aren't many non-native trout, a diversion on Pebble Creek was modified so that it now allows Yellowstone Cutthroat from the upper Portneuf River to spawn and rear young in the creek, which has been a boon to that population.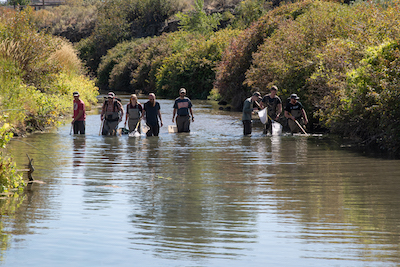 "There are a lot of efforts that provide recreational opportunities for fishing, but we are really interested in protecting native trout biodiversity," Keeley said. "That is what we are trying to identify. Where those remaining populations are, and what threats might exist for them. In those areas, remaining populations should be protected because they represent the last of the native fish biodiversity."
"We found some of the Cutthroat Trout in the upper Snake and the adjoining Bonneville Basin seem to be of an entirely different evolutionary lineage than what we originally thought," Keeley said. "They certainly should be managed separately. If you are reestablishing new populations where the trout have gone extinct, you should make sure you are using a neighboring population that is from the same group."
Keeley's goal is to provide students and our community with information and a better understanding of our local fauna, so that it can be appreciated and protected for future generations to enjoy.
"We are fortunate to live in an area that still has wide-open spaces, but we need to understand what other species we share it with and what they need to survive," he said.
Photo information: Middle Photo: Ernest Keeley, left, directing a student during a study on the lower Portneuf River; Bottom photo, Keeley and students wading the Portneuf River.


---
Categories: