Idaho State University Professor Maria Wong's paper selected for National Institutes of Health Research Spotlights
November 9, 2018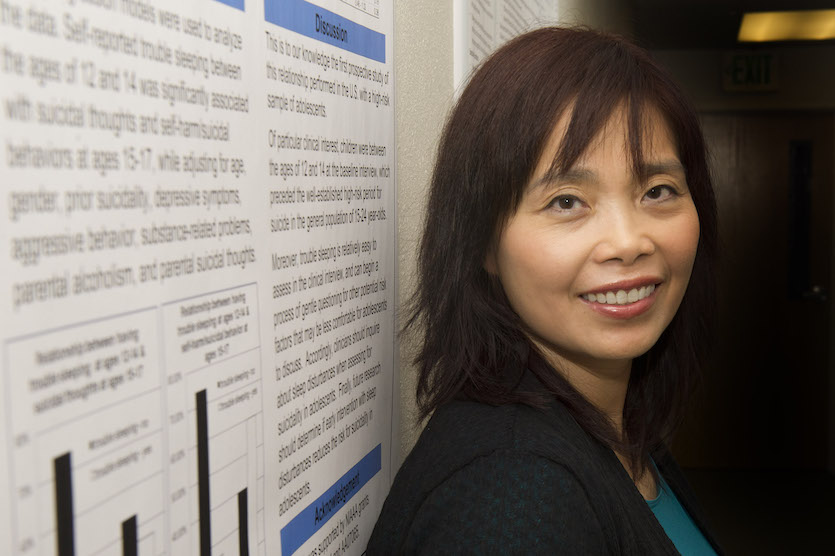 POCATELLO – A recent paper by Idaho State University Professor Maria Wong has been selected by the National Institutes of Health (NIH) for inclusion in its Research Spotlights series.
This online series is published by the NIH's Office of Behavioral and Social Sciences Research every month. Wong's study was one of three papers selected for the August 2018 Research Spotlights.
While it is well-known that children of alcoholics (COAs) are more likely to develop alcohol use disorder and have mental health problems, not all COAs develop these problems. It is important to know what factors protect some COAs so that they become resilient and not develop problems later on in life. Wong's paper investigated what some of these protective factors could be.
The data for the paper came from a longitudinal study of 715 COAs and controls that have been continuously funded by the National Institute on Alcohol Abuse and Alcoholism for 30 years, by principal investigator Robert Zucker, from the University of Michigan.
The paper's results showed that COAs who had a regular sleep-wake schedule, fewer sleep difficulties and less tiredness as a child were more likely to have higher behavioral control as a teenager. Higher behavioral control in teenage years predicted lower likelihood of an alcohol use disorder, fewer alcohol- and drug-related problems, fewer depressive symptoms and higher work and relationship satisfaction in young adulthood. The associations were observed in both COAs and controls.
"Previous research focuses on how sleep problems increase the risk of substance use. The findings of the current study provide preliminary evidence for the relationship between good sleep, self-regulation and resilience and suggest that sleep quality in childhood may serve as biomarker for resilience in later life," Wong said.
The paper entitled "Sleep and behavioral control in earlier life predicted resilience in young adulthood: A prospective study of children of alcoholics and controls" was published in the journal Addictive Behavior this summer.
The co-authors on the study were Leon Puttler and Robert Zucker from the Department of Psychiatry at the University of Michigan, and Joel Nigg of Department of Psychiatry, Behavioral Neuroscience and Pediatrics, Oregon Health and Science University.
Link to NIH Research Spotlights: https://obssr.od.nih.gov/research-spotlights-august-2018/
Link to article in Addictive Behaviors: https://doi.org/10.1016/j.addbeh.2018.02.006