Idaho State University is using its research and proven technologies to aid wildfire efforts in California, across the West
December 3, 2018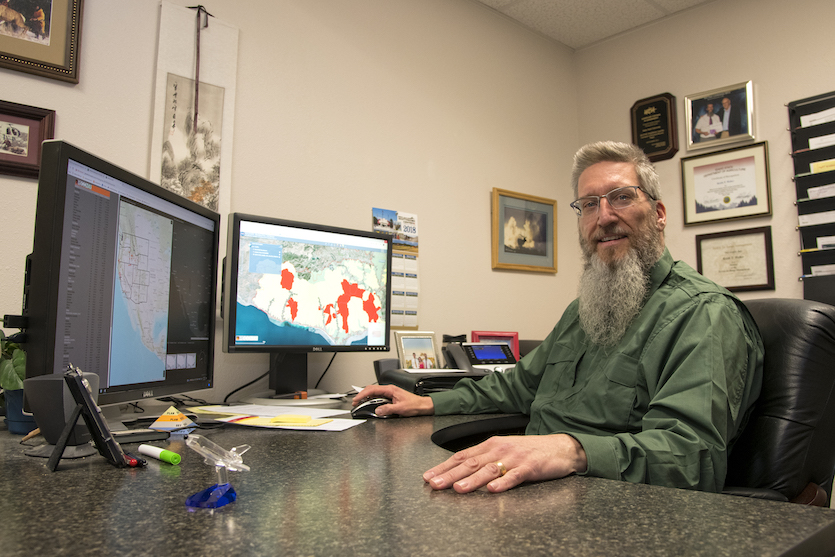 POCATELLO – It is early December and wildfire season for Idaho State University's Keith Weber, Director of the Idaho State University GIS Training and Research Center, is just now winding down – or is it?
"Wildfire managers now say we have to stop calling it a fire season and realize we are dealing with fire years," Weber said. "The wildfire activity ebbs and flows, but there really is not a time when a wildfire cannot happen somewhere across the West."
Weber is the principal investigator who developed and administers NASA's GIS-based Rehabilitation Capability Convergence for Ecosystem Recovery (RECOVER) decision support system, which is an online mapping tool. Originally designed to help land and wildfire managers plan for the recovery after wildfires, it is now being used during active wildfires. In about five minutes or less, RECOVER pulls together 26 different variables such as roads, streams, burn severity, land slope, vegetation and soil types and make them available to wildfire managers in a web-browser format that looks similar to Google Maps or Bing Maps.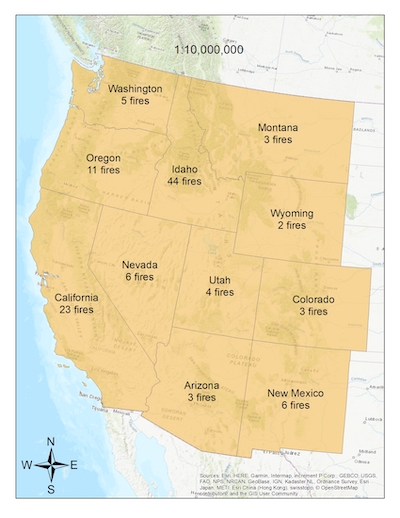 In 2018, RECOVER was used on 50 wildfires and has been used on over 110 since 2012 when it was first being developed. Ironically, this year's wildfire season for Weber and RECOVER began and ended with calls from Martha Witter, fire ecologist for the National Park Service in Southern California, who first used RECOVER in March and then again on the Woolsey Mega-fire near Los Angeles that started Nov. 8 and was 100 percent contained by Nov. 21.
Though the Woolsey Wildfire that burned in Ventura and Los Angeles counties is contained, some areas of the land where the fire burned are still evacuated, many roads are closed, large areas remain unopened and there is a risk of mudslides from rains. It burned private, state and federal lands, including more than 80 percent of the Santa Monica Mountains National Recreation Area.
"I thought our fire year was over, but then while monitoring GeoMac (a national fire incident system) early in November I saw several California fires had started and thought maybe our season wasn't done," Weber said. "Sure enough, when I came into the office the following Monday morning I read an email alert that Marti Witter had generated a brand-new fire using our servers for the Woolsey Fire and was requesting some additional data to support their efforts."
Weber and his staff provided daily updates while the fire was burning. RECOVER uses Landsat satellite imagery from NASA and the United States Geological Service (USGS) to provide current information in addition to the data already in their system. This information is easily shared between land managers from federal agencies such as the National Park Service, Bureau of Land Management, Forest Service, and USGS, state agencies, county emergency coordinators and private landowners. To use RECOVER, users need are a login and a brief training on how to use it. RECOVER now has over 150 primary users from a variety of agencies across the Western United States.
For recovery after a fire, RECOVER helps managers decide where and what vegetation to replant and helps predict areas where mudslides or flooding can occur. The Woolsey Fire also demonstrated how RECOVER can be used on an active fire. Before the fire was even contained, Weber worked with the USGS to provide a data layer to RECOVER that included information about the potential for debris flow, or mudslides, that might occur after rainfalls on the burnt areas. Debris flow potential is calculated from a variety of factors including soil type and slope steepness. Land managers can use this information to help them determine which roads to re-open and when, and help understand potential hazards before letting evacuees re-enter their homes.
But the service Weber provides goes beyond sharing digital data. He makes sure to communicate directly to users to ensure they've received updates or are getting the information they need.
"We coordinate with our partners," Weber said. "During the Woolsey Fire we had at least one telephone conference call a day with NASA, FEMA or other agencies involved with the response. We are all playing a part in the big picture. Providing actionable information is our thing."
---
Categories: