Idaho State University Department of Theatre and Dance announces 2018-19 season
August 27, 2018
POCATELLO – From a musical comedy to a children's play to a modern dance concert to a drama, Idaho State University's Department of Theatre and Dance will bring a wide selection of productions to the Southeast Idaho community during the 2018-2019 season.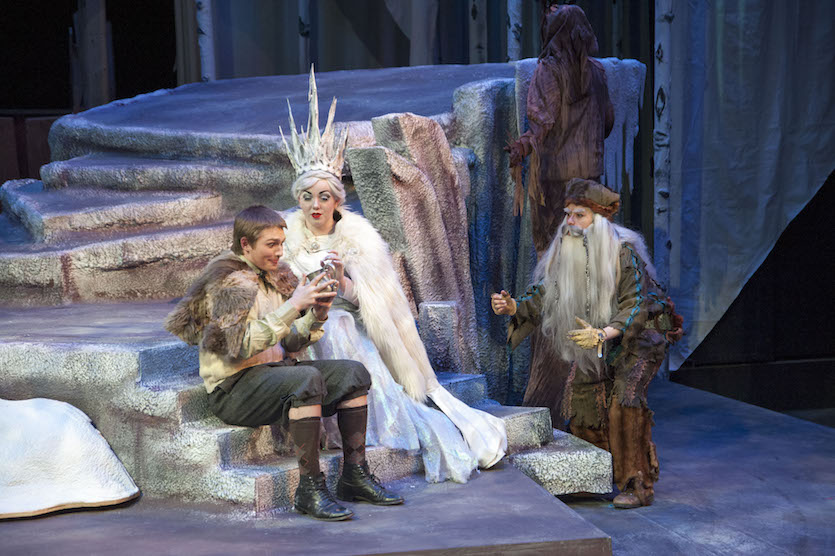 Season ticket vouchers are $45 for any four performances. This can be four admissions to a single performance or single admission to four performances. Contact Julie Hillebrant at (208) 282-6452 or hilljuli@isu.eduto purchase season ticket vouchers.
Single performance tickets are also currently available at isu.edu/tickets or the ISU box office at (208) 282-3595. Tickets are $15 for general admission, $14 for seniors, faculty and staff, $10 for children and $7 for ISU students with a Bengal ID.
Contact Hillebrant and the email and phone number above for additional questions or details
2018-2019 ISU School of Performing Arts Season Overview:
"First Date"
Sept. 28, 29 and Oct. 4, 5, 6 at 7:30 p.m.
Oct. 19 and 20 in Hailey, Idaho (Sponsored by Bill and Linda Potter)
Stephens Performing Arts Center Black Box Theatre
"First Date" is a musical based around the concept of a blind date. When tightly wound Aaron is set up with cool girl Casey, a quick drink turns into a hilarious dinner served with sides of Google background checks, fake emergency phone calls, a slew of bad boy and uptown girl exes, and some seriously saucy chemistry. Can this mismatched pair turn what could be a dining disaster into something special before the check arrives or end up at another table for one? The productions are sponsored by Bill and Linda Potter.
"Lilly's Purple Plastic Purse"
Nov. 2, 3, 9, 10 at 7:30 p.m., Nov. 10 at 2 p.m. Stephens Performing Arts Center Bistline Theatre
Lilly loves everything about school, especially her cool teacher, Mr. Slinger. But when Lilly brings her purple plastic purse and its treasures to school and can't wait until sharing time, Mr. Slinger confiscates her prized possessions. Lilly's fury leads to revenge,then to remorse and she sets out to make amends. This children's production is based on the book by Kevin Henkes.
Dance Concert
Dec. 6, 7, 8 at 7:30 p.m.
Stephens Performing Arts Center Black Box Theatre
Join the ISU dance faculty and students in a unique showcase of their talents. Two nights only, the themed performances will highlight modern dance choreography.
"Three Days of Rain"
Feb. 8, 9, 14, 15, 16 at 7:30 p.m.
Stephens Performing Arts Center Black Box Theatre
"Three Days of Rain" explores the relationship between Walker, his sister Nan and their childhood friend Pip. When Walker finds a journal from his father he begins to unwind a rather mysterious past. Walker's resolve to learn more is doubled down when the "Janeaway House", a house Walker and Nan's father Ned designed with Pip's father Theo, is left to Pip rather than Ned's children. The play then shifts to decades in the past when the "Janeaway House" was being built. Through the eyes of their parents, we see just how distorted the views of their children are when it comes to their lives and what exactly happened in April of 1960.
"Shakespeare in Love"
April 12, 13, 18, 19, 20 at 7:30 p.m.
Stephens Performing Arts Center Bistline Theatre
William Shakespeare, the most famous playwright to ever exist, is struggling with writer's block-- that is, until he finds a muse in a charming young woman, Viola. Through their adventures together, Will himself finally finds the means to write his greatest work ever. Of course, he will need a lot of help and even break a few laws to make his work come to life. An instant classic, this comedy explores the ideas of love, lust, mistaken identity and the struggle of a female actor being allowed on stage during this time.