Idaho State University debaters place near top at Linfield Invitational
November 20, 2018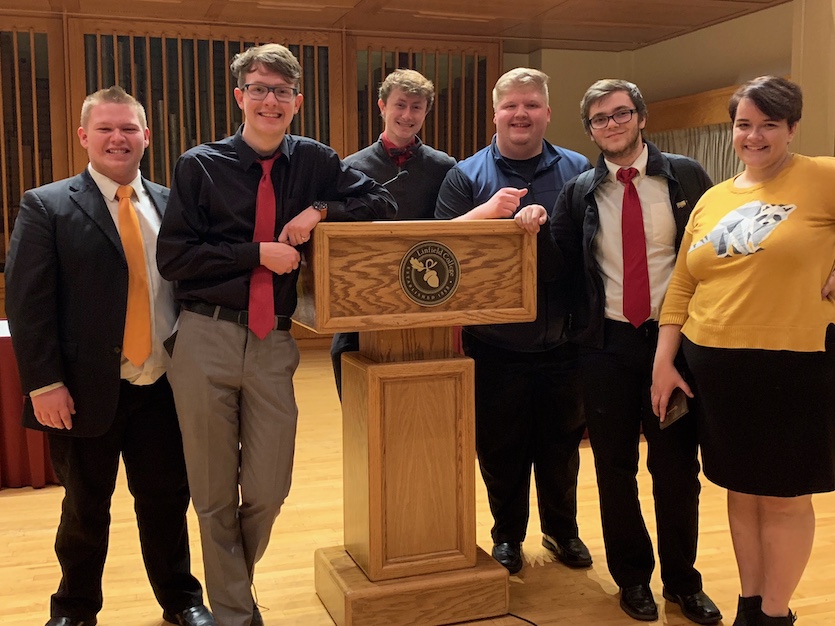 McMINNVILLE, OREGON – Idaho State University's Rupp Debate Society squad capped their travel season by capturing top honors last weekend at the 88th Mahaffey Debate and Forensics Tournament in northwest Oregon.
Bengal debaters delivered third place in Junior British Parliamentary Debate, and collected second place accolades for Top Speaker.
Junior Kaden Marchetti, of Pocatello, and his teammate freshman Rianne Quigley, of Blackfoot, delivered third place in the final round of the Junior British Parliamentary competition. The speakers argued the opening case that "This House prefers a world without gender."
Marchetti, a computer science major and Highland High alumni, was also named second Top Speaker in the field. More than 20 Universities from the northwest attended the competition.
The Bengals had entries in both Open and Junior British Parliamentary (team) Debates, where over 40 teams were entered in competition. The team also entered two International Public Debate Association individual participants in the tournament. Topics change for every round in both debate styles, and competitors have less than 30 minutes to ascertain their strategies, prepare cases and get to their assigned competition site.
Team President Nicholas Grunig noted that the team has maintained its winning streak throughout the fall semester.
"We've taken first, second, or third – or at least made it into a final round – at every tournament this year," Grunig said.
The Bengal's final fall competition will be an online tournament Dec. 9.
---
Categories: