Five ISU alumni unite to raise money for music scholarships at Aug. 24 benefit
August 13, 2018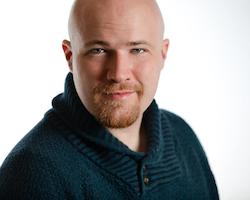 POCATELLO –Five Idaho State University alumni will collaborate in a benefit recital on Aug. 24 at 7:30 p.m. in Goranson Hall in the Fine Arts Building.
Soloists will be countertenor Von Bringhurst, and baritone Jared Johnson. Instrumental collaborators will be pianist Jeanne Green Sherman, pianist Diane Yerka, and guitarist Curtis Thompson, along with undergraduate pianist Ryker Harris.
Their program features art and folksongs, including the regional premiere of the 1995 song cycle "Encountertenor" by noted opera composer Jake Heggie. The event funds scholarships for the ISU Department of Music. Admission is free, with a suggested donation of $5.
Bringhurst completed his Master of Music degree in vocal performance in 2012 at the Longy School of Music of Bard College in Cambridge, Massachusetts. He has been heard as a soloist and ensemble member with the Harvard Early Music Society and Iberica Early Music Festival, and sings with the choir of St. Paul's, Harvard Square. He teaches at MJ's Music School in Waltham, Massachusetts, and at Wholetone Academy in Somerville, Massachusetts. He currently resides in Natick, Massachusetts.
Johnson graduated from the University of Missouri/Kansas City Conservatory in 2013 with a Master of Music degree in vocal performance. Currently residing in Twin Falls, he has restored, and now manages, the historic Orpheum Theater, while continuing to perform throughout the region and maintaining a private vocal studio.
Over the last six decades, pianist Sherman has developed a region-wide reputation as a solo piano performer and collaborative artist. She has appeared as a concerto soloist with the Utah Youth Symphony, the Idaho Falls Symphony and the Idaho State Civic Symphony.
Yerka graduated from ISU in 2008 with a Bachelor of Arts degree in English and a music minor, followed by a 2013 Master of Arts in English. Currently an instructor in the Department of English, she remains active as a collaborative pianist in the music department, accompanying individual students as well as student recitals and university productions. Last semester, she served as rehearsal and orchestral pianist for the noteworthy Theatre ISU/Opera ISU production of Ned Rorem's 2006 opera, "Our Town."
Thompson holds a Bachelor of Music degree from ISU and a Master of Music degree in guitar performance from Northern Arizona University. He has recently rejoined the ISU Department of Music as an adjunct professor teaching classical guitar.
A current senior in piano performance at ISU, Harris studies piano under music professor Kori Bond and expects to graduate in December.
"All of our alumni want to give back to their school," said Kathleen Lane, chair of the organizing committee and professor at ISU. "These former students were outstanding performers while at ISU, and since then have continued to perform while making major artistic contributions to their communities."
The organizing committee for this event includes Bond and alumna Melanie Reynolds.
"By participating in the sixth annual Alumni Concert, they offer a hand up to the next generation of music students," Lane said. "The Alumni Concert Series raises thousands in scholarships and provides an outstanding performance for current ISU music students, as well as for the community."
For further information, contact Kathleen A. Lane, 282-4423, or lanekath@isu.edu
---
Categories: