$20 Million Idaho research award focuses on genetics of rainbow trout, sagebrush
Brad Gary, Com. Coordinator, University of Idaho
September 18, 2018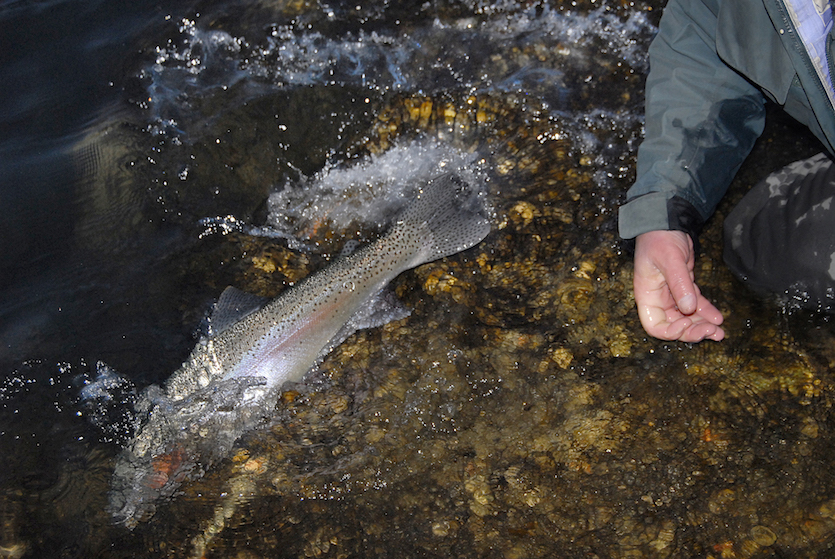 MOSCOW, Idaho – The University of Idaho will share a $20 million award from the National Science Foundation (NSF) with Idaho State University and Boise State University to support research aimed at uncovering and predicting how rainbow trout and sagebrush adjust to changing environments.
The award, received through the NSF's Established Program to Stimulate Competitive Research (EPSCoR) Research Infrastructure Improvement (RII) program, is shared with Idaho EPSCoR partners at BSU and ISU and may help inform natural resource policies and management decisions throughout the American West.
U of I and the EPSCoR partners are receiving the money with $4 million in matching funds from Idaho's Higher Education Research Council. The award will support research, education and workforce development at Idaho's public research universities and participating undergraduate institutions for the next five years.
The project will look into the genetic, environmental and social systems connected to rainbow trout and sagebrush populations, while helping researchers better understand a broad range of organisms in the Gem State.
"Rainbow trout and sagebrush were strategically chosen for this study because they are keystone organisms in the American West and beyond," said Janet E. Nelson, Interim Idaho EPSCoR project director and U of I's vice president for Research and Economic Development.
U of I will leverage the expertise and facilities through its Aquaculture Research Institute, Center for Modelling Complex Interactions, Institute for Bioinformatics and Evolutionary Studies and Center for Resilient Communities.
This is the eighth such EPSCoR RII award Idaho has received.
"Idaho has been remarkably successful in winning large EPSCoR awards since 1989, and this new project is another great example of what Idaho's universities can achieve by working together," said Laird Noh, chairman of the Idaho EPSCoR Committee "It will continue to strengthen Idaho's scientific research excellence in areas of national importance and which are critical to achieving the goals of Idaho's science and technology strategic plan."
To expand the state's capability to conduct this large, complex study, BSU and ISU will hire a total of six new faculty with relevant expertise. The new faculty will join a team of more than 30 university scientists and educators across Idaho who will work on the research. In addition, the project builds on partnerships with research-oriented state and federal agencies, private and nonprofit collaborators.
The award will also provide workshops and training at Idaho's three research universities as well as Lewis-Clark State College and Idaho's community colleges aimed at increasing diversity among Idaho's next generation of scientists and engineers.
The scientific leadership team includes Ron Hardy, director of U of I's Aquaculture Research Institute; Colden Baxter, director of the Center for Ecological Research and Education at ISU; and Jennifer Sorensen Forbey, associate professor in the Department of Biological Sciences at BSU.
"We are excited to coordinate Idaho's research efforts at such a high level," Nelson said. "Our team will truly be working at the frontiers of discovery to help advance the prosperity and well-being of our state and nation."
More information on the project and Idaho EPSCoR is available at www.idahogem3.org.
This project, "RII Track-1: Linking Genome to Phenome to Predict Adaptive Responses
of Organisms to Changing Landscapes," was funded under National Science Foundation grant No. OIA-1757324. The total amount of federal funds for the project will be $20 million, which amounts to 83 percent of the total cost of the project. The total amount of non-federal funds for the project will be $4 million, which amounts to 17 percent of the total cost of the project.
Media Contact: Brad Gary, Communications Coordinator, University of Idaho, 208-885-7725, bwgary@uidaho.edu