ISU-Meridian's Kristina Blaiser honored for clinical research
June 2, 2017
MERIDIAN – Idaho State University's School of Rehabilitation and Communications Sciences has honored associate professor Kristina Blaiser with its first Clinical Research Award for her work with children who are deaf or hard-of-hearing and their families.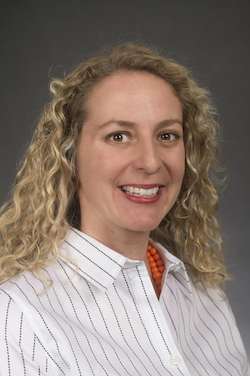 Blaiser, a licensed speech language pathologist who joined ISU three years ago, is founder of the HATCH Lab on the ISU-Meridian Health Science Center campus. HATCH stands for Helping Adults Talk to Children.
Blaiser's research focuses on the importance of early intervention in treating children with hearing loss and language delays. Through telehealth technology, she and her research team are able to deliver intervention services to families regardless of their geographic location.
Judges cited Blaiser's research for its immediate and direct impact on clinical practice. "She is remarkable and we are very fortunate to have her," said Nancy Devine, associate dean of the School of Rehabilitation and Communication Sciences.
Blaiser holds a doctorate in speech language hearing sciences and a master's degree in speech language pathology from University of Minnesota.