ISU Choirs Spring Concert set April 22
April 13, 2017
POCATELLO – The Idaho State University choral ensembles will present the ISU Choirs Spring Concert on Saturday, April 22 at 7:30 p.m. in Jensen Grand Concert Hall of the Stephens Performing Arts Center.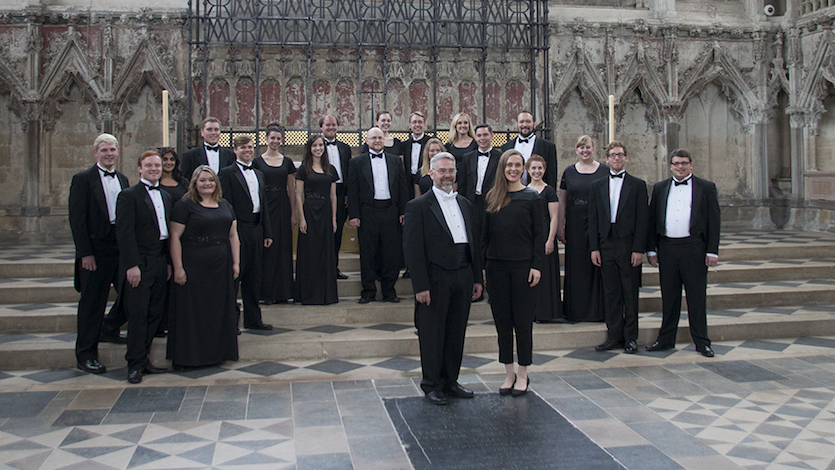 "In addition to the ISU Women's Choir and Chamber Choir, we are very pleased to host the Hillcrest High School Chorale, conducted by Ms. Camille Blackburn," said Scott Anderson, ISU director of choral activities. "Camille has served for many years as the pianist for our yearly ISU Choral Invitational, and for our summer Honor Choirs sponsored by the Idaho International Choral Festival. We are excited to feature Ms. Blackburn and her outstanding High School Chorale, along with two of our own groups."
The ISU Women's Choir, conducted by Professor Kathleen Lane, with pianist Janessa Wells, will present three varied selections for the April 22 concert. The choir will open with the well-known "Laudate Pueri" from Felix Mendelssohn's opus 39. This soaring adaption of the early latin hymn of praise, appropriate for the spring season​, features the expressive textures and dynamic contrasts of Mendelssohn's nineteenth century romantic era.
The Mendelssohn will be followed by a much earlier composition by sixteenth century composer, Pierre Passsereau. "Il est bel et bon" is a humorous sound picture of French village life of the time. The challenging four-part madrigal comments by using rhythmic imitations of village noise. The Women's Choir will close their portion of the program with a beautiful rendition of the English folk song, "She's Like the Swallow," arranged by well-known composer, Eleanor Daley.
Anderson will lead the 21-voice ISU Chamber Choir in presenting "Buccinate in neomenia tuba," by Italian composer Giovanni Croce, featuring Eleanor Cox, cello, and Natlia Lauk, portative organ. Croce served at San Marco in Venice, and his motet setting displays the polychoral influences of both Andrea and Giovanni Gabrieli.
The Chamber Choir will continue with the John Pearsall setting of "Lay a Garland," written for eight-part a cappella choir, and two Brahms part songs taken from Op. 31, "Neckereien," conducted by graduate assistant Elissa Jones, and "Der Gang zum Liebchen," conducted by Anderson. The concert will conclude with the entertaining Ward Swingle arrangement, "Country Dances," staged by Jason Bartosic. Natalia Lauk is the pianist for the ISU Chamber Choir, and is featured on the Brahms, Op. 31 part songs.
Tickets for the ISU Choirs Spring Concert can be purchased online at www.isu.edu/tickets, by visiting or calling the Stephens Center Box Office at (208) 282-3595, at the Information desk in the Pond Student Union, and at the Stephens Center Box Office the night of the performance. Music Department ticket prices are adults, $8; ISU faculty and staff, $6; precollege students, $5; and ISU students, free with valid Bengal ID. Children under the age of 6 years are not admitted to ISU Department of Music concerts.