Reynolds Creek Critical Zone Observatory featured prominently in film 'Voices of Fire' airing Aug. 30 on Idaho Public TV
August 29, 2017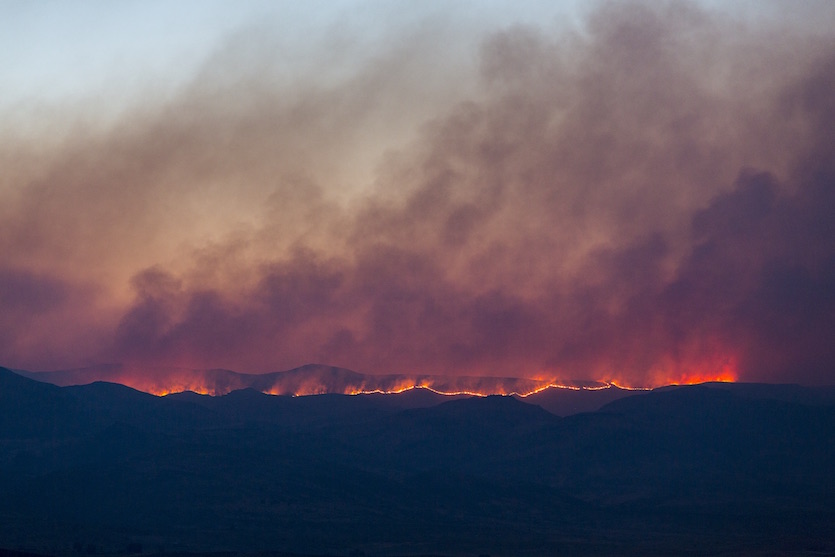 POCATELLO – At 9 p.m. Aug. 30 Idaho Public Television will air the documentary "Voices of Fire" that prominently features the Reynolds Creek Critical Zone Observatory, which is managed by Idaho State University.
"Voices of Fire" explores how wildfires affect lands in the Western United States and uses the Soda Fire, which burned 81,000 acres in southern Idaho's Owyhee Mountains in 2015, as a case study to discuss how to manage and prevent future wildfires in the area.
"The film has a big tie-in to the Reynolds Creek Critical Zone Observatory," said filmmaker Hugo Sindelar, who created the film. "The observatory was instrumental in supporting the film, both financially and logistically. Its support was critical – I have fire footage from all over but the burned footage was all from Reynolds Creek and the observatory was instrumental in gathering this footage."
Sindelar, who in now pursuing a Master of Fine Arts degree at Montana State University in science and natural history filmmaking, was working at the Reynolds Creek CZO in the summer of 2015 helping with vegetation monitoring. The fire broke out near the end of his stay there and he was able to shoot an hour of footage of the wildfire from the middle of the Reynolds Creek CZO. He combined that footage of the fire with other fire footage from a U.S. Fish and Wildlife employee, a sheriff's deputy and aerial footage from Owyhee Air Footage. He interviewed ranchers and officials to add to the 25-minute film.
"The film dovetails into the fire research they've been doing at Reynolds Creek," Sindelar said. "They want to get more information out on how we can recover from future wildfires."
Reynolds Creek CZO director Kathleen Lohse, ISU associate professor of biological sciences and geosciences, was able to help support the film financially through National Science Foundation grant funding allotted to this purpose.
The Reynolds Creek CZO is one of a network of CZOs that the National Science Foundation has established throughout the United States. In 2015, Idaho State University received at $2.5 million grant to created the Reynolds Creek CZO. ISU is working closely with Boise State University and the U.S. Department of Agriculture's Agricultural Research Service, who each received sub-awards from this NSF grant
The scientific infrastructure in place in the 93-square-mile watershed includes numerous stations collecting climate, precipitation, stream flow and snow and soil data under a wide variety of conditions. The core data collection network dates back to the 1960s.
For more information on the Reynolds Creek CZO, visit http://criticalzone.org/reynolds/.
---
Categories: