ISU's Shannon Kobs Nawotniak joining NASA, NOAA for underwater volcano study with implications for space travel
August 7, 2017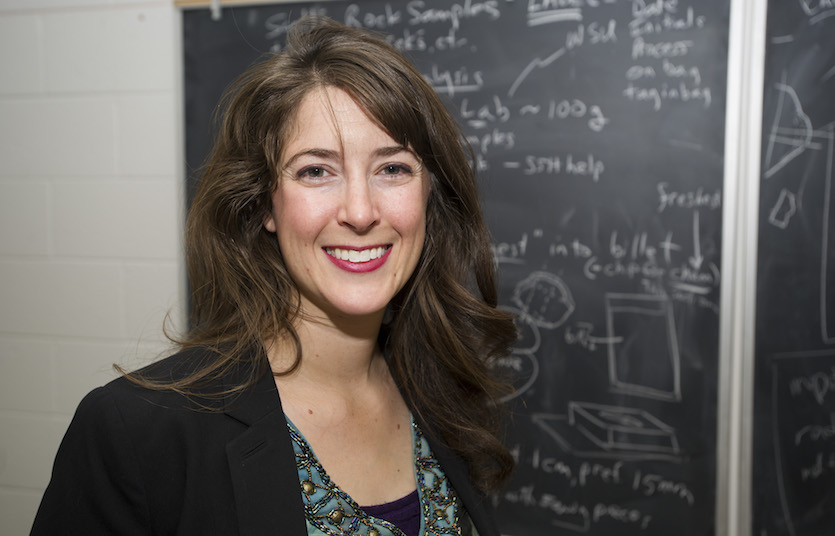 POCATELLO – Idaho State University geosciences Assistant Professor Shannon Kobs Nawotniak is joining a NASA and NOAA study of underwater volcanoes that has implications for searching for life on a distant moon.
She joins as a co-investigator and will be working as the geologist and volcanologist on the three-year study that will bring in about $365,000 to ISU to fund two graduate students, travel and other expenses.
"We are studying volcanoes on the Pacific Ocean seafloor using unmanned submersibles as an analog for other planets in the solar system, actually moons in the solar system," Nawotniak said. "In particular, the one we are targeting is Enceladus, one of Saturn's moons that right now is NASA's top pick for hosting other life in solar system."
The title of the study is "Systematic Underwater Biogeochemical Science and Exploration Analog (SUBSEA). Its focus is to understand the habitability potential of ocean worlds in our solar system.
Enceladus is entirely covered in ice and there is a liquid ocean of water under that ice. There is also evidence that inside of these two layers it has a rocky interior, she said. Similarly earth is layered with a crust of rock, then its mantle and core.
"It could have hotspot volcanoes there underneath the water, which means it could feature heat and water, two really critical things in our understanding of what it takes to support life," Nawotniak said. "We are interested in looking at similar situations on the Pacific sea floor in which we have isolated hotspot volcanoes interacting with water."
The study will focus on the chemical reactions going on between the rock and water, to examine how they facilitate microbial communities and are building blocks for them. Samples collected from the ocean floor will be sent to Nawotniak's ISU lab for preparation and analyses.
The study will focus on two volcanoes, Lō`ihi near Hawaii and Teahitia near Tahiti, because they are a better possible match for the type of underwater volcanoes that could be present on Enceladus.
But Nawotniak and ISU students active on the study won't be packing their scientific equipment and swimsuits to head to either Hawaii or Tahiti to complete their investigations.
"We are not even on the boat," Nawotniak said. "Part of what we are doing is practicing this type of mission that might be conducted in space, as if we were a science team back on Earth stuck in mission control."
NOAA will run the unmanned, remotely operated submersibles.
The principal investigator on the project is NASA's Darlene Lim, who Nawotniak is working with on studies taking place at Craters of the Moon National Monument and Preserve in Idaho.
---
Categories: