ISU student researchers work to improve Marsh Creek water quality
September 19, 2017
By Nicholas Tarbet, MarCom Career Path Intern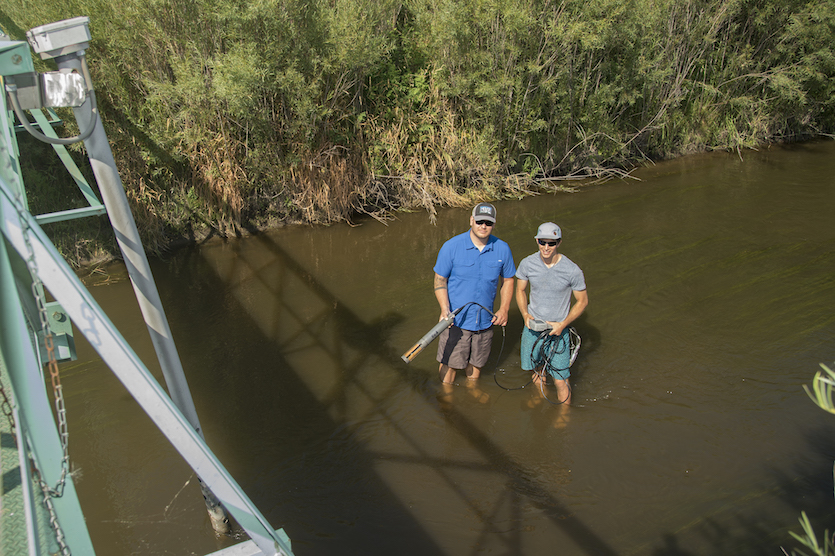 POCATELLO – Two Idaho State University geosciences students, master's student Graham Meese and undergraduate Jeffery Carpenter, are working with geosciences Associate Professor Ben Crosby on a long-term study of Marsh Creek, a major tributary to the Portneuf River.
Their research focuses on measuring how restoration in Marsh Creek has impacted the water quality, which in turn affects the water quality of the Portneuf River. To help answer this question, their study uses two historic sources of information, aerial imagery and water quality data. Aerial imagery is used to compare 70 years of change by mapping where the channel used to be and where it is now.
The researchers are looking at how the creek behaves naturally as well as how it has been changed by human modification. Second, historic water quality data spanning the last 50 years reveals trends over time to assess if the restoration work has yielded measureable improvements. Using these techniques, Meese, Carpenter, and Crosby can understand how to provide better ecosystem services to the local communities, Pocatello in particular.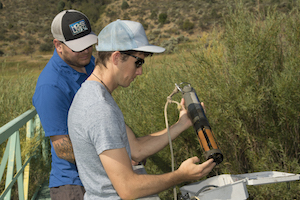 The two current students are conducting their research with the support of the National Science Foundation's Managing Idaho's Landscapes for Ecosystem Services (MILES) and the MILES Undergraduate Research and Internship (MURI) program.
Previous research by graduate student Jimmy Guilinger and Crosby measured how sediment moved through the system with a particular focus on where is was coming from. From this research, they showed that the predominant source of sediment entering the river is coming from the banks and that bank stabilization measures such as riparian revegetation helps hold the sediment on the banks and reduces erosion.
These projects are examining how the health of Marsh Creek is affected by changes in land cover and land use, and how the waterway has been impacted by channel modifications, restoration actions and management practices. As the water quality of Marsh Creek improves, it improves the quality of the river in Pocatello and supports the long-term goals of the Portneuf Vision Project.
"Being able to look at this data and compare it to previous years gives me an idea of what graduate work and research is like and helps me to see what I could be doing in the future," Carpenter said.
Meese noted that because MILES is an interdisciplinary project he has been able to collaborate with other researchers in the political science and biological sciences departments.
"We are finding how important collaboration is in understanding and explaining the world that we are trying to study," Meese said. "In our area of study the human component is very important, and MILES is working in diverse areas so we can compare and work together to paint a much more complete picture than we each could individually."
The NSF Idaho Experimental Program to Stimulate Competitive Research (EPSCoR) awarded Idaho with a $20 million MILES grant to improve research related to social ecological systems science. ISU, the University of Idaho, Boise State University and other Idaho institutions are working together within the framework of this grant.
"ISU has been able to spur me forward to work on river restoration," Meese said. "Coming to ISU, and especially the MILES project, has allowed me to study exactly what I wanted and has ignited my interest better than I even could. Having Jeff on my team really has made it so it couldn't have gotten any better. Our advisor Ben Crosby has helped to keep the path manageable and clear."
MILES research is completed by scientists, students and support staff. At ISU, the team includes about 15 professors, three post-doctoral research associates, five to 10 graduate students, 20 undergraduates as well as five support staff. These researchers have varied academic backgrounds, including ecology, geology, history, sociology, political science and computer science.
For more information about the MILES program at ISU, visit the website miles.isu.edu. For more information on the MURI project visit the website idahoecosystems.org/education/muri.
---
Categories: