ISU professors receive $50,000 award to create partnerships with prediabetes communities in Idaho's rural Latino population
November 1, 2017

POCATELLO – Idaho State University professors Mary A. Nies and Cathleen Tarp recently received a $50,000 award from the Patient-Centered Outcomes Research Institute (PCORI) to create partnerships with prediabetes communities in Idaho's rural Latino population.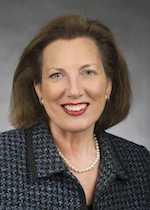 Nies is a professor of nursing, director of nursing research and project lead. Tarp is a professor of Spanish and co-project lead.
PCORI is a non-profit organization established in 2010 to fund research that will provide patients, their caregivers and clinicians with the evidence-based information needed to make better-informed health care decisions.
Nies and Tarp will use the funds to begin building relationships with a national organization (Ventanilla de Salud), health care providers, community members with prediabetes and their caregivers in order to find care solutions that fits better into Idaho's rural lifestyle.
They will do this by meeting with community members and providers to talk about pre-diabetes in their lives and discuss what are workable treatment solutions and options for them on a personal/community level.
"The goal is to establish partnerships with all involved in the care of prediabetic Latinos to develop research questions to improve the ability of prediabetic Latinos to make informed choices about their prediabetic state," Nies said.
Tarp said "the best way to find a treatment plan that works for these rural communities is by talking to Latinos with prediabetes about their lifestyles and creating a plan that works with their circumstances and communities."
Sonia Martinez, ISU's Diversity Outreach Coordinator, will serve as the bilingual community consultant and assist Nies and Tarp with coordinating partner meetings and training other bilingual community consultants.
"We're very lucky, we have a fabulous team," Tarp said "Nies who has done significant research in community health with Latinos, I have worked with the community though the Spanish of the Health Professions, and Martinez has over 20 years of experience with community outreach and organization, including Idaho LEAD."
Nies notes prediabetes is becoming rampant in the United States, particularly in the Latino community.
In July, the Centers for Disease Control and Prevention reported that 84 million Americans have prediabetes, a condition if left untreated can lead to type 2 diabetes within five years.
Following the one-year funding term, the research team plans to use their findings from this project and submit for a larger grant for prevention of prediabetes in the Latino Community in rural Idaho.
For more information on the grant, contact Mary A. Nies at niesmary@isu.edu or Cathleen Tarp at tarphele@isu.edu.
Photo information: Top, Mary Nies; Middle, Cathleen Tarp; Bottom, Sonia Martinez
---
Categories: