ISU biological science students study cutthroat trout, gain research experience through MURI program
August 16, 2017
By Kirsten Cooper, CPI Intern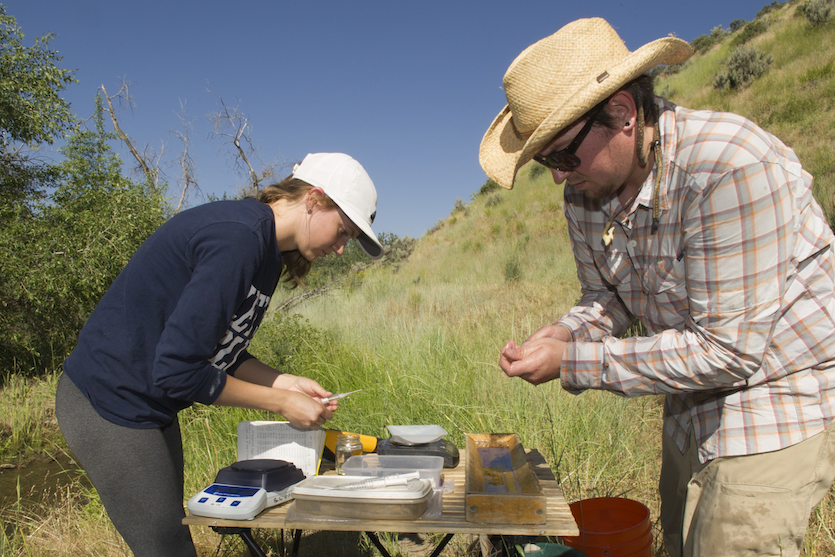 POCATELLO – Idaho State University junior Megan Brauner had the opportunity to assist graduate student Tyson Hallbert with his doctoral project on habitat restoration for native cutthroat trout in Southeast Idaho and present her research at the Idaho Conference on Undergraduate Research (ICUR).
She was granted this opportunity through ISU's Managing Idaho's Landscapes for Ecosystem Services (MILES) Undergraduate Research and Internships (MURI) program.
MURI is designed to engage undergraduates in research to develop a future workforce of scientists, educators and stakeholders that can better manage Idaho's landscapes, including valuable ecosystem services.
Hallbert and Brauner were working under the supervision of Ernest Keeley, ISU professor in the Department of Biological Sciences.
Hallbert's doctoral project is focusing on evaluating the effectiveness of conducting habitat restoration for native cutthroat trout populations, and Brauner's research presentation compared the response of fish densities from treatment sections that received habitat improvement to control sections that did not receive any restoration.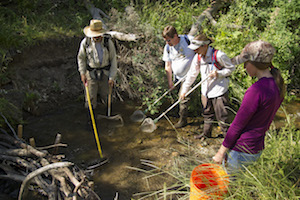 "We're doing habitat improvements for native cutthroat trout in smaller headwater streams that have had extensive cattle grazing on them," Hallbert said.
Hallbert explained that cattle grazing removes streamside vegetation because cows eat all the leaves, small plants and shoots that grow alongside the stream, which in turn prevents the growth of mature vegetation.
This is a problem because larger vegetation contributes woody material to the stream, which makes it more complex and a better trout habitat.
"You can think of how a tree could fall in a stream and create pools and grades to diversify the habitat," Hallbert said. "So in these streams that have had cattle grazing, we're installing instream structures that add woody material to the stream to replicate the complexity that would have occurred naturally with more streamside vegetation."
The structures are assembled with a gas-powered post-driver to drive wooden stakes vertically into the stream bed, then collecting woody material from the mountainsides near the stream and stacking it upstream of the posts.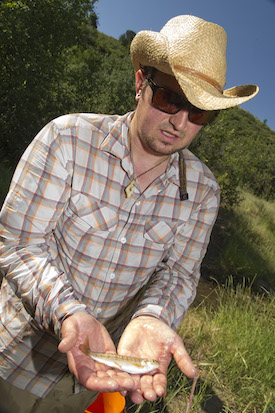 This slows the water velocity and creates pooling above the structures. Water will flow through the structure and scour out the stream bed below to create a small hole and pool.
Hallbert explained that this pool environment is more energetically favorable for the fish.
"When you think of a fish, its whole environment is constantly moving so it has to swim against the current to maintain its position," he said. "In pools where there's lower velocity, they don't have to swim as hard and they can find foraging spots more easily."
Brauner said that she was glad to have been a part of this project because it gave her a chance to work outside in the field and gain firsthand research experience.
"I was looking for some research opportunities this summer and was informed about the MURI program," she said. "I was interested in working with Tyson because his project focused on cutthroat trout, and being able to observe trout in streams and how these structures affect their population seemed interesting because it was something I had never done before."
Brauner also said that she enjoyed presenting at ICUR on July 26 and 27 in Boise.
"I think the conference was a wonderful opportunity, and I am thankful for the chance to present my research," she said. "I loved hearing the talks on tips for getting into graduate school, and even just answering questions people had about my poster."
For more information about the study, contact Ernest Keeley at keelerne@isu.edu or (208) 282-3145. For more information about the ISU Department of Biological Sciences, visit www.isu.edu/bios.
---
Categories: