Idaho State University undergrad Erin Sandmeyer gains experience working on NASA research projects
August 7, 2017
By Kirsten Cooper, MarCom Career Path Intern
POCATELLO – Idaho State University senior Erin Sandmeyer has enjoyed her opportunity to conduct field research for NASA this summer at the Craters of the Moon National Monument and Preserve.
Sandmeyer is originally from Boise and is currently working on her Bachelor of Science in geology.
She is one of several ISU students working with NASA this summer. Sandmeyer is conducting research funded by the NASA Field Investigations to eNable Solar system Science and Exploration (FINESSE) and NASA Biologic Analog Science Associated with Lava Terrains (BASALT) projects.
The FINESSE and BASALT projects are both helping prepare for a manned mission to Mars.
Sandmeyer conducted her research at Kings Bowl and Highway Flow, both of which are located in the Craters of the Moon preserve.
"At Kings Bowl, we were looking at ash deposits from a phreatic (an eruption with no liquid lava, but large amounts of heat and groundwater) blast to try to determine how many eruptions there were," Sandmeyer said.
She explained that, based on the different layers preserved within the ash, she was able to determine that at least two eruptive events occurred there in the past.
Sandmeyer, who is working under the supervision of geosciences assistant professor Shannon Kobs Nawotniak, is still conducting research at Highway Flow. Last summer, she spent a week on the flow looking for differences in lava textures.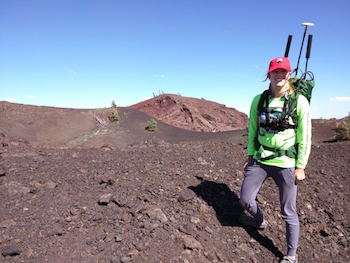 "What I found is that there are two distinct lava textures in Highway Flow," Sandmeyer said.
One of those is a frothy texture, which is defined as having 40- to 90-percent void space. The other prominent texture is dense lava, which has less than 40-percent void space.
"The frothy texture occurs throughout the flow where there is lots of folding within the rocks, making it impossible to see the frothy texture from aerial imagery," Sandmeyer said. "We are trying to find patterns on where the frothy lava occurs in highway flow so we would have a better idea on where the frothy lava would occur on flows on Mars."
Sandmeyer said frothy lava is an important part of microbial life because it provides pathways for the water and nutrients the microbes need. If there are microbes on Mars, it is hypothesized that an ideal habitat for them would be in frothy lava textures.
"I am trying to find patterns within frothy lava occurrences so that when we have a manned mission to Mars, we can efficiently find the spots of frothy lava to take samples from them," Sandmeyer said. "Microbiologists would then analyze these samples to see if there were any microbes living in the rocks."
Sandmeyer said she feels extremely lucky to have been a part of this research as an undergraduate.
"The FINESSE and BASALT projects are resulting in really great scientific advances in planetary science, and it is an honor knowing I am helping them meet their goals," she said.
When working with astronauts and scientists high up in the ranks at NASA, Sandmeyer said that although she sometimes feels as though her opinions and ideas are invalid, the people she works with take her opinion as seriously as they do the opinions of the NASA scientists.
"It's gone to show me that in a scientific setting, each person's ideas are equally important when working to reach the scientific objective," she said.
According to Sandmeyer, the most enjoyable part of her experience has been working with such inspiring people. "I look up to each person I work with, and I strive to become as accomplished a scientist as they are," she said.
---
Categories: