Idaho State University researchers seek input from farmers, policy makers on Eastern Snake River Plain Managed Aquifer recharge
August 23, 2017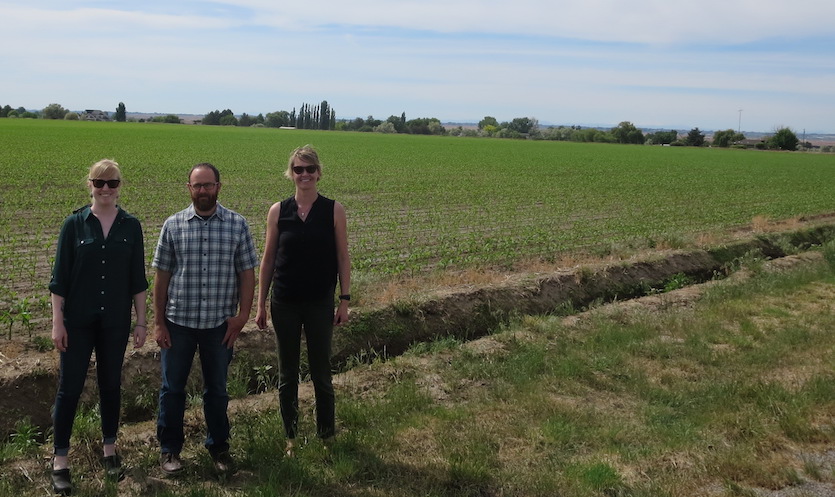 POCATELLO – Idaho State University researchers are seeking input from farmers, water managers and policy makers about their experiences with efforts to replenish the Eastern Snake Plain Aquifer that began in 2016.
"We are interested in how the farmers have been impacted by the reduced availability of water, and what strategies they have implemented to meet their required cuts," said Katrina Running, ISU assistant professor of sociology. "Ultimately, we are interested in how these various adaptations are reshaping agriculture in the Eastern Snake Plain Aquifer."
During late summer and fall, ISU researchers hope to complete a survey of eight groundwater districts affected by a new water policy put in place last year.
"We want to interview the managers of the participating groundwater districts and also send a survey to a sample of the farmers who have groundwater rights in those districts," Running said.
The groundwater districts are primarily located east of Burley. The researchers will ask participants questions about the effects the agreement has had and what they've done to comply with water restrictions, such as planting crops that need less water or changing irrigation methods.
Over the last 10 years, various water policies have been put in place that affect irrigators using the Eastern Snake Plain Aquifer. Due to groundwater use in the upper Snake River Plain, surface water irrigators on the lower Snake River Plain around Twin Falls were not getting their full allocations of water. Rather than settle in court, these two parties came together and developed the 2015 settlement agreement, which mandated that groundwater pumpers reduce their pumping to replenish the aquifer.
"Basically, the idea was that groundwater irrigators agreed to replenish 240,000-acre feet of water per year by various mechanisms," said Morey Burnham, ISU research assistant professor of sociology, who is a co-principal investigator on the project. "One strategy farmers are employing is to buy water for recharge, but most of the replenishment is being done by individual farmers who cut the amount of water they use, anywhere from 5 to 20 percent, depending on the seniority of their water right."
The ISU researchers emphasized that their effort is an academic study focused on what farmers are doing now to conform to the agreement and what might help them adapt better.
"We are interested in identifying the most effective adaptation strategies for farmers to reduce water use, continue to productively farm the land, and keep the Idaho agricultural economy healthy," Burnham said.
The researchers will send questionnaires to about 3,000 farm households, hoping to get responses from about 1,000. They are also surveying water managers, politicians and lawyers involved with the settlement. Specific questionnaire and interview results will be kept confidential.
Running and Burnham, along with Meg du Bray, a post-doctoral researcher, a a sociocultural anthropologist on the project, are pursuing this study through ISU's involvement in the National Science Foundation's Managing Idaho's Landscapes for Ecosystem Services (MILES) project.
The MILES grant is a five-year (2013-2018), $20 million grant funded by the NSF's Established Program to Stimulate Competitive Research (EPSCoR) that seeks to provide science-based decision support to sustainably manage Idaho's resources. The MILES project is statewide and includes researchers in a variety of academic disciplines from ISU, Boise State University and the University of Idaho.
So far, the ISU researchers have collected interview data and begun studying documents associated with the legal background of the agreement. Though the MILES portion of their study is only funded through 2018, the researchers want to continue their efforts.
"We hope this will be an ongoing study because there will be ongoing changes in access to irrigation water and farmer response in Idaho," Running said. "We hope to continue collecting data each year on the impacts and how they are changing over time so we can keep documenting how this change is affecting Idaho farmers and local, state and regional economies."
This year and last year were good water years featuring above average precipitation. Challenges in conforming to the agreement are likely to be greater during low water years. Results of the study could also help water managers in neighboring states develop policies for sustainably managing their water under future drought scenarios.
People interested in the study can contact Running at runnkatr@isu.edu, Burnham at burnmore@isu.edu, or du Bray at dubrmarg@isu.edu.