Idaho ancient bison fossils now available in 3-D thanks to Bureau of Reclamation, Idaho Museum of Natural History
December 4, 2017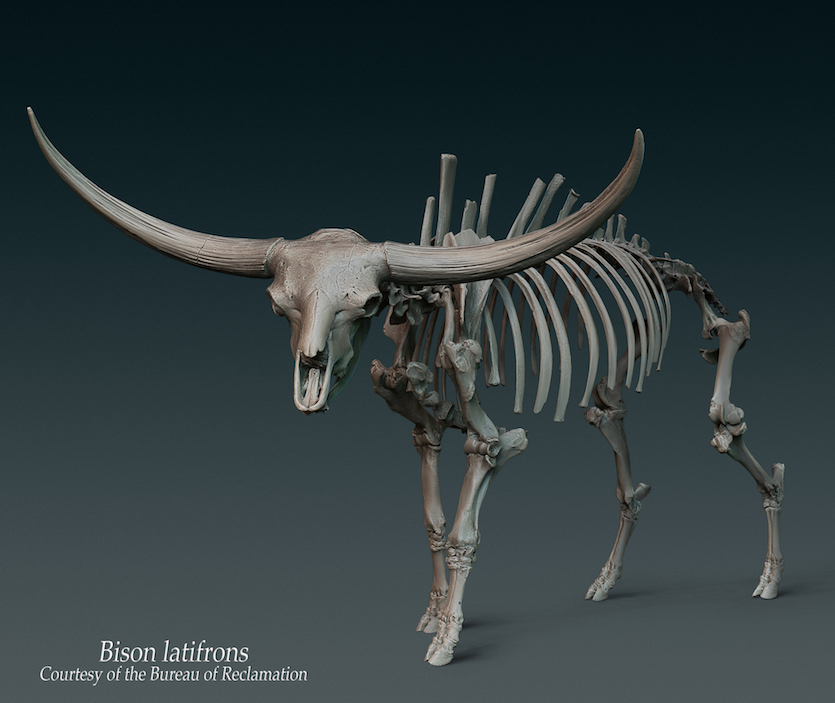 BOISE, Idaho — The Bureau of Reclamation and the Idaho Museum of Natural History (IMNH), which is located on the Idaho State University campus in Pocatello, have partnered to make fossils more available to the public. Beginning today, the 3-D scan models of Bison latifrons specimens are available online to view, download, and print in 3-D.
"The 3-D scanning of the objects is fantastic in and of itself, but by placing the 3-D scans onto an interactive website and making those scan files downloadable, we can get them out to the broader public," said Jenny Huang, an archaeologist with Reclamation's Snake River Area Office. "We are proud to be able to take our museum property management to the next level by making the collection available to everyone."
With funding from a Cultural and Scientific Collections grant from the Department of the Interior, provided through the Department's Interior Museum Program, Reclamation was able to contract with the Idaho Virtualization Lab, a research unit of IMNH, specializing in digital archiving. The Bison Digitization Project, creates an open-access digital archive of fossil Bison that roamed eastern Idaho during the Ice Age.
This digital collection includes 250 three-dimensional models from 148 unique specimens of some of the most important and complete fossil bison in North America, curated by the IMNH. We encourage visitors to explore our digital collection for education, research or just to reconnect with our amazing history.
These files are intended for use by educators, researchers, and the general public for non-commercial purposes. The 3-D printing of these virtual specimens is allowed for use in educational and research situations and for private use, but they should not be provided for sale without the express written consent of Reclamation.
For more information about the 3-D fossils, please visit: https://www.usbr.gov/pn/snakeriver/landuse/culturalresources/paleo.html or www.isu.edu/imnh/.
# # #
Reclamation is the largest wholesale water supplier in the United States, and the nation's second largest producer of hydroelectric power. Its facilities also provide substantial flood control, recreation, and fish and wildlife benefits. Visit our website at https://www.usbr.gov, and follow us on Twitter @USBR.
---
Categories: