Mars exploration, volcanology, high-tech science on display at Arco, Craters of the Moon at NASA, NSF, ISU Community Day
June 17, 2016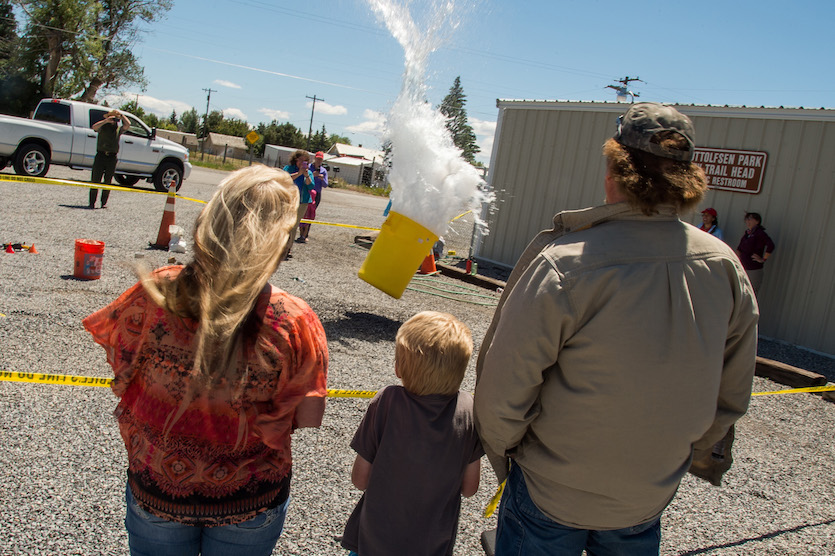 ARCO – Scores of participants learned about everything from how Idaho's Craters of the Moon National Monument and Preserve is being used as a laboratory for exploring Mars to how volcanoes explode at a Community Day held in Arco and at Craters of the Moon on June 16.
Guests learned about how the National Aeronautics and Space Administration (NASA) plans to send humans to the moon, near-Earth asteroids, and Mars, by the 2030s, how NASA will handle conducting science, managing communications and monitoring the complex space suits that are needed.
The event was sponsored by the National Park Service, NASA and Idaho State University, entities that have teamed up on two major studies geared toward space exploration and looking for life on other planets.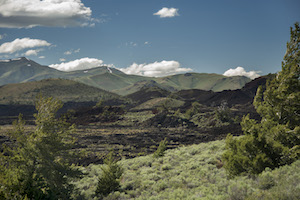 "This community day celebrates a 50-year relationship between NASA and the National Park Service exploring manned space missions, first for exploration of the Moon and now as NASA prepares for a mission to Mars," said Wade Vagias, superintendent of the Craters of the Moon National Monument and Preserve. "The National Park Service has a number of resources that are valuable for NASA research."
NASA and Idaho State University (ISU) scientists touted the value of the Craters of the Moon National Monument and Preserve.
"I've travelled all over the world doing this kind of research, and this is one of the most amazing places I've ever been," said NASA's Darlene Lim, principal investigator on NASA's Biologic Analog Science Associated with Lava Terrains (BASALT) project taking place at Craters of the Moon. "This is one of the most rewarding places for us to do this kind of science, specifically trying to find life on other planets. I encourage you to learn about it and love it --- it's right in your backyard."
More than 200 participants toured a mobile NASA Mission Command Center setup for field research this summer learning about interplanetary communications and a variety of other topics.
Other activities included watching numerous "trashcano" simulated volcano eruptions, piloting an Unmanned Aerial Vehicle simulator, talking to expert scientists and park rangers on a variety of topics, viewing the sun through a specialized telescope making that activity safe and kids had the opportunity to earn a Lunar Ranger patch.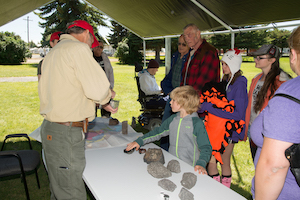 "This is fantastic to get a chance to show my kids this," said Jesse Cecil, a visitor from Weed, California, as he waited for a tour of the NASA Mobile Mission Command Center. "We are really looking forward to this."
Jesse's 13-year-old son, George, had a specific goal in mind for the tour.
"I'm going to ask them what kind of college major you need to get into NASA and ask about other types of jobs available for working with NASA or other space exploration," said George, an eighth-grader, who received an answer to his question on the tour (hint: focus on science, technology, engineering and math (STEM) fields, but there is also room for social scientists and others).
Fourteen-year-old Jennifer Schaefer from Mackay was already a fan of Craters prior to her tour of the NASA Mobile Mission Command Center on Thursday.
"We went to the Craters of the Moon last week with Girl Scouts and saw all the wildflowers," Schaefer said. "We were attached to the windows saying 'it is so beautiful.' I was glad when my mom told me about this (community day) because I knew it would be a lot of fun and we'd learn a lot about what's going on."
Though the tone of the Community Day was light-hearted and accessible to the public, there is serious research going on this summer, the bulk of it taking place over the next two weeks.
ISU researchers are working with the BASALT and the Field Investigations to Enable Solor System Science and Exploration (FINESSE) teams, led by NASA's Ames Research Center in Moffett Field, California. These science-driven exploration programs are focused on generating new and cutting-edge scientific, operational and technological capabilities to enable and inform the next generation of human-robotic planetary exploration of planetary bodies including our moon, Mars' moons Phobos and Deimos, Mars, and near-Earth asteroids.
World-class researchers, planetary scientists, and experts in robotics and exploration will study the formation of volcanoes, evolution of magma chambers and the formation of multiple lava flow types, as well as the evolution and entrapment of volatile chemicals and habitability. The team will utilize samples on Earth to study the geology, chemistry, and biology of features associated with volcanic processes.
Follow the project activities online at http://spacescience.arc.nasa.gov/basalt/ and via Twitter at @BASALT_Research.
Contact: Ted Stout-NPS, (208)527-1330 or ted_stout@nps.gov; Kimberly Williams-NASA, (650)224-4027 or Kimberly.k.williams@nasa.gov; Andrew Taylor-ISU
(208) 282-3209 or taylandy@isu.edu
---
Categories: